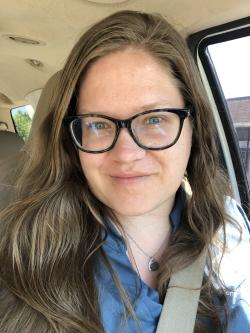 Martha Owen brings history to life at the Nappanee Center. Growing up in Wakarusa, Martha had a love for history early in life, a love that was cultivated by her family through their vacations. These family vacations were geared towards being educational and learning something new, so it was not a surprise that she started volunteering at the Wakarusa Historical Society when she was 13 years old. We won't say how old Martha is, but her passion for museums, historical societies and archives has been going on for over two decades.
Martha wears several hats when she's working. Not only is she the Director of the Evelyn Culp Heritage Collection at the Nappanee Center, but she has also worn the hat of Library Skills Trainer and Manager of the Nappanee Public Library.  She also shares her knowledge of Nappanee through the quirky and inspiring backstories of history in downtown Nappanee. 
One thing that is clear, Martha has a passion for the people, places and things that make Nappanee, and Elkhart County, so unique. We got to know Martha a little bit better and asked her a few questions about living and working in Elkhart County.

As Director of the Evelyn Culp Heritage Collection at the Nappanee Center, what is the most fun part of the job?
It's really hard to pinpoint what is the most fun part of the job. The people that come through the Center and talking to them about where they are from (I actually met my mom's 2nd-grade teacher this way) is always fun. Researching Nappanee is another favorite part of the job. I can spend hours reading old newspapers and finding snippets that spark program ideas. A benefit of that research is being able to bring Nappanee history to life from our exhibits to our Night at the Museum program that truly brings both history and the museum to life every 2nd Saturday in October is a huge highlight of the job. I guess you could really say that the fun part of the job is being able to share Nappanee's storied past with others in fun and creative ways. 
 
What do you love about living in Elkhart County?
What's not to love about Elkhart County? It's very homey and everyone is so welcoming.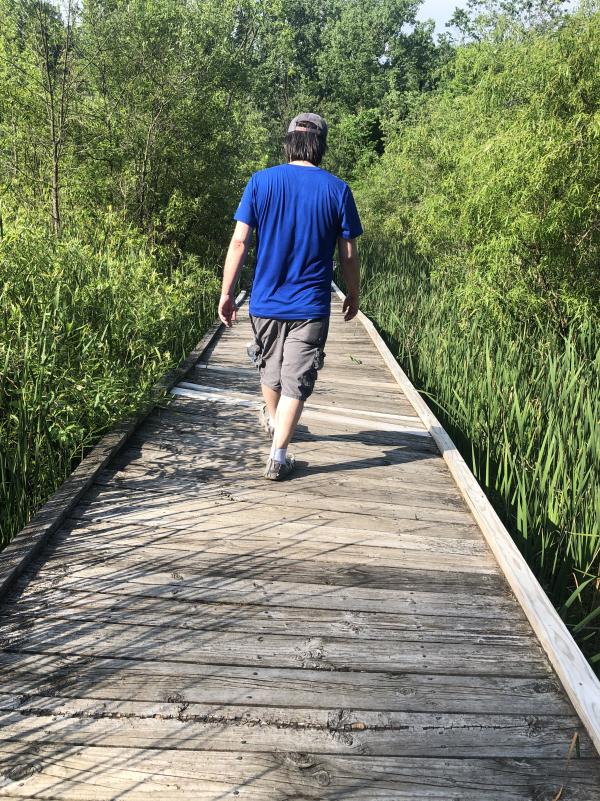 Where is your favorite spot to relax in Elkhart County?
My husband and I love to go to Ox Bow Park in Goshen and walk around on the trails. Every time we go, we always discover something new. 
 
You've had a huge part of the success of the walking tours in downtown Nappanee. What is the most favorite part of the walking tours that you get to share with residents and visitors?
I would say that sharing the history of Nappanee and the little-known things about it is my favorite thing about the walking tours. I love random facts and our walking tours are written to include random facts that we have found while doing the research. If we are working on research for something else and find something out about a spot on one of our walking tours, we will write in that little fact to the tour. Also, listening to the residents' stories afterward and learning more about something that wasn't shared on the tours is really the best. 
 
The Nappanee Apple Festival is one of the highlights of fall in Elkhart County.  What is one of your favorite parts of the Nappanee Apple Festival?
The bins of apples and being able to drop some change in and grab one to enjoy. That's been my favorite thing since I was a little kid. 
 
Where is your favorite spot to grab a bite to eat in Nappanee?
My favorite place to grab a bite to eat would be Main Street Coffeehouse in Nappanee on my lunch break. When I'm with my family, it's Hunter's Hideaway. 
 
What, in your opinion, is a MUST SEE for visitors when they come to Elkhart County?
Well, the Evelyn Lehman Culp Heritage Collection at the Nappanee Center of course. Other than that, really everything in Elkhart County is a must-see. From the Wellfield Botanic Gardens to the Ruthmere to the gorgeous Elkhart County Parks there really is something for everyone. 

 
Tell us a little more about the Evie's History Bytes podcast.  We love the name! How can listeners find the podcast?
We love the name too. The Evie's History Bytes podcast is named for our founder Evelyn Lehman Culp and we talk about all things Nappanee History along with current Nappanee happenings. We usually have a couple of guests who sit down with us and talk about a specific topic. We also include a history lesson to help give people context to what we are talking about for that episode. Sometimes when we need an extra guest or filler, we include an oral history from our cassette tapes from the 1970s that Evelyn was instrumental in recording the citizens of Nappanee's stories, and with the podcast, we feel that we are doing an extension of what Evelyn started. We release one episode a month on the last Wednesday of each month. It can be found on all major podcasting platforms so Apple Podcasts, Spotify, Pandora, Audible, and Google Podcasts. It also is on a few others such as Soundcloud, Pocketcasts, and Stitcher. Our goal is to make it accessible for everyone. 
 
What would you tell someone looking to relocate to Elkhart County?
I would tell them that they would find big-city feels to "embracing the pace" of small-town living. That there really is something for everyone no matter what you are looking for. 
Contact Martha Owen, Director of the Evelyn Culp Heritage Collection at the Nappanee Center​
p: (574) 773-7812
e: mowen@nappaneelibrary.org
Get to know some of Elkhart County's Well Crafted entrepreneurs, artists and leaders and where they like to eat, shop and play along the Heritage Trail here: