Amish Country Bed & Breakfasts
The smell of fresh-brewed coffee and the sounds of bacon and sausage sizzling on a pan waft through the air as you begin your day in Elkhart County and the best part is: you didn't have to do the dishes. Staying at one of our area's bed-and-breakfasts gives visitors the opportunity to connect with people who know the places better than anyone. From Amish-style homes and log cabins to slightly more modern accommodations, you can find the right place for an authentic Elkhart County experience as you start your day or lay your head down for the night.
Scottish Bed & Breakfast
Elegance in Amish country is the goal of Scottish Bed & Breakfast. Four rooms are available, from the romantic King Suite to the lovingly decorated Green Room. And if you're in town to do some antiquing, then go for the full immersive experience and book the Antique Suite. Sleep in the queen-sized poster bed, relax on the fainting couch and warm yourself by the fire while sitting on authentic wingback chairs.
For slightly bigger parties, they offer the Loft Suite. The second-floor room has two queen-size beds, a fireplace, and a balcony that's perfect for enjoying the sunset.
McKenzie House Bed & Breakfast
Yes, that is cinnamon you smell! McKenzie House Bed & Breakfast bakes fresh cinnamon bread every morning as part of your breakfast. Located in Middlebury, this B&B was the lifelong dream of the owners, who named the establishment and each room after one of their daughters.
The wrap around porch has a swing and rockers, perfect for unwinding at the end of a busy day, or a chance for a moment of quiet before you head out after breakfast.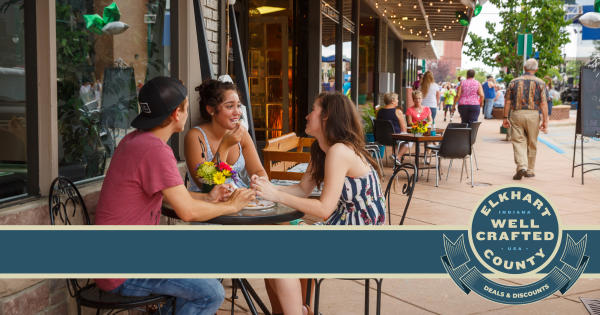 Enhance your visit with the Elkhart County Deals & Discounts Pass. Explore local dining, retail shops, fun attractions, and lodging option offers. Find details about each participating business, their location, and special offer. Simply sign up to access all currently available deals & discounts. Then have fun exploring Elkhart County, where the hand crafted welcome mat is always out!