WHO WE ARE
The Elkhart County, IN Convention & Visitors Bureau (ECCVB) is a private non-profit corporation serving as the official tourism advertising and public relations champion for Elkhart County.
WE BELIEVE IN HERE.
We are accountable to the Elkhart County Innkeepers Tax Commission, created by state law to administer the innkeepers tax collected from Elkhart County lodging properties with 30 or more rooms. The tax commission contracts with the ECCVB, a not-for-profit entity, and appoints the ECCVB Board of Directors to manage its activities.
The ECCVB staff's decades of experience working with Elkhart County's tourism and hospitality interests led to the development and launch of hugely successful programs such as the Heritage Trail Audio Driving Tour, the Quilt Gardens along the Heritage Trail, and the annual area guide.
The ECCVB's body of work has expanded in collaboration with the Community Foundation of Elkhart County to convene the Vibrant Communities movement to advocate for quality of place in all our vibrant cities, towns and scenic countryside.
Quality of place defines the essence of everything we stand for as a champion for Elkhart County.
VISION STATEMENT
Elkhart County is a Well Crafted, year-round destination that embodies a diversity of arts and cultural attractions, vibrant downtowns, sports and outdoor adventures, grounded in craftsmanship and an entrepreneurial spirit, attracting multi-generational audiences.
MISSION STATEMENT
The Elkhart County CVB is the county's champion for tourism promotion and placemaking initiatives. We achieve economic vitality and enhanced quality of place through diverse affiliations and collaborations.
CERTEC Research – Economic Impact of Elkhart County's Tourism and Travel Industry 2021 (PDF)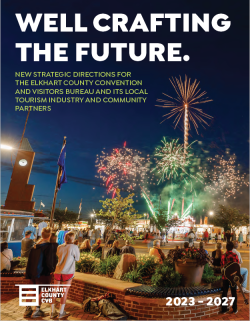 2023 - 2027 Strategic Plan (PDF)