Outdoors & Recreation
The great outdoors doesn't get any greater than in Elkhart County, Indiana. With miles of riverways, dozens of trails, and challenging golf courses, there's something to do outside anytime of year to fuel your endorphins, clear your mind, and inspire your soul.
You can cast a line and catch a large-mouth bass in the summer. Cross-country ski in the winter. Take a hike anytime of year. The question isn't what does Elkhart County have to offer, the question is what doesn't it have to offer!

Take A Hike or Ride A Bike
The best way to truly commune with Mother Nature is to walk a trail through her beauty or ride a bike through the paths. Hiking and biking (Guide) in Elkhart County means you will be able to stop and smell the roses or any number of other plants. Or maybe you'll get a picture of a bird you've never seen before or a glimpse of a mama duck leading her ducklings.
You can check out the observation tower at Oxbow Park, then trek through one or all three trails at Pumpkinvine Nature Trail on bike or foot.
The River Greenway Trail blends the natural beauty of the Elkhart River and the urban vibe of downtown Elkhart. From a trailhead at the Elkhart Environmental Center, you can follow the banks on the Elkhart River into the downtown River District, or make a connection to the MapleHeart Trail on to Goshen.
You will run out of time before you run out of outdoor options across Elkhart County. But that's okay! We'll be here waiting for you to return for a weekend, a week, or as long as you want.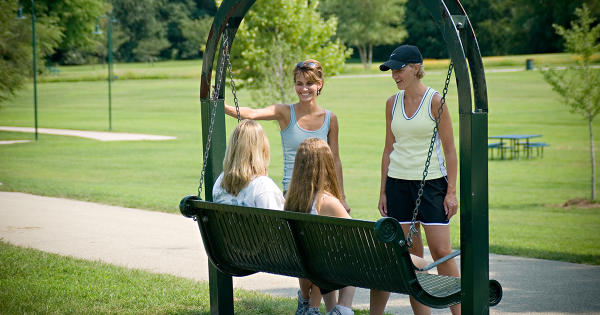 Parks
Get outside and enjoy the many beautiful city and county parks in Elkhart County.

Waterways
There's no better way to get off the beaten path than literally getting off the beaten path and getting in the water. Stretch your arms, grab a paddle, and go kayaking or canoeing. Blend in with locals as you wind your way up the Elkhart River.
Fidler Pond Park sports an 80-acre pond amid a peaceful setting of trees and swinging benches. You can canoe across the water, or grab a pole and fish from the bank of the pond. You're not catching dinner, this place is catch and release—but that's okay, there are plenty of great nearby restaurants, like Goshen Brewing Co. Don't want to drag all your gear along? No problem. Equipment rentals are available on site.
River Preserve County Park in Goshen is the ultimate showcase for Elkhart County's diverse beauty. With a wide variety of wildlife and plants, DeFries Gardens within the park is especially popular with artists and photographers. Kayakers and hikers will love the park's Benton Hydro site. And for the perfect short hike, check out the Baintertown Canal Trail that leads to both historic spots and areas for viewing the water.
Small but sweet, Treasure Island park is exactly what the name says: a treasure. Located on the banks of the St. Joseph River, you can fish and canoe here. And you won't be alone. Waterfowl call this park home, and in the spring and fall, it's a popular place to spot migrating birds.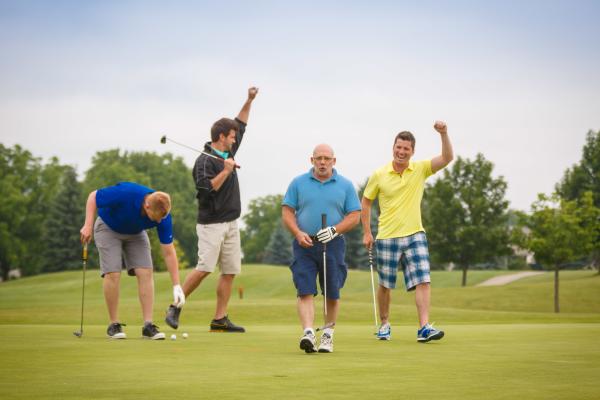 Linked In
From wicked dog-legs to deceptively fast greens and sandtraps you're sure you'll be able to avoid, Elkhart County has some of the most challenging golf courses you'll ever play.
Encompassing private country clubs and public courses, there are plenty of options. And you can't play them just once. Bent Oak alone will have you coming back until you master the legendarily tough 13th hole. And once you do, you can spend the rest of your trip telling all your friends about your accomplishment.
Take a trip down the Elkhart River with Marshall King.