Country Inns
A successful trip to the country includes staying at an authentic country inn. Why not take the road less traveled and book a stay at one of the cozy inns that dot our countryside. Outside, freshly-cut grass and blooming flowers will awaken your senses while inside the homey atmosphere will exceed your expectations. Keep your calendar clear, because you may want to extend your stay!
Blue Gate Garden Inn
Blue Gate Garden Inn offers a country feel with enough modern amenities that you won't feel too off the grid. You can check out the cool lunch counter and cafe then grab an Adirondack chair and hang by the firepit. For year-round fun, they have a big indoor pool perfect for doing a few laps or splashing around with the kids.
Countryside Inn
In Nappanee you'll find the Countryside Inn, a warm and inviting home away from home. You arrive at a building with an old-style barn front. You start every morning with a hot country breakfast. Then you can head out to explore the countryside dotted with Amish farms and shingle shops.  
Nearby, The Barns at Nappanee are taking their already well-crafted experience to the next level. They now offer live shows on-site and tours of the house and farm as well as host weddings, reunions, and other big events. This all-in-one venue encapsulates the best of Elkhart County.
The Essenhaus Inn
A gorgeous column-supported portico greets you as you pull up to The Essenhaus Inn & Conference Center Middlebury. In the heart of Amish country, you'll find plenty of space to stretch out as you begin or end your day of adventures around Elkhart County. Start your day with breakfast and a run around their jogging trails. Rent a bike and pedal your way to Shipshewana on the Pumpkinvine Nature Trail. There's also an indoor pool and you can end your day around the firepit reliving your day trips.
Farmstead Inn
A bright red barn blends right in with the comfortable beds and modern amenities offered at Farmstead Inn & Conference Center Shipshewana Hotel. From the lobby table with an inlaid chess/checkers board to the wooden rail that lines the staircase, you'll feel the authenticity envelope you.
Oakwood Resort
Fresh air blows in off the water at Oakwood Resort. From the gorgeous views outside to the well-stocked restaurant and coffee stand inside, this place exudes peace and relaxation.
Van Buren Hotel Shipshewana
Van Buren Hotel Shipshewana offers modern convenience ensconced in a country living atmosphere. Start your day with breakfast and a trip to their fitness center. They also have an indoor pool and you can hang around the lobby and play their complimentary board games.
That Pretty Place
Nestled in the woods of Middlebury, That Pretty Place offers nine guest rooms spread across their two guest houses, the Main House and The Cabin. Experience a peaceful getaway in the seclusion of this quiet, country setting featuring a private pond, walking trails, and numerous family friendly activities.
Enjoy the wooded landscape and beautiful meadows along the Pumpkinvine Nature Trail, perfect for morning walks or bike rides. Perfectly sized for small groups, romantic getaways, or retreats, they offer an unforgettable experience you won't find anywhere else.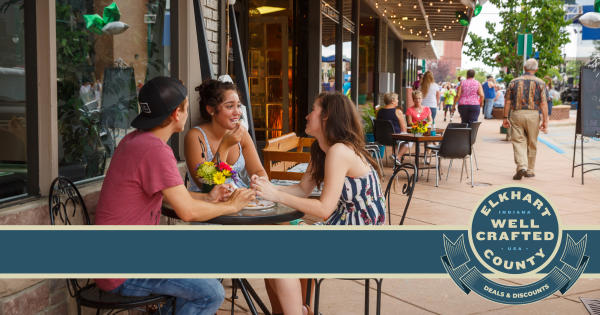 Enhance your visit with the Elkhart County Deals & Discounts Pass. Explore local dining, retail shops, fun attractions, and lodging option offers. Find details about each participating business, their location, and special offer. Simply sign up to access all currently available deals & discounts. Then have fun exploring Elkhart County, where the hand crafted welcome mat is always out!