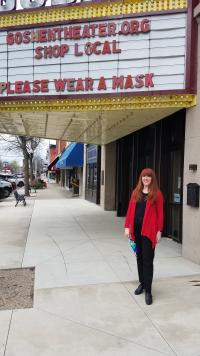 Amber Burgess didn't grow up in Elkhart County. In fact, she didn't grow up in Indiana but she has Hoosier hospitality in her blood. Amber is originally from Jamestown, ND. She studied theatre at The University of Jamestown, in her hometown, and transferred in her junior year to study musical theater at Millikin University in Decatur, IL.
After leaving college and working in the theatre professionally for several years, she went back to school part-time to study social sciences (with an emphasis in theatre research) at Ashford University. She has worked in the professional theatre since 1998 and during her career she has acted and sung on stages all over the country including New York, New Jersey, Massachusetts, Alaska, Virginia, Minnesota, North Dakota, Michigan, Ohio, Kentucky, Kansas, Iowa, Wisconsin, and of course, Indiana. In 2013, she really started to call Elkhart County home and in 2015 became Artistic Director of The Round Barn Theatre and took over day-to-day operations and management. When the job became available as Executive Director of the Goshen Theater, she knew it was a dream come true.
The Goshen Theater, located at 216 South Main Street Goshen, just finished up its two-year, $5 million campaign, renovation and it is stunningly beautiful. The commitment and support of over 200 community donations made this renovation possible and is an inspiring story about philanthropy and dedication to the arts happening throughout Elkhart County.
We were able to chat with Amber and ask her a few questions about the Goshen Theater, what she loves about Elkhart County's art scene and so much more. 
When you were the Executive Director​ of the Goshen Theater, you got to see all parts of the theater, especially the nooks and crannies. What is your favorite part of the theater?
My favorite part of the Goshen Theater is Down Stage Center. The auditorium is so beautiful, and from that vantage point, I can see the whole auditorium and all the incredible work that has gone into the renovation project. It's also fun to think of all the great artists, singers, and actors who have stood in that very place over the years.
You have been involved in various aspects of the arts community your entire life. Where and what is your most memorable performance?
My most memorable performance would have to be singing solo at Notre Dame Cathedral in Paris. It was so vast that you didn't hear reverberations right away, and the architecture and history of the building were very overwhelming.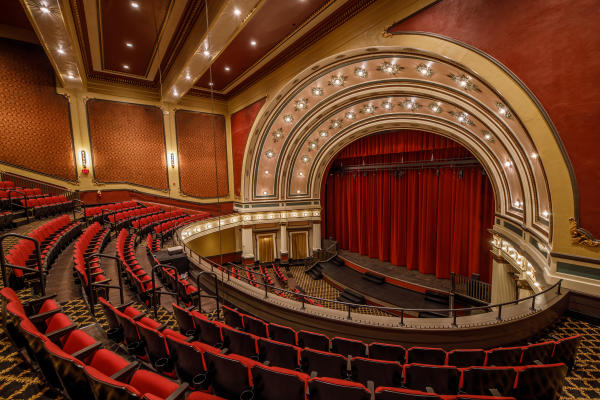 The Goshen Theater recently completed a $5 million renovation project! How exciting! Can you tell us what exciting plans are in the works?
After the renovation, the theater is more accessible, comfortable, and beautiful. It is one of my favorite things to see people look up at all the work that was done with a big broad smile on their faces. We are hosting concerts, film, theatrical productions, and more. For the remainder of 2021, we've got a great roster of entertainment including free movies, tribute concerts, jazz artists, a Vegas act, and several local performances and events on the Goshen Theater stage.
What do you love about living in Elkhart County?
Elkhart County really embraces the arts, and I'm always in awe of the talent we have here. I'm so excited to be able to provide an artistic home for this community at the Goshen Theater.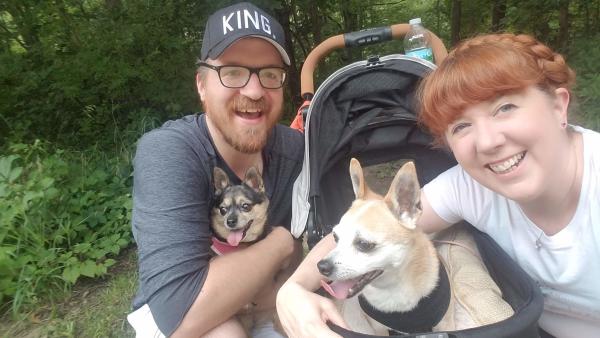 Where is your favorite spot to relax in Elkhart County?
My fiancé and I love to take our dogs and hike at Ox Bow Park. In fact, on the day we got engaged we went for a hike at Ox Bow as part of our special day!
Where is your favorite spot to grab a bite to eat in Goshen?
I love Universal Tamal right across the street from the theater. The food is great, and it's a good spot to get away from the office for a little bit. I love the tacos, the guacamole, and the tamales.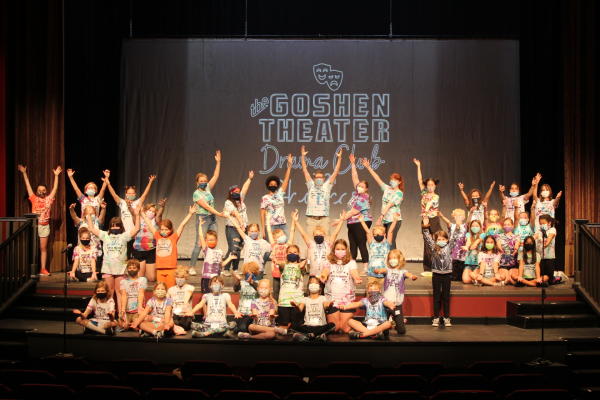 Do you have any tips or pointers for someone looking to dip their toes into the performing arts?
I think one reason that getting into the performing arts can be intimidating is that you have to do auditions, and auditions are hard. My pointer about auditioning is that directors want you to be successful. They want you to walk in and be the right person for the role. When I was directing full time, I was always so relieved when someone came in that was well-prepared, and had the right skills for the job. It's also important to be the kind of person that people want to work with. If you're super talented but not very nice you might not be as successful as someone with less skill who is kind and on time.
Anything else you'd like to tell us?
Goshen Theater is ready for local talent and local organizations! We have great spaces for performances, movies, meetings, parties, and so much more. 2022 dates are booking already, and we'd love to fill the calendar with great local talent!
People & Places along the Heritage Tail Podcast
In case you missed it, we got to know Amber on our People & Places along the Heritage Trail podcast series earlier this year and her story about how her life has been filled with theater, performance, pageants and more is so inspiring and fun!  Listen to Amber tell her story in her own words here: Listen here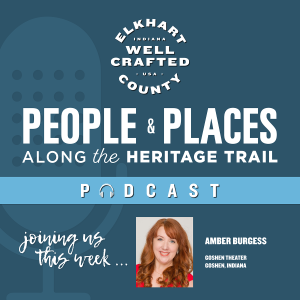 Get to know some of Elkhart County's Well Crafted entrepreneurs, artists and leaders and where they like to eat, shop and play along the Heritage Trail here: