Meetings
We have the perfect place for your meeting in Elkhart County
Located along the I-80/90 - Indiana Toll Road, Elkhart County is an easy drive from Chicago, Toledo, Detroit and Indianapolis. Here you'll find the welcoming communities of Elkhart, Goshen, Middlebury, Nappanee, Bristol and Wakarusa with every type of venue for many events to make your meeting, conference or retreat an authentic, one-of-a-kind experience. 
The friendly Visit Elkhart County team is ready to assist you with every detail to make your event successful and enjoyable. Contact us today to get started.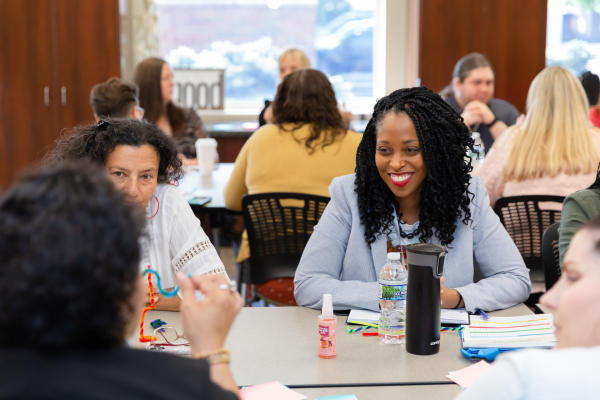 All in One
If you're looking for an all-inclusive space for your next conference and are tired of the hustle and bustle of big cities, look no further than the Das Dutchman Essenhaus Inn and Conference Center in Middlebury. With 4,000 square feet of meeting space, they are versatile enough to work with groups as small as 15 or as big as 400. They have cozy modern rooms, catering, shops and a theater for evening entertainment.
Hotel Elkhart, located in downtown Elkhart, offers nearly 4,750 square feet of music-themed meeting space, including the Aria Ballroom, the city's landmark gathering space for nearly a century, and High Note Rooftop Bar, offering skyline views from Elkhart's tallest building. This 93-room hotel makes board meetings and break-out sessions a breeze.
Conference space for days and a hotel and theater for your nights, The Blue Gate Garden Inn in Shipshewana has it all. With more than 20,000 square feet of conference space, you can easily customize your rental to fit your event.
Shipshewana Farmstead Inn offers four different venues with more than 59,000 square feet of meeting space spread out over four venues. The inn offers an amazing hotel experience, and the property is part of the legendary Shipshewana Auction and Flea Market.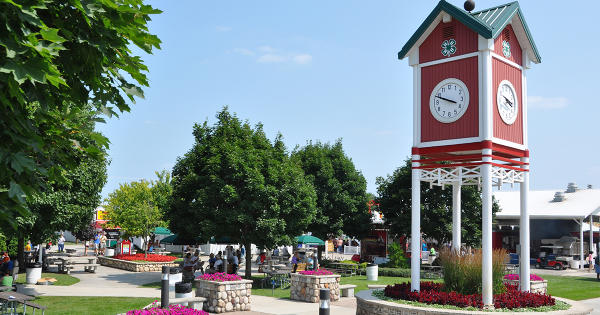 Massive Spaces
Elkhart County 4H Fairgrounds in Goshen offers lots of space for exhibitors, demonstrations, and general mingling. You can come in and customize your experience and the fairgrounds are conveniently close to area hotels making transportation a cinch.
Northern Indiana Events Center in Elkhart, attached to the RV/Mobile Home Hall of Fame & Museum, offers multiple meeting spaces ranging from board rooms sizes to spaces over 30,000 square feet and offers amenities including audio/visual aids to help with your presentation, as well as an on-site event coordinator.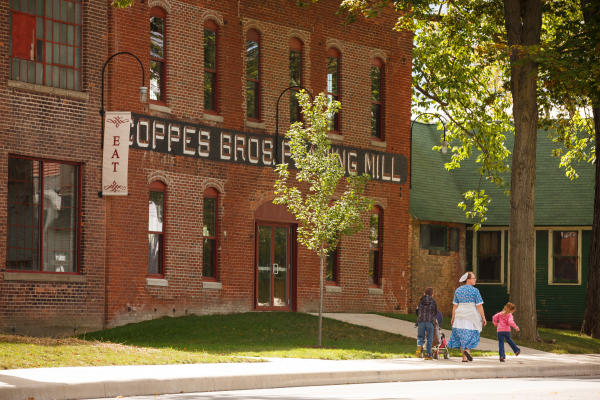 History In the Making
Bread and Chocolate takes up the third floor of the historic Old Bag Factory in Goshen. Exposed brick and beams along with the original hardwood flooring will give your event a classy feel that's instantly instagrammable. They specialize in upscale industrial weddings and events and have been working with bridal parties for more than 20 years.
Coppes Commons in Nappanee is a restored 19th-century furniture factory. Custom made chandeliers help light the event space, which features exposed brick and beams as well as hardwood floors. This venue is alcohol-free.
The Crystal Ballroom at the Lerner Theater in Elkhart offers your event the best views to be had in the area outside and an old school feeling inside. Ornate moldings line the 22 feet high ceilings. Chandeliers and unique sconces provide a warm glow to match the warmth in your heart when your friends rave about the event.
Customizable Creations
The Elcona Country Club in Bristol opens its doors to non-members looking to put on a society page worthy event. From weddings to charity fundraisers, they offer elegant dining and amazing spaces to take your pictures.
The Matterhorn sits in the heart of Elkhart, offering a huge floor space for any event. Come in and decorate it to look like the reception of your dreams. Many hotels are nearby, as well as exciting spots including the Ruthmere Museum.
Nelson's Catering has been working on its recipes and cooking methods since the 1930s. They offer two gorgeous spaces. First, with 20-foot ceilings and wood floors, the Spohn Ballroom in Goshen has been restored to its charming 1909 glory days. The Blue Teal in Wakarusa features modern rural charm and is always ready to host any type of event.
For more information contact