Group Experiences & Interactive Programs
Hands on, educational and fun along the Heritage Trail
These options are a perfect way to get your meeting attendees to be active and engaged in their experience. Weave your own basket to give as a gift (or keep for yourself, we won't tell anyone). Hand twist your very own pretzel then watch it being baked before your eyes. Experience a craft cocktail and brew demo and food event that delights all of your tastebuds. Increase your quilting proficiency and hone in on your piecing skills. These and more are just a sample of the well crafted off conference fun your groups can enjoy in Elkhart County.  
THERE ARE SO MANY EXPERIENCES FOR GROUPS IN ELKHART COUNTY.  Contact us to learn more about this sampling below at groupinfo@eccvb.org or 800-262-8161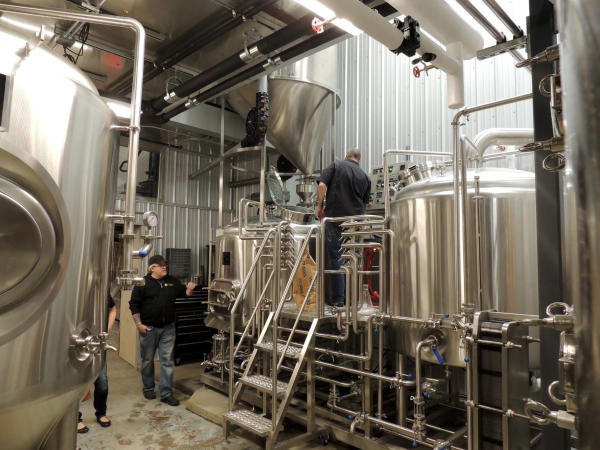 Brewing & Distilling 101 at Ruhe 152, Nappanee
Your group will delight to learn about the processes and details that go into head brewer and distiller David Michael's unique beers and spirits that are produced at Ruhe Brewing Co. and Ruhe Distillery.  David is an awarding winning talent whose commitment to excellence is shown thru his unique use of quality grains, processes, ingredients, and barrel aging that he uses to create amazing craft beers, as well as spirits such as vodka, rum, whiskey, tequila and more.   You will learn the processes and the science that go into producing craft beers or distilling spirits from grains, see demonstrations of ingredients, and flights/samples for tasting, including the latest beer on tap, margherita or cocktail.  Add on appetizers, lunch, or desserts to round out the experience.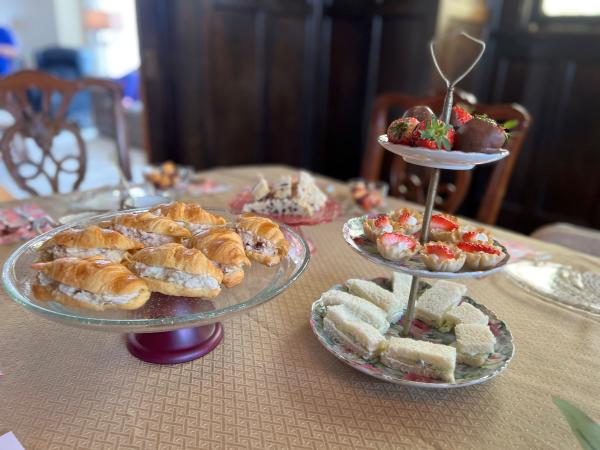 Afternoon Tea at The Coppes House B&B, Nappanee
Enjoy an elegant tea party with scones & spreads complete with a hot cup of tea served in a vintage cup which will allow you to relax as you enjoy yourself.  You will learn about the history of the historic house on a guided tour where your eyes will instantly be drawn to the beautiful, hand-carved woodwork on the walls and large stairway to the rooms upstairs.  The gorgeous Lamb Brothers and Greene-stained glass windows throughout the house is a highlight.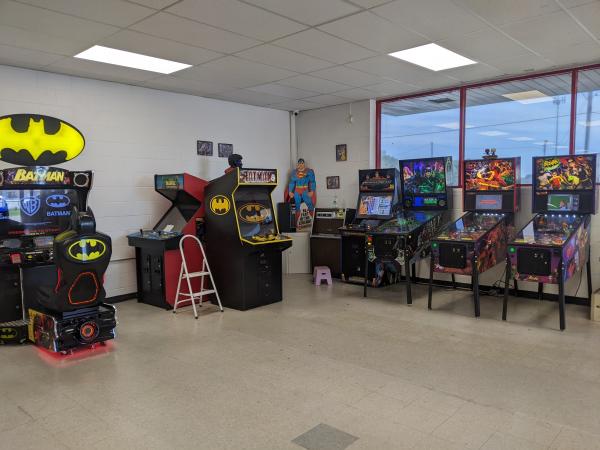 Play classic arcade and pinball games at step back in time at the Hall of Heroes Superhero Museum
Step back in time by seeing Adam West's Batman costume from the 1960's television series at the Hall of Heroes Superhero Museum.  Then see Clayton Moore's "Lone Ranger" costume plus rare comic books such as the first appearance of Captain America #1 in 1941 and the Wonder Woman comic in 1942.  Pose for pictures with the full-size "Incredible Hulk" statue that is life size 9.5 feet tall and weighs 600 lbs and see two vehicles from Marvel studios including the 1965 Shelby Cobra from the first "Iron Man" film and the Nicholas Cages Hellcycle from "The Ghost Rider" films. Finish your experience by enjoying the free superhero arcade with classic games and pinball machines!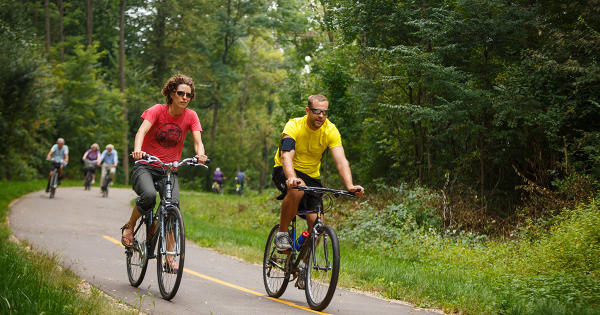 Bike the Pumpkinvine Nature Trail
Rent a bike (up to 50 at one time) and take your attendees on a countryside bike ride on the scenic and paved Pumpkinvine Nature Trail.  Travel a portion or up to 25 miles for a healthy, active addition to your event.  The trail surface is asphalt except for one 1.75 mile section which is packed limestone.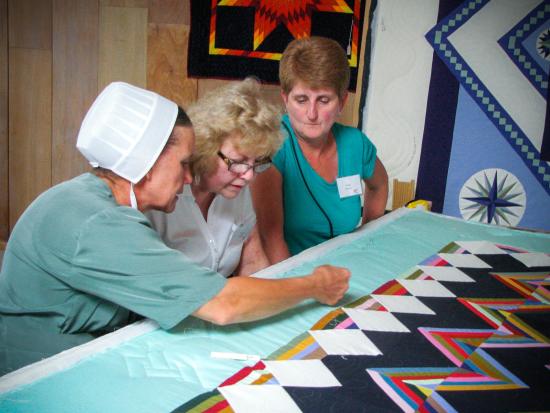 The Art of Traditional Quilting & Family-Style Meal at an Amish Homestead
Join Elaine Jones in her country farmstead and learn from her the process of traditional Amish quilting as you watch, learn or just chat with Elaine. Then sit down to enjoy a delicious home-cooked, two meat, traditional Amish meal featuring Elaine's recipes. You won't go away hungry!
Lavender Patch Quilt Shop Origami Fabric Folding or What's In Your Tool Shed? presentation 
Lavender Patch Quilt Shop: New quilters or veteran quilters can enjoy these fiber fest experiences in Bristol. Whether it's enhancing your piecing skills and proficiency in quilting or learning the ancient Japanese art of origami in fabrics there is a program for any level of fabric lover attending your event. Watch fascinating demonstrations, get tips on tools and techniques, and immerse in color and texture. Perfect for spouse tours too!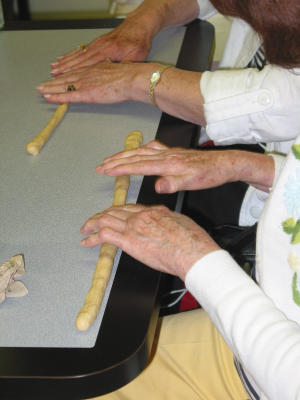 Make & eat your own soft Amish pretzel 
Meet Ben Miller, the former Amish man now pretzel entrepreneur.   His tasty special recipe for the infamous soft Amish pretzels are served in over 71 locations nationwide and growing.  You'll hear Ben's entrepreneur story, roll your own pretzel, watch it being baked, then enjoy this tasty treat with cheese dip and a beverage. 
Weave Your Own Basket at Sonshine Baskets
Welcome to Sonshine Baskets homestead and workshop as you meet Amish artisans at work.   Watch as they construct and weave their custom designed baskets, tour the workshop, and weave your own custom master piece as a lasting keepsake. 
Paint your own Amish Art 
Discover the creative artist inside yourself as you paint your own masterpiece ready to mount or frame. This is not a paint by number situation. Local artist, Linda Pieri, will show painting secrets of the art of acrylic painting developed throughout the ages. You'll "not just look at what you are painting, but to see what is really there."  A variety of popular Amish scenes are offered for your personal keepsake consideration.
Make and Take" fabric fun at The Quilt Shop at Das Dutchman Essenhaus 
Meeting attendees, spouses and groups love the various fun and fast fabric projects at the Essenhaus Quilt Shop. Pick one or pick them all because none require prior sewing knowledge or a machine. Best yet, everyone takes home their newly created craft.  Choose from a flower power petal pen or pin cushion, quilt notecards or even a seasonal pumpkin or Christmas tree. Each takes just 30 minutes and fun for all ages!
Create a Wooden Quilt Block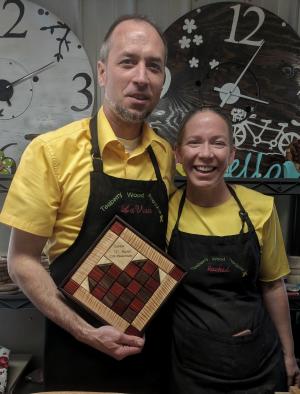 Meet LaVern and Rachel, the Amish-Mennonite dynamic duo that has made Teaberry Wood Products one of area's most popular surprises. This experience appeals to men and women with a something-for-everyone flair and includes a woodshop tour! Groups enjoy one-on-one time with this artisan team creating a wall quilt pieced entirely with beautiful exotic hardwoods. Participants leave with an 8"x 8" quilt block complete with engraved center tile and hanger. Your wooden work of art will be worthy of gifting or keeping as a treasured memory.
Jar Leaf Lantern "make take" hands-on project
Local artist, Martha Owen, leads your group on a fun, festive fall craft that is perfect to keep or give as a gift.
Popcorn Olympics at Shirley's Popcorn
Compete against your group friends and family members in this fun, interactive game! Race the clock, test your skills, and munch on freshly popped Original Movie Theatre flavored popcorn kernels as you have fun. Some games are independent, some in teams of 2 or more. All are led by the Shirley's Popcorn staff and coaches complete with supplies and instructions like a "cup toss", "straw blow", "distance throw", "basket toss" or popcorn toothpick swap. Winners receive fun and tasty prizes!
Coffee with the Curator at the Midwest Museum of American Art
See and hear about some of the amazing 19th and 20th century Midwest artists from American Primatives to pop art including original works by Grant Wood and Norman Rockwell in downtown Elkhart at the Midwest Museum of American Art.  This "coffee walk/chat" with the expert curator of the Museum is inspirational and informative while being fun for all.
Acupuncture Experience for groups
Relax and reset in this wellness experience.  Five needles are inserted per ear following the NADA protocol to simulate a mini "reset" of the central nervous system which induces a sense of wellbeing and relaxation. This protocol is often used to treat PTSD as well as support the body's natural detoxification processes. This experience can be pre-scheduled for conference participants individually or in small groups to meet capacities and maximums.
Personalized Aromatherapy Make & Take Experience
Participants will be lead in a unique experience of making their own aromatherapy blend. They will be educated on basic essential oil safety and be able to experience many essential oils not commonly found on the open market. This experience is both educational and covers a variety of health and wellness goals for the participants. This group will be lead by a Clinical Aromatherapist. This experience can be pre-scheduled for conference participants individually or in small groups to meet capacities and maximums.
Chair massage for groups
Give your meeting attendees relaxation and pampering with private, individual chair massages which increase blood flow, reduces pain and encourages relaxation. Portable massage tables can be set up at a variety of area locations to conduct individually private pre-reserved wellness sessions.
Sebastian the Snowman Make-Take Hands-On Holiday Ornament
Join Rachel and your new friend "Sebastian" in a cheerful holiday make-take ornament program. Cute as a button and customizable too! There will be a variety of embellishments provided to brighten and bring this little guy to life including things such as markers, buttons, bows, and ribbons so each person can get "crafty" and give THEIR Sebastian personality! Enjoy a woodshop tour and shopping time and leave with a jolly ornament!
Homespun Farm Experience & Dinner at Meadow Brook Farm 
Enjoy and afternoon or evening outing at an 1860 vintage home and farm that was constructed during the Civil War. Tour the historic home, take a selfie with a Jesus Donkey or on the ceramic cow.  Relax and unwind in the country air as you hear documented stories from the past about the nearby Pumpkinvine Railway while sipping on some fresh apple cider, homemade lemonade and munching on a fresh-from-the-oven donut.  Gather in the beautifully restored barns for food and fellowship or add on a local speaker, hands-on project or local band.  These are all things that can be enjoyed in Elkhart County at Meadow Brook Farm and Historic Home in Northern Indiana.
Make-Take Food Fun & Meal inside an Amish home
Welcome to Brenda's banquet room insider her Amish home. Enjoy one of Brenda's fun make-take demonstrations such as Carmel Apple Dunking, Cookie Decorating, Chocolate Candy Making or Amish Church Peanut Butter demos as she stirs, rolls, blends, cuts and shares her families favorite recipes right before your eyes. You'll get your own hands into the fun as you group will get involved for tasty treats to take home or munch in the their hotel room.  Finish your evening with the delicious Two Meat Thresher's Meal to round out your tasty time in Brenda's home. 
Chocolate Lovers Simple Fun
Brenda and her family gather each Holiday and have a fun Chocolate Holiday party rolling peanut butter balls and dipping peanut butter crackers. She'll share her holiday traditions while you dip, taste, and take your own chocolate treats.
Christmas Cookie Decorating
Featuring Brenda's family favorite cookie recipe that is rolled and cut into any shape at any time of the year. They are especially appealing at Christmas time. Your group will ice and decorate your own Cookie plate perfect to take home or munch in on the bus.
Fall Caramel Apple Dunk
Brenda pre-makes her famous homemade caramel sauce and provides you your own apple complete with stick and add-ons to get you in the fall spirit.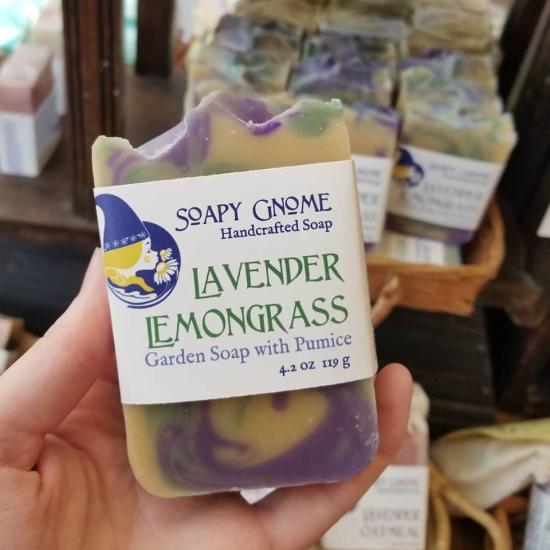 Behind The Scenes Entrepreneurial Tour of Soapy Gnome, home of Handcrafted Soap
Welcome to an independent shop in Goshen, Indiana, specializing in handcrafted soap and body care products. Soap made with locally crafted beer. Soap made with local fresh pressed apple cider. Soap combining Lavender with herbs. These and many more interesting and unusual concoctions make up her handcrafted and aromatic soaps, lotions, body bars, oils and more. Her cozy and warm welcoming shop is filled with great things to shop and enjoy! Jenny, owner and creator, will give a tour and demonstrate how she crafts her business and loves what she does

NOTE: Offerings and pricing subject to change without advance notice.
For more information contact