Shopping
Shopping in Elkhart County, Indiana isn't a chore to be checked off a list. It's an adventure to be planned. Here you will find the perfect, handcrafted knick-knack to fill a lonely space on a dining room shelf or a solid piece of Amish-made furniture you'll pass down through generations. Download the Shopping Guide here.
From local shops along the Heritage Trail to the mega flea market in Shipshewana, shopping here means everything is a hidden treasure waiting to be discovered, a story waiting to be told.
Amish handcrafted and locally made items are, by definition, what makes shopping in Elkhart County an experience like none other. With thousands of makers across the area, you'll find one-of-a-kind products everywhere you go. From something as simple as work-a-day homemade soaps to solid, hand-carved tables that'll be in your family for generations, the ingenuity, sweat, and love that goes into our projects is tangible.
And while many of the shops are listed on these pages, keep your eyes peeled as you drive through our towns. From Nappanee to Middlebury to Shipshewana and more, many families run their little shops from their homes, with just a shingle out front to alert you. You'll be amazed at what you'll find at unscheduled stops.
Indulge your "they-don't-make-'em-like-they-used-to" attitude and scour the county for the best antiques you'll find anywhere. Turn your trip into your own personal 'Antiques Roadshow' as you seek out cool items from yesteryear.
Maybe it's a piece of furniture. Maybe it's a jewelry box that reminds you of the one you used to play with when you visited Grandma. Antiques are like Easter eggs, they're hidden all over the place, and when you find one it's often better than what you expected.
From antiquing to boutique-ing! Lots of local shopkeepers curate their unique vibes, meeting with makers who don't have "big box" distribution. Local boutiques are filled with styles you won't find in chain stores.
If searching through an endless sea of options sounds appealing, our Flea Markets are what you are looking for. From the world-famous Shipshewana complex to some of the smaller (but still awesome) marketplaces, this is a chance to put your power shopping skills to the test. The lineup is ever-changing. So your visit in May can be entirely different than when you come back in the fall.
When you've worked up an appetite for more shopping AND food, you won't want to miss our farmers markets. Every market offers fresh food. What sets Elkhart County markets apart is the people. You don't just make a connection to your meal, you connect with the people who lovingly grew it.
Explore, question, connect. Get ready for shopping experiences you'll be talking about every time your friends jealously ask 'where'd you get that?' Feel free to share our secrets!
Happy Shopping!
View More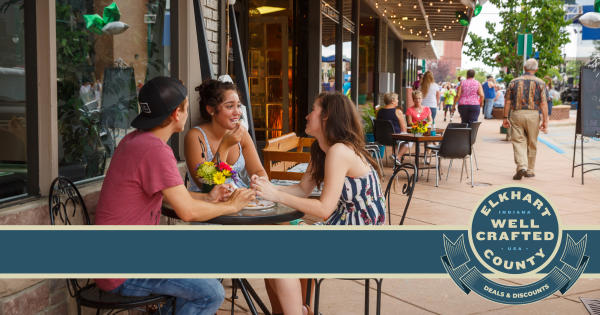 Enhance your visit with the Elkhart County Deals & Discounts Pass. Explore local dining, retail shops, fun attractions, and lodging option offers. Find details about each participating business, their location, and special offer. Simply sign up to access all currently available deals & discounts. Then have fun exploring Elkhart County, where the hand crafted welcome mat is always out!