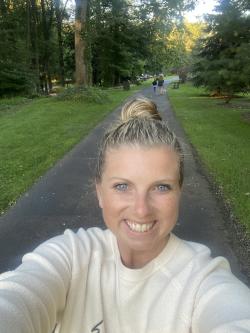 We feel like Elkhart County is one of the most Well Crafted areas in the nation. Whether it's wine or RVs, musical instruments or boats, motorcycles or hand-made inspirational signs, being creative, collaborative, and entrepreneurial is in our DNA.
Today we'd like to introduce you to one of those Well Crafted entrepreneurs, Chelsea Gorsuch. Chelsea and her husband Wes are the founders of Joyfully Said Signs, located at 402 E. Warren Street in Middlebury. Chelsea first started making and selling handmade signs in the spring of 2016, right around the time their third child was born. Chelsea has always loved the power of the written word and has also developed a love for using decor to create an inviting and beautiful space for friends and family. Combining those loves seemed like a natural fit and today she's creating signs that infuse life and love into the homes that they hang in.
We were able to sit down with Chelsea and get to know more about her, Joyfully Said Signs (and the incredibly beautiful space they are in, The Mill!), and what this mom of three loves to do throughout Elkhart County in her free time.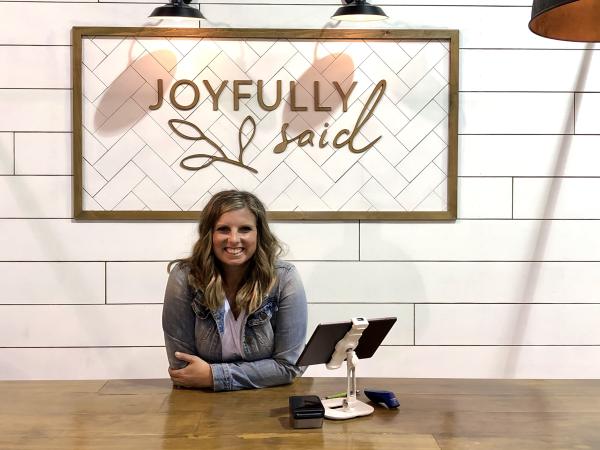 You and your husband Wes are founders of Joyfully Said Signs, and we love that story. What's it like starting a business in Elkhart County with your spouse? 
Starting a business in Elkhart County with my spouse has been amazing! While I get to focus my time and energy on the creative side of things, Wes spends the majority of his time and attention on improving the manufacturing side of our business, as well as the property development of our old grain mill property that we are located in. We have come to appreciate the vast supply of manufacturing partners in our community - Arbor Industries (right down the street from us) CNC's our sign boards for us, while Cutting Edge CNC (up the road in Millersburg) has also come alongside us to cut custom wooden cutouts from time to time. The support we continuously feel from our local community in Middlebury is also mind-blowing, and very humbling. It's an extra special gift to get to enjoy experiencing these things alongside a spouse. You might imagine that Wes and I get tired of seeing each other so much, but the reality is we are both so busy going our separate directions each day at work, that we find ourselves coming home in the evening still needing to catch up with each other on what went on in each of our days!
What's your favorite phrase or sign that's currently available on your website?
My current favorite is a large sign that says "I know who holds tomorrow" in wooden cutout words, and in the background of the sign are various names of Jesus that all point to who he is. During the pandemic, this sign has been a great reminder to me. I also love the collaboration piece we did with Chelsea Zutavern of @blessedranch ... it's a landscape abstract art piece and I am loving those right now!
What do you love about working in Elkhart County?
I love how Elkhart County embodies a spirit of opportunity and entrepreneurship. Everywhere you look there are thriving small businesses and people building cool things ... and I think that growing up in this type of environment builds a sense of confidence and motivation to go out and build a new dream too. Besides that, I enjoy many of the beautiful parks and features in this community- the Pumpkinvine Nature Trail, Bonneyville Mill Park, the Goshen Millrace, and the proximity to Lake Michigan!
Where is your favorite spot to relax in Elkhart County?
My favorite spot to go when I have down time is the Pumpkinvine Nature Trail ...  I LOVE to go walking or jogging on the trail, whether by myself or with a friend, and this trail always leaves me feeling refreshed.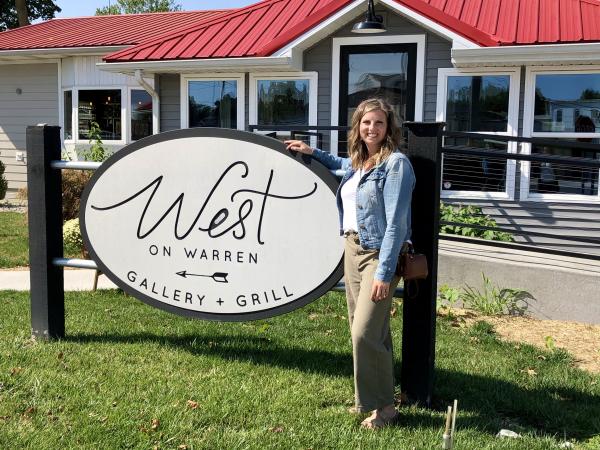 Where is your favorite spot to grab a bite to eat in Middlebury?
We love to hit up West on Warren in downtown Middlebury when we are looking for a delicious sit-down meal with a quaint atmosphere that's close to home. Their new rooftop area and frequent live music is an added bonus!
We are so incredibly thankful for how involved you and your family is in the community.  And, that collaboration with your sister Erin is beautiful ... (psst - if you haven't seen the Living in Yellow x Joyfully Said Collab already, check it out at joyfullysaidsigns.com/collections/living-in-yellow right now!)  Can you tell us a little bit about how you and your family give back to the community?
Owning a business has been a fun avenue for giving back to our community - which is the least we can do for all of the support we have received! Because we manufacture signs, we are always happy to donate for fundraisers and auctions. We try to donate to all local school auctions, the https://goshenindiana.org/trails, RETA, Loveway, local sports teams, etc. and any other individual needs that arise in our local community. Our team also chooses someone in our community to bless any month that we show a profit, which is SUPER fun! My sister is also active in the community and serves on the boards of Soup for Success and the Ronald McDonald House, in addition to holding a giant clothing sale each year and donating the sales to local charities or needs.
We know that Joyfully Said Signs is a must stop when in Elkhart County.  What else would you say is a must-see or a must-do for visitors?
If visiting Elkhart County, (after visiting all of us at The Mill of course- Joyfully Said Signs, The Mustard Seed Marketplace, and my dad's shop, Objects Antiques) I would definitely recommend a bicycle ride on The Pumpkinvine Nature Trail (including a stop at Krider Garden). If you are feeling ambitious, you could take the trail all the way to Goshen, during which a stop at Mooey's Ice Cream is a super fun treat! Once you arrive in Goshen, a walk through downtown is always fun, with plenty more favorite food options (looking at you Venturi Pizza and JoJo's Pretzels), ending with a coffee from Embassy Coffee or The Electric Brew. I also need to give a shout out to Nappanee, who has done a wonderful job building a quaint and fun downtown area featuring many fun shops and restaurants!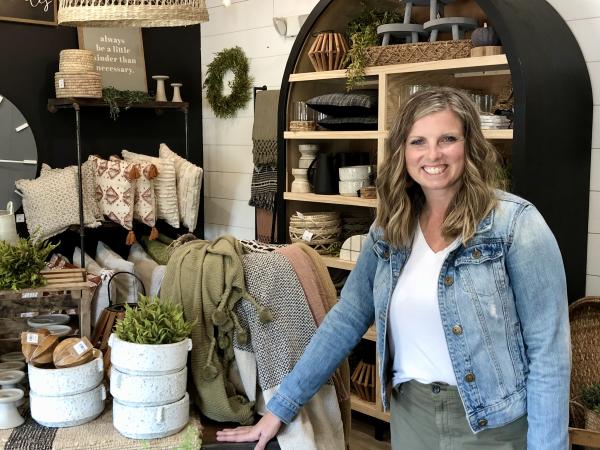 What would you tell someone looking to relocate their family to Elkhart County?
Move to Middlebury! OK, I may be a little biased. But, I truly do love the small town, close-knit community feel that many of our Elkhart County towns offer. Overall, I would tell them that Elkhart County, at first glance, may not seem that it has as much going on as a larger city has ... but with a closer look, they will find that there truly are so many wonderful features and gems in this area waiting to be discovered.
In your opinion, what is the most Instagrammable spot in Elkhart County?
Aside from Joyfully Said (wink) ... I would say that Ruhe152's wing mural wall creates a pretty great Instagrammable spot!
Get to know some of Elkhart County's Well Crafted entrepreneurs, artists and leaders and where they like to eat, shop and play along the Heritage Trail here: