Goshen Brewing Company is a family-friendly brewpub serving a wide selection of beers and seasonal, local, farm-to-table food. One of the coolest parts - they are a 100% solar and wind-powered facility!
They recycled the former Northern Indiana Public Service Company (NIPSCO) building to provide a comfortable, industrial space to eat, drink, and socialize. At GBCo. they believe in the power of community and offer big, open tables where you can sit and get to know your neighbors. We absolutely love this! 
Jesse Sensenig grew up in Archbold, a small town in Northwest Ohio. After high school, Jesse received his undergrad from Goshen College and got his Master of Social Work Colorado State University. He met his partner Amanda (a Goshen native) and fell in love with the beer culture while they were in Colorado and began to get serious about brewing at home.
Jesse did an internship at Great Black Swamp Brewery out of Toledo, OH and saw the progressive development of downtown Goshen when visiting family.  They knew it was time to come home because Goshen would be a great fit for them to open a brewery.
We were able to catch up with Jesse (sadly not over a delicious beer at GBCo., but that's coming soon!) and chat about what's his favorite thing on the menu at GBCo., what he likes to do in his off time and what he loves about Elkhart County!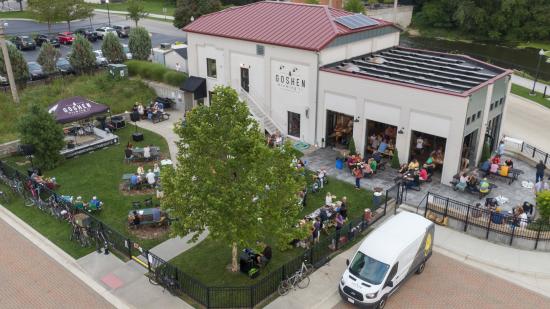 What's your favorite brew on tap right now?
I am always excited about Bexbach, our traditional Marzen Lager. It is somewhat malty, yet balanced and clean. Perfect for Fall!
GBCo. has more than beer! The menu is outstanding, too! If you could only keep one thing on the menu, what would it be?  (Psst, for us it'd be Pad Thai Tuesday OR those delicious fries with the mouthwatering comeback sauce!)
We do take pride in our relationships with farms around the region and focus on fresh and high-quality ingredients. It would be hard to take away Pad Thai though! The Ramen is also a favorite.
What do you love about living and working in Elkhart County?
This county is very collaborative and supportive of each other. The community has been extremely supportive of this venture, and we just want to be a strong asset to the area.
Where is your favorite spot to relax in Goshen?
Outside of brewery life I like to spend time with my partner Amanda and daughter Carly, hiking, playing disc golf, going to concerts, or riding bike. We especially like walking with family along the Millrace, or riding a bike along the Pumpkinvine Nature Trail.
We know that GBCo. has incredible food along with some awesome beer! When you're not at "the office" where is your favorite spot to grab a bite to eat in Goshen?
Common Spirits is always a spot that I find myself wanting to sit up at the bar, grab one of their impressive cocktails, and their fresh take on food. There are several different restaurants that I appreciate in the area though!
What would you say is a must-see or a must-do for visitors experiencing Elkhart County for the first time?
There are a lot of fun things but I am partial to downtown Goshen. There are great restaurants, bars, bookstores, coffee shops, art, concerts, farmer's market, and I always enjoy hunting at Found for some mid-century modern furniture.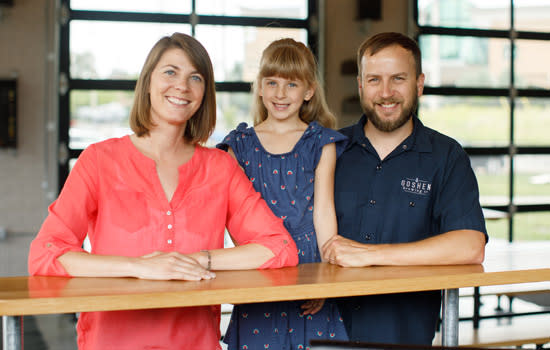 What would you tell someone looking to relocate their family to Elkhart County?
Elkhart County is an area of extreme opportunity and growth, yet with a smaller community feel.
In your opinion, what is the most Instagrammable spot in Goshen?
Ignition Music Garage, the concerts are amazing and the storefront is wonderful. 
Anything else you'd like to tell us?
We feel blessed to have such a great team of people working at GBCo., and are thrilled to be in this county with the opportunity to hopefully boost the quality of life through our passion!
Get to know some of Elkhart County's Well Crafted entrepreneurs, artists and leaders and where they like to eat, shop and play along the Heritage Trail here: