Elkhart County Hotels & Motels
Make your stay count with a spacious hotel with an indoor pool and fitness center or a motel near the action where you can drop your bags and focus on exploring. Perhaps, you want to cash in some rewards points with your favorite chain's loyalty program or create new loyalty by connecting with the proprietors of one of our local establishments.
It doesn't matter if you're looking for traditional vacation amenities or a local spot near everything you plan to explore during your stay, there's a hotel or motel in Elkhart County to fit your agenda. Dozens of options dot our expansive landscape, so choose one now, and bookmark your second favorite to check it out on your next trip.
Local Gems

Hotel Elkhart, part of Tapestry Collection by Hilton is located in the vibrant and eclectic Downtown Elkhart, close to shops, museums, and the Lerner Theatre. The region's only boutique hotel features a rooftop bar, restaurant, conference space, and a ninth-floor ballroom overlooking downtown.
The Countryside Inn in Nappanee is a great example of travel accommodations on a budget. Great rooms with a location near popular Barns at Nappanee, home of Amish Acres, it's a great jumping-off point for your daily adventures around the region. Come back, crawl into a comfy bed, wake up, and do it all again the next day.
If you're looking for a more immersive country experience but still want the conveniences of a traditional hotel stay, then the Blue Gate Garden Inn is worth a visit. The adirondack invite you to have a seat and relax by the fire pit at the end of your day.  Start your day with a hearty breakfast in their dining room before you head off to explore the many shops or Flea Market in Shipshewana. And when you're ready to relax, jump in the indoor pool.
Amish Country
You can experience authentic Amish craftsmanship during your stay at Der Ruhe Blatz Motel in Shipshewana. Meaning "The Rest Place," it was built by 16 Amish families. Each of the 30 rooms features all oak furniture built by local Amish families. You can also get your souvenirs at their gift and craft shop. But even amongst the Amish feel, there are still modern amenities including AC and television.
Another option in Amish Country is Das Dutchman Essenhaus. The lobby fireplace is a great place to relax before heading up to your room for the night, and the indoor pool, hot tub, and fitness center are perfect for helping center your mind with a little exercise. There are also walking, jogging and biking paths along the nearby Pumpkinvine Nature Trail. And if classic cars are your thing, start your weekend early. Thursday afternoons feature a Classic Car Cruise-In.
Familiar Chains
Even corporate chains aren't immune to the charms of Elkhart County. For instance, Radisson's Home2 Suites by Hilton offers stylish, spacious suites for work or sleep with the great amenities you want. Dine al fresco with complementary BBQ grills, enjoy their comfy outdoor area complete with fire pits, and take a dip in the hotel's one-of-a-kind indoor salt water pool.
Four Points by Sheraton off Exit 92 offers all the things you'd want at one of their metropolis counterparts in a convenient location. Just 1.5 hours east of Chicago and one hour west of the Ohio state line, Exit 92 is the perfect stop.
No matter what style or standard you have for your stay, you will find it here, in Elkhart County.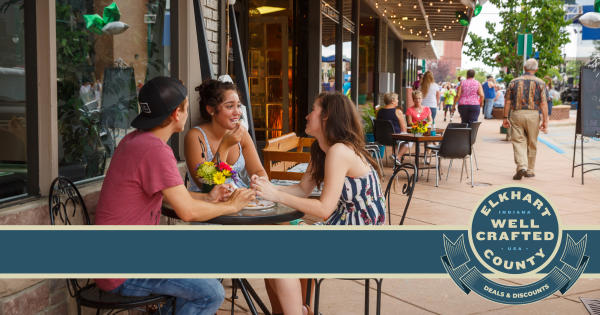 Enhance your visit with the Elkhart County Deals & Discounts Pass. Explore local dining, retail shops, fun attractions, and lodging option offers. Find details about each participating business, their location, and special offer. Simply sign up to access all currently available deals & discounts. Then have fun exploring Elkhart County, where the hand crafted welcome mat is always out!