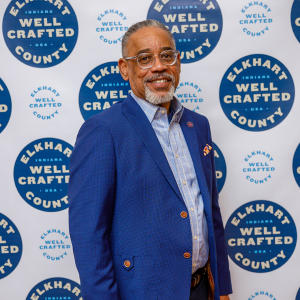 We can't say it enough … when you love where you live, you embrace every opportunity to contribute to the community and help make your neighborhood, workplace or city that much better. It was a group of people coming together in 2016 who wanted to embrace this mantra the most: Love where you live. Live where you love.
The Vibrant Communities initiative, co-sponosred by the Elkhart County CVB along with the Community Foundation of Elkhart County, has inspired residents of Elkhart County to advocate for quality of place as a critical component of improving the place they live. This couldn't be done without the Vibrant Communities co-chairs, Arvis Dawson and Suzie Wierick.
Today we're going to learn a little bit more about Arvis. He's one of Elkhart's biggest cheerleaders but he's not originally from the area. He grew up on the South Side of Chicago and attended Dunbar High School where he played baseball.  it was an offer to attend Goshen College and play baseball that brought him to Elkhart County. And thankfully for all of us, he stayed once he graduated. We asked Arvis a few questions about what he loves to see and do in Elkhart County.
How did you get involved with Vibrant Communities?
I was a part of the original steering committee for the Elkhart County CVB and at some point, Diana Lawson asked if I would co-chair with Suzie Wierick. I couldn't say no!
What do you love about living and working in Elkhart County?
I have had three jobs since graduating college and have been fortunate enough to love every one of them. I was a social worker for two years, then a teacher for 31 years; an Elected City Councilman for 30 cumulative years and served eight years as the Mayor's Executive Assistant. All were public service jobs working with people in Elkhart.
Where is your favorite spot to relax in Elkhart?
As most people who know me will tell you I can be found relaxing at Crimaldi's restaurant and bar in downtown Elkhart. Crimaldi's is the oldest bar in town.
Where is your favorite spot to grab a bite to eat in Elkhart?
I do not really have a favorite spot. I try and eat at all the locally owned restaurants.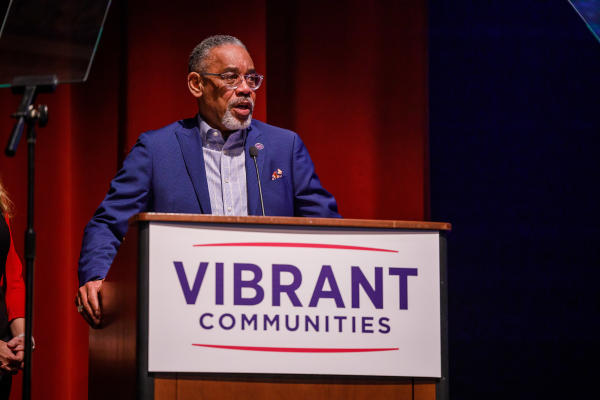 What would you say is a must-see or a must-do for visitors experiencing Elkhart County for the first time?
Our parks, riverway and trailways are beautiful and should be experienced!
What would you tell someone looking to relocate their family to Elkhart County?
I often tell people I live in God's Country. Our schools, cost of living, our entrepreneurial spirit, our quality of life and our philanthropic hearts are second to none. Being centrally located to Chicago, Detroit, Indianapolis, and Lake Michigan is only fifty miles away.
In your opinion, what is the most Instagrammable spot in Elkhart County?
The view from my downtown apartment on Main Street, in Elkhart; the Lerner Theatre; Central Park and all the events that take place on the Plaza.
Get to know some of Elkhart County's Well Crafted entrepreneurs, artists and leaders and where they like to eat, shop and play along the Heritage Trail here: