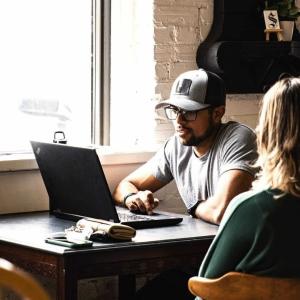 When you love where you live, you relish chances to contribute to the community and help make your neighborhood, workplace or city that much better. We've known that for years, which is part of the reason the Elkhart County CVB along with the Community Foundation of Elkhart County are the co-sponsors of the Vibrant Communities initiative. The Vibrant Communities initiative launched in 2016 to inspire residents of Elkhart County to advocate for quality of place as a critical component of improving the place they live. Discussions organized by Vibrant Communities in community conversations helped create a 77-item Action Agenda of priority projects, programs and policies to improve downtowns, parks and trails, arts and cultural activities, and resident engagement.  Now, in 2021, we're proud to say that Action Agenda and the 77-items have been checked off and we're beginning to plan how the Action Agenda 2.0 will be created.
Vibrant Communities also oversees the Vibrant Neighborhoods and Vibrant People programs which highlight some of the incredible neighborhoods throughout Elkhart County and some of the most thoughtful people who occupy those spots.  One of the individuals who helps Vibrant Communities with those projects is Alex Bicknell.
Alex was born and raised right here in Elkhart, going through the Elkhart Community School System and graduated from Indiana University South Bend. He was a competitive traveling martial artist for 14 years and ran one of the largest self-defense schools in the country right here in Elkhart. Currently Alex is the Leadership Coach and Community Engagement Chair at Heartland RV.
We had a chance to ask Alex a few questions in between him running obstacle course races like the Tough Mudder and finding nature views around the country traveling with Heartland RV.
You have been with Heartland RV for a few years. What got you involved initially with Heartland RV?
I was initially hired for a training and development position. After about six months it was determined that my role as a leadership coach was what the company needed more at the time. Over the last few years my responsibilities have expanded to include a focus on community engagement (i.e. service projects and annual financial benevolence), company culture, and divisional project support. It's been such a cool journey. Our organization, led by a top-notch executive leadership team, is growing and moving in an awesome direction.
We are so incredibly thankful for how involved you are with Vibrant Communities in Elkhart County.  Can you tell us a little bit more about what you love about the Vibrant Communities initiative?
The Vibrant Communities initiative is all about highlighting the existing goodness of our community, while simultaneously inspiring others to exercise the same! Elkhart County truly is a great place to live, work and play. And with the rapid economic development of our area, it's onward and upward from here!
What do you love about living in Elkhart County?
Elkhart County is a land of opportunity. You can find passion-driven work in most major industries in the region or create your own business from scratch. I believe this is why entrepreneurship is growing in our area. I also love the developing restaurant scene. Tasty food, hand-crafted cocktails, and unique atmospheres are on the rise! I am also a huge fan of the diversity offered in Elkhart County. It's a melting pot unlike many similar regions you might find across the United States.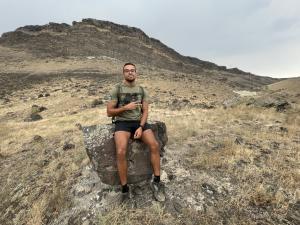 Where is your favorite spot to relax in Elkhart County?
I don't know that I could pick one spot. Every week I spend a few hours doing offsite research and work at the Steelyard Coffee Company. They've created a comfortable space within a beautiful building. It's really a hidden gem. On the weekends I find myself watching sand volleyball with a cold beer and snacks at The Galley. During pure leisure time you can find me either at Beacon Health and Fitness (the aquatics center downtown), or at Ox Bow Park for a hike.
Where is your favorite spot to grab a bite to eat in Elkhart County Elkhart?
This question is difficulty level 13/10. Favorite? Bite? Singular? Artisan, 523 Tap & Grill, and West on Warren are all perfect when I'm feeling fancy. The Vine is divine. The food, drinks, and service experience are all thoughtfully crafted. That Guy's Gourmet BBQ Ribs has the best BBQ around and there are few groovier brew options than Iechyd Da Brewing Company. The Oasis and Goshen Brewing Company have something for everyone (and they're very family friendly!). If I'm feeling takeout, Lucky's, Kao's, Coco's, and Volcano always hit the spot. Always. For breakfast, the Tipsy Biscuit has chicken and waffles that will knock your socks off. It's also near impossible for me to forgo an order of biscuits and gravy. Chef Gil at the Chubby Trout knows how to make a sushi roll will make your whole day better. Maple Indian Cuisine has some of the most vibrant, flavorful dishes you'll find in our county. And if I find myself in Nappanee during the evening, I have to stop at either Ruhe152 or Hunters Hideaway - great food, unique atmospheres. Oh! Can't forget about dessert. Vanilla Bean Creamery, Twisted Cow, and Flavor Freeze are all blissful experiences. Honorable mention goes out to Bacon Hill (and to Amber and Zach). Even though BHKP closed, it would have been at the top of the list for brunch, lunch, dinner, drinks, atmosphere, and service, bar none.
What would you say is a must-see or a must-do for visitors experiencing Elkhart County for the first time?
Please refer to my restaurant list. I would be happy to answer any and all questions regarding food and drinks in Elkhart County. If I had to choose one, I'd encourage people to visit the Wellfield Botanic Gardens. Such beauty.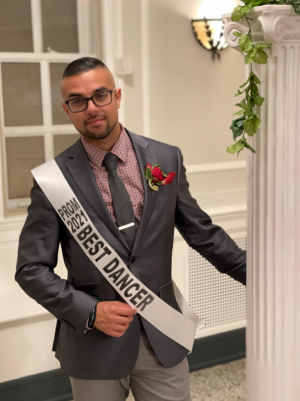 What would you tell someone looking to relocate their family to Elkhart County?
Diversity and opportunity are in the veins of Elkhart County. I would encourage them to talk to others who are heavily involved in the community and plug into something outside of the normal day-to-day routine. If there was one thing I wish more people would do, it would be to find a nonprofit organization whose passion points align with theirs and support any way they can. Attend events, participate in activities, and help make the world a better place right from home.
In your opinion, what is the most Instagrammable spot in Elkhart County?
I'm going to throw this one back to the Steelyard Coffee Co., and the entire building and shops that surround it (including Carved)!
Anything else you'd like to tell us?
No matter what anyone tells you, there is nothing wrong with visiting the Vanilla Bean Creamery, Twisted Cow, and Flavor Freeze all in the same day.
Get to know some of Elkhart County's Well Crafted entrepreneurs, artists and leaders and where they like to eat, shop and play along the Heritage Trail here: