Hotels
A well-crafted trip to Elkhart County begins and ends with the right choice of accommodations, and around here we have a variety of accommodations to choose from. You may be planning a jam-packed itinerary hitting our local shops, a day at Shipshewana Flea Market, and exploring the Heritage Trail or you may be getting away in order to get away from it all. Either way, we have something for you.
Big red barns. Freshly cut grass. Fields of farm-to-table produce ripening in front of you. Our country inns abound with an authentic small-town atmosphere. Tranquil afternoons give way to evenings around the fire pit where you can meet other guests and compare experiences. Each is unique, and you will want to come back, again and again, to experience what each one has to offer.
If you're looking for bigger accommodations, plenty of hotels and motels dot Elkhart County. Some are in our cities, others in smaller towns and by the side of the road. You'll be able to find what you're looking for, whether it's a heated indoor pool to get in a few laps in the dead of winter, or a big dining room to grab a hearty breakfast or late snack. Whatever you want, you'll find it here.
Your company wants to meet but also wants to get out of the meeting room. Plenty of our hotels offer enough rooms for big groups and conference rooms for large gatherings or breakaway sessions.  Maybe your wedding is coming up! There are plenty of indoor and outdoor spaces that will give you and your family amazing memories to last a lifetime. And for family reunions, you won't find better.  It doesn't matter if you've got hundreds of long lost relatives converging from around the country, or a few dozen from around the region. Memories are made here. Be sure to ask each proprietor about their catering capabilities.
A warm, handmade quilt, freshly ground coffee, and one-on-one time with your hosts. Elkhart County's bed and breakfasts connect you with the heart and soul of the community. It doesn't matter if you're looking for an authentic Amish experience or meet locals who grew up here, there is no better way to connect with the true Elkhart County than by staying at one of our B&Bs.
Maybe you're bringing your accommodations with you. We've got you covered! Elkhart County is the RV capital of the world! When you roll in you will find plenty of campgrounds to park your RV before you begin exploring. Some have pools, some have hookups, all have a welcoming and friendly attitude. The RV community is never more at home than when they've brought their RV back to its home in Elkhart County.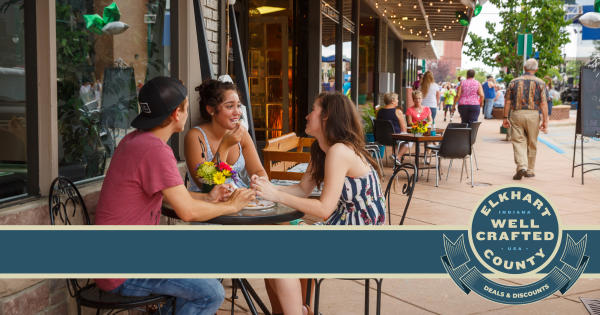 Enhance your visit with the Elkhart County Deals & Discounts Pass. Explore local dining, retail shops, fun attractions, and lodging option offers. Find details about each participating business, their location, and special offer. Simply sign up to access all currently available deals & discounts. Then have fun exploring Elkhart County, where the hand crafted welcome mat is always out!