Things To Do With Kids
From soccer practices to band rehearsal to martial arts camp to various after school obligations, kids' schedules can fill up faster than their parents' day planner. The little ones may need a trip away as badly as you! Elkhart County has lots of activities to engage the minds (and energy!) of children but at a more relaxed pace. Here, kids learn to enjoy life one moment, one activity, one memory at a time. It's time to put away the electronic devices and explore the Elkhart County region.
The Hall of Heroes Superhero Museum
Wanna see their eyes light up? Tell 'em you're taking them to the Hall of Justice! The Hall of Heroes Superhero Museum in Elkhart is in a replica of the DC icon. Inside the kids will find decades worth of memorabilia for DC, Marvel, and other exciting universes. If they've only seen the movies and recent TV shows, they'll get a super lesson in superhero history, as The Hall has a collection including comic books, shows, and movies from back in the day.
Kercher's Sunrise Orchard
Let them run up and down rows of trees and pick their own sweet treat for themselves at Kercher's Sunrise Orchard in Goshen. Sure, the baskets may be bigger than some of the younger ones coming along for the fun, but that's what mom and dad are for! This family-owned farm has a tradition of growing amazing fruit and making family memories for generations.
Studebaker National Museum
So much chrome, so little time! Kids who don't know anything besides minivans will see how people used to travel in style during a visit to the Studebaker National Museum. Over in South Bend, they can stare at themselves in the chrome-mirrored bumpers while dreaming of cruising down the street in cars that look nothing like what mom and dad parked out in the lot.  They can also see classic military vehicles and equipment that Studebaker has been producing since the mid-19th century.
National New York Central Railroad Museum
As long as there have been trains and railroads, kids (and more than a few of their parents and grandparents) have been fascinated by railroads. That's why you've got to make a family stop at the National New York Central Railroad Museum. This Elkhart favorite is a self-proclaimed "timetable to the past" that celebrates what was once the second-biggest railroad east of the Mississippi River, with more than 11,000 miles of track. The Railroad arrived here in 1851 and is intertwined with the history of Elkhart and northern Indiana. The kids will love staring at the amazing machines that tower over them, a piece of history within their reach.
Linton's Enchanted Gardens
For a truly unforgettable experience, visit Linton's Enchanted Gardens, Indiana's largest Home and Garden Center. Kids of all ages can take a tour of the beautiful grounds on the Enchanted Gardens Train and visit the free petting zoo, as well as go gemstone mining, "walk" on water in an orb, and so much more! This award-winning attraction allows you to take in a variety of beautiful display gardens that will be sure to inspire you and your family.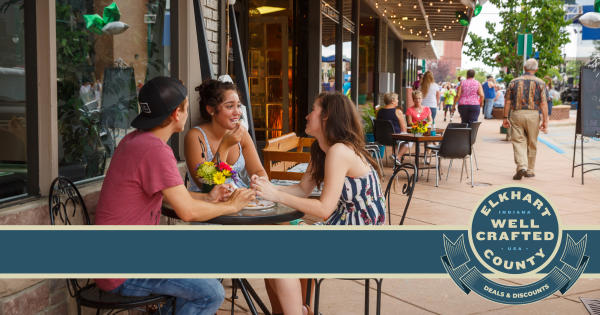 Enhance your visit with the Elkhart County Deals & Discounts Pass. Explore local dining, retail shops, fun attractions, and lodging option offers. Find details about each participating business, their location, and special offer. Simply sign up to access all currently available deals & discounts. Then have fun exploring Elkhart County, where the hand crafted welcome mat is always out!