Guide to Quilt Gardens Along The Heritage Trail
May 30 - September 15
The Quilt Gardens along the Heritage Trail joins quilting, gardening, and art into a one-of-a-kind event featuring more than a million vibrant blooms, 16 gigantic gardens, and hand-painted super-sized murals.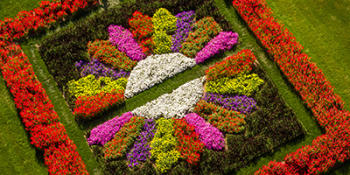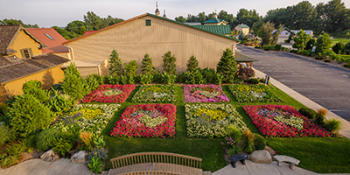 This colorful patchwork of quilt-inspired gardens and hand-painted, quilt-themed, super-sized murals deliver dazzling views in the communities of Bristol, Elkhart, Goshen, Middlebury, Nappanee, and Wakarusa. It's the only experience of its kind in the world!
Check out galleries of past years' Quilt Gardens and plan your next visit now. 
Maps, Resources & Info
Download the Quilt Gardens Map.
View Quilt Gardens addresses to put in your favorite map application for directions
Every quilt garden and quilt mural has its own intricate pattern, many are original designs and each has its own unique story. Each of our unique communities that host quilt gardens & murals have their own special character and fun finds you'll want to explore.
Quilt Gardens Fast Facts
Most recent photos of the Quilt Gardens
Facebook Check out updated photos of the gardens
Twitter: Stay up-to-date on all Quilt Gardens happenings
Plan your visit to the Quilt Gardens
Quilt Gardens 911: Are you here and have questions? Call our helpful guest service professionals at 800.262.8161 to get your questions answered
View more fun suggested group itineraries.
Quilt Gardens FAQ
The Quilt Gardens are view May 30 - September 15 each year.
2021 Quilt Gardens Photos