The Heritage Trail By Season
WINTER
When the first snowfall is glistening in the lanes a feeling of good cheer just takes over in all our homes and downtowns. Holiday decorations brighten up familiar spaces as shops bustle with activity. Gingerbread, shortbread, cakes, tarts and every kind of seasonal baking is at the ready to welcome visitors.
Get in the festive mood with a visit to Ruthmere, Elkhart's elegant 1910 Beaux Arts mansion. Their Edwardian Yuletide celebrations show off period-style decorations including numerous Christmas trees and elaborate garlands. Special concerts and activities recount the graciousness of holidays past. Check out some of our favorite places for Christmas lights that can be enjoyed safely outside or in your car.
What would the holidays be without the time-honored strains of favorite carols? Enjoy an extravaganza of seasonal music at the Goshen College Music Department's Festival of Carols."A Festival of Carols" is a heartwarming presentation patterned on a traditional English worship service, featuring Christmas carols, spirituals, scripture readings and sacred musical works. Sauder Concert Hall will be transformed into a winter wonderland, adorned with garlands, lights and trees, creating a magical atmosphere for all attendees.
Get the New Year off to a good start with the Fire and Ice Festival, a popular Goshen First Fridays event in January. Enjoy the stunning work of ice carvers as they transform blocks of ice into incredibly detailed masterpieces. Then warm up with a taste test of the many chili recipes submitted in the Chili Competition.
Don't leave our winter wonderland without lacing up your skates and gliding around the NIBCO Ice Park. This riverside ice rink features 5,740 square feet of ice surface and a wonderful skating path lined with twinkling lights. More area events
SPRING
Ah, the sweet smells of spring…and it all starts with maple syrup. The Wakarusa Maple Syrup Festival welcomes spring with plates piled high with pancakes and drenched in maple syrup. If you can pull yourself away from the maple delights, you'll also enjoy a Festival Parade, numerous competitions and family activities.
Spring is a wonderful time to visit our many parks. You'll discover six outstanding county parks including Indiana's oldest gristmill. Our two major rivers, the tranquil and wide St. Joseph and the narrow and swift-running Elkhart River, offer diverse landscapes and wildlife. On the St. Joseph, anglers will find great fishing for walleye just below the dam east of Elkhart. And both rivers are excellent for bluegill, catfish, and small- and large-mouth bass. At the confluence of the Elkhart and St. Joseph Rivers a footbridge connects Island Park to the quiet terraces, picnic tables and benches of the RiverWalk—an outstanding example of urban waterfront landscape architecture.
Of course, we're known far and wide for our incredible gardens. In the spring, everyone with a green thumb is busy nurturing new masterpieces and scenting the air with new blooms. Memorial Day is the colorful grand opening of the Quilt Gardens with their 100,000 or more annuals. You can also enjoy spring's budding plants and flowers in the Wellfield Botanic Gardens and the Calendar Garden, just to name a couple. And be sure to take a trip to the country to marvel at the beauty found along the curving paths of this relaxing setting. More area events
SUMMER
Have you ever noticed that every summer day feels like a celebration? Like the possibilities are as endless as the blue skies and the fields of corn? The summer's abundance can be seen and tasted at local farmer's markets, where each basket is filled to brimming with fresh fruits and vegetables. Goshen's Mill Race Farmers Market and Nappanee's Farmers Market at Coppes Commons is a shrine to fresh, organic and homemade. Local growers fill tables with heirloom tomatoes, potatoes, sweet as sugar melons, you name it they grow it.
Summer along the Heritage Trail is ideal for outdoor activities. Whether you enjoy biking, hiking, kayaking, a walk through nature or a family outing to the park. The Pumpkinvine Nature Trail, MapleHeart Trail, Millrace Canal Trail, Bonneyville Mill County Park, Wellfield Botanic Gardens, Elkhart Riverwalk, Central Park, Congdon Park, and St. Joe River all offer a respite from the hectic pace of life.
Load the kids in the car on a hot summer day for a splash at an area pool, water park or splash pad. Check out the NIBCO Water and Ice Park, McNaughton spray Park, Pierre Moran Park, High Dive Park, and Ideal Beach.
What better way to share the joys of summer than with a few hundred thousand friends and neighbors at the County Fair. For nine days in July, the Elkhart County 4-H Fair unfurls 140 acres of family fun. As one of the largest county fairs in the nation, the action is non-stop. Learn from 4-H exhibits and demonstrations. Watch the rodeo and top-name grandstand entertainment. Cheer on harness racing, tractor pulls, and the demolition derby. Act like a kid again at the giant midway and stuff yourself on a bounty of fair foods.
FALL
One of the best times to experience the Heritage Trail is when the leaves begin to turn. Gold. Red. Orange. Brilliant warm colors to balance the new chill in the air. Clusters of trees sporting blazing fall hues form a vibrant backdrop for the barn-red Bonneyville Mill, Indiana's oldest continuously operating gristmill. For a colorful walk, follow the nearby trails that meander along the little Elkhart river wetlands at this 233-acre park.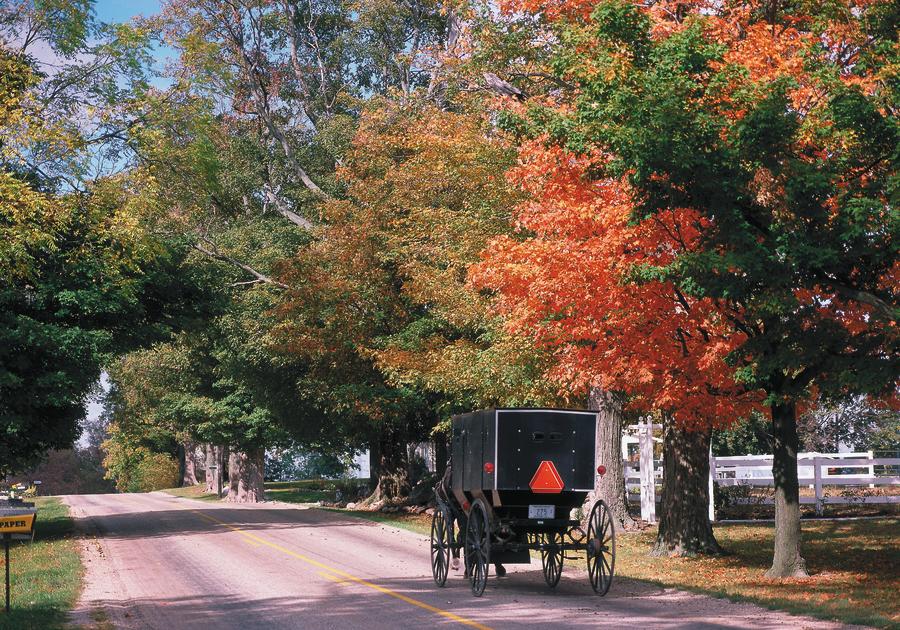 Looking for more color? Take a leisurely walk along the tree-lined towpath beside the millrace canal of the Elkhart River in Goshen. Goshen is known as the "Maple City" so color viewers are richly rewarded with flaming shades of red and orange each autumn. If you're there on a Saturday morning, check-out the Goshen Farmer's Market featuring a bounty of locally grown fruits and vegetables located between downtown Goshen and the Millrace Trail at the old Millrace Center. 
 
Fall Festivals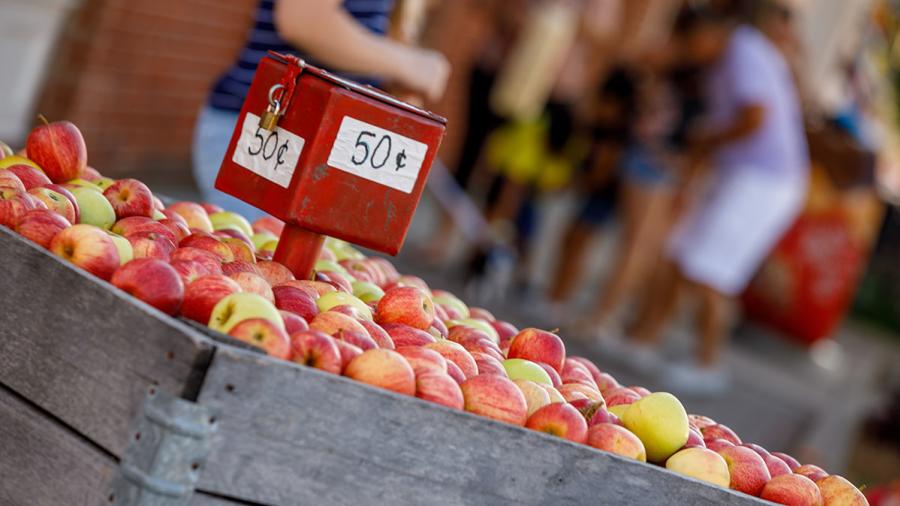 Pumpkins and apples seem to be everywhere – decorating homes and main streets as well as flavoring pies and other fresh-from-the-oven baked goods. Speaking of apples. We've got the largest apple pie in the world to help satisfy fall cravings! Weighing in at 600 pounds, this pie is an annual tradition at the Nappanee Apple Festival. The three-day festival also features an incredible assortment of apple goodies, pie-eating contents, live music and fun and games for the whole family.
Middlebury Fall Festival: September, 2024
Nappanee Apple Festival: September, 2024
Michiana Mennonite Relief Sale: September, 2024
Michiana Pottery Tour: September, 2024
Goshen First Friday: October, 2024

Click here for more great fall activities for everyone in the family​
Fall Family Fun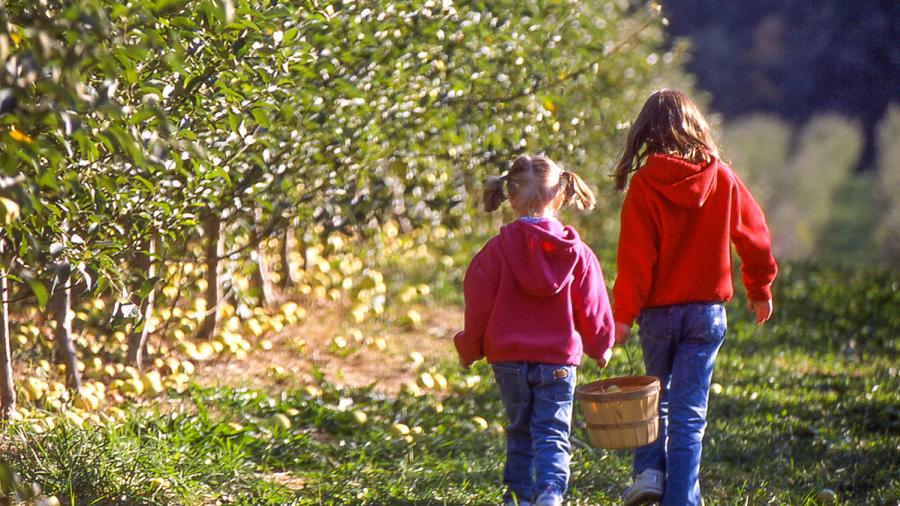 There is no shortage of fall-time family fun from September through October at area pumpkin patches, apple orchards and harvest festivals. Jump on a fun and relaxing hayride through the orchard at Kercher's Sunrise Orchard to pick a bushel of apples or a pumpkin. Start your holiday shopping a bit early among the artisans at the Middlebury Fall Festival. Sample the harvest and some local wine at Fruit Hills Winery & Orchard. Learn how to press cider or make apple butter at Amish Acres Fall Harvest Days. Or get your fill of polka, beer and bratwurst at a traditional Oktoberfest.
Click here for more great fall activities for everyone in the family​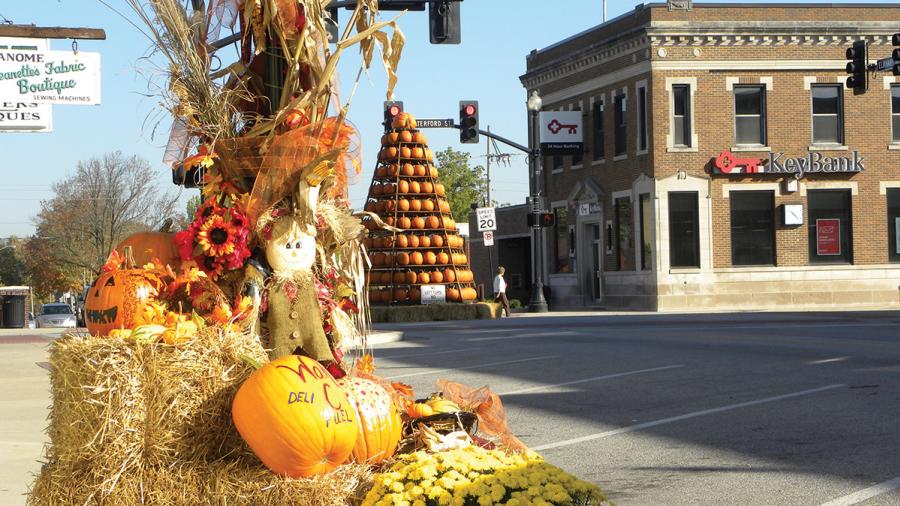 One thing you can't miss is the Great Pumpkin Tree in Wakaursa. Standing 17 feet tall, the tree is made with over 200 pumpkins! It's also the centerpiece of the Wakarusa Harvest Halloween Party, which promises spooktacular fun for all ages. Enjoy a hayride, a costume contest and special fall savings throughout the downtown. October.