Welcome to Elkhart County, Indiana
Explore Our Cities & Towns
Elkhart County thrives thanks to the individual character of our cities and towns. From the big city feel of Elkhart to the small-town warmth of Bristol to Goshen in the middle of it all, each offers unique opportunities you won't find anywhere else, ensuring each will hold a special place in your heart after your first visit.
Vibrant City Vibes
Hustle and bustle or peace and serenity, the city of Elkhart has it all. The Lerner Theater anchors a thriving arts district filled with restaurants to please any palate. Cruise the Gateway Mile for some retail therapy and then stop for a well-crafted coffee or a cold craft brew. And when you're ready to take a deep breath and relax, take a stroll through the meticulously cared for Wellfield Botanic Gardens.
Goshen is in the middle of it all, literally and figuratively. The Old Bag Factory offers plenty of well crafted local goods made by passionate creators. Snacks don't get any fresher than the ones you pick yourself, and you can do that at Kercher's Sunrise Orchard. Grab a pretzel at Jojo's, quench your thirst at Goshen Brewing Company, and dine on an authentic Neapolitan wood-fired pizza at Pizzeria Venturi.
Small-Town Comfort
Small town warmth and friendliness greet you the moment you arrive in Wakarusa. With just one stoplight in the entire city, life moves at a different pace. From Richmond's Feed Store (which actually sells clothes and accessories) to a 110 years old hardware store, Wakarusa is an authentic connection to a different time you must experience to appreciate.
Just off I-80/90 is Bristol, and it's definitely worth taking the off-ramp. A day here can include a round at the Raber Golf Course followed by a stop at the rustic tasting room or patio at Fruit Hills Winery and Orchard. At night, catch a production of the Elkhart Civic Theatre inside the historic Bristol Opera House which opened in the late 19th century.
Just when you think you know Middlebury, you'll discover something new. Das Dutchman Essenhaus is the state's largest restaurant serving up Amish recipes and more. For a moment of reflection, stroll through Krider World's Fair Garden or bike the Pumpkinville Nature Trail and enjoy your surroundings even if you can't pinpoint the source of your joy.
Nappanee invites you to "embrace the pace." Here, horse and buggies share the road with cars and a leisurely drive in the country will show you a side of America you rarely see. You can catch a show at The Round Barn Theatre at The Barns of Nappanee, highlighting the abundance of local talent. And you can't beat shopping at Coppes Commons. Meet local merchants and creators and discover the one piece that's just right for your home. You don't walk away with a purchase, you walk away with a story.
Shipshewana is a shopping bazaar and so much more. The legendary Shipshewana Auction and Flea Market has given this city its reputation and you can spend more than a day there exploring and discovering. You can also check out the Blue Gate's restaurant and theater or commune with nature at a live bison ranch. And when it's time to eat, it's not hard to track down some authentic Amish meals served family-style. Because no matter where you are in Elkhart County, you feel like family.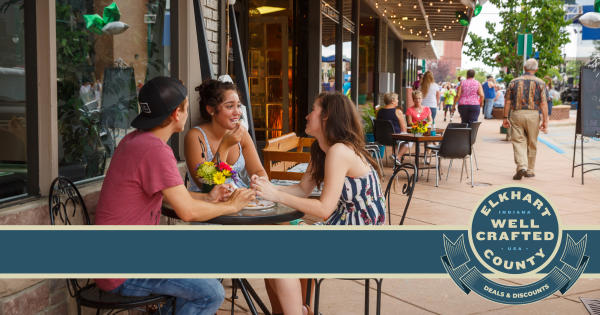 Enhance your visit with the Elkhart County Deals & Discounts Pass. Explore local dining, retail shops, fun attractions, and lodging option offers. Find details about each participating business, their location, and special offer. Simply sign up to access all currently available deals & discounts. Then have fun exploring Elkhart County, where the hand crafted welcome mat is always out!