Cabins
Getting away from it all. We talk about it, but rarely do it. The cabins and campgrounds of Elkhart County let you reach your goal of escape relaxation. Gone are the pressures of racing from one crowded attraction to another. Here, you create organic memories at your own pace.
Our cabins and campgrounds are perfect for a near-cation with your close family in a cabin, or holding a family reunion in a space sprawling with possibilities and plenty of room to spread out.
Shipshewana
Park your RV or rent a cabin. Amish Log Cabin Lodging & Shipshewana Campground - North Park will accommodate you anyway they can. The wood interior cabins bring you closer to nature, while also allowing for the possibility to crawl into bed under a quilt like the kind you used to wrap yourself in when you stayed at grandmas. And for a true taste of Amish excellence, enjoy a meal at the Blue Gate Restaurant just a six-minute drive away.
Goshen
Cast a line, walk a trail, build a campfire. Antler Lodge at Singing Hills Retreat offers traditional camping standards with all the comforts of home. Aside from the back-to-nature activities, you'll find a fully stocked and operating kitchen. And when you and your family gather around the hickory table, it will connect you to a time, a feeling, an emotion of days gone by.
Also at the Singing Hills Retreat are more Amish Country cabins. With names like the Log Cabin Hideaway, Songbird Chalet, and Secret Haven, each holds different opportunities to connect as a family. This place is great for an extended family to book and finally hold the family reunion you've been talking about for years.
Also, even though these are Amish cabins, they still have electricity, Wi-Fi, and maybe even a hot tub. You will have all the modern conveniences and still get an authentic experience.
Bristol
Eby's Pines Campground & RV Park isn't just family-friendly, it's family-owned. Stay for the night in a rustic cabin offering just the basics for sleeping, or settle in for a few days in a comfy cottage complete with a full bathroom and kitchenette. There's plenty here to keep you entertained, including a laser tag arena and indoor roller rink. They also have shelter houses to hold reunions or bigger gatherings, and be sure to ask about catering.
Elkhart
Elkhart Campground is an RV park paradise. With hundreds of pull-through and hookup sites, along with laundry facilities and other amenities, you can park your RV or rent a cabin, making this a great place to call your home base during your visit to Elkhart County.
Granger
In the western part of the county in Granger, you'll find the South Bend/Elkhart North KOA. The location offers a remote, wooded setting while still being close to so many things to explore. The quaint cabins are available with or without bathrooms or partial kitchens, so you can pick your level of roughin' it. Restaurants are a short drive away as are locally owned shops. You get the peace you crave and the connections you will cherish for a lifetime.
Middlebury
If you're looking for a perfect place to park the RV for a couple nights, the Middlebury KOA has a spot for you! Fish in the pond, cool off in the pool, then warm yourself by the fire at night. Whether you opt for a deluxe cabin or a rustic cabin, this place is situated in the heart of Elkhart County, and gets you close to everything you want to check out while you're here.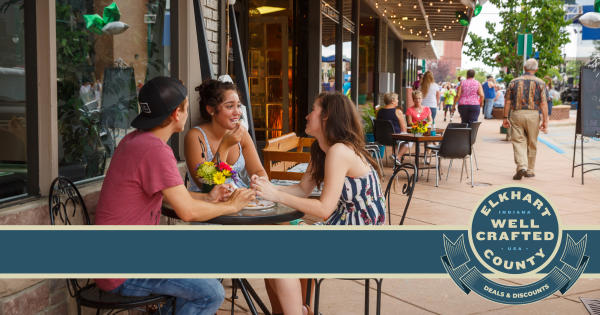 Enhance your visit with the Elkhart County Deals & Discounts Pass. Explore local dining, retail shops, fun attractions, and lodging option offers. Find details about each participating business, their location, and special offer. Simply sign up to access all currently available deals & discounts. Then have fun exploring Elkhart County, where the hand crafted welcome mat is always out!