RV Parks & Campgrounds
Elkhart County is the RV capital of the world, so pack up your camper and bring it to the center of its universe.
Exploring rural roads and scenes complete with working Amish farms and iconic red barns makes for an unforgettable journey. Pair that with Elkhart County's historic yet vibrant downtown areas and you have a road trip that is unique and worth taking.
You can check into our cabins and campgrounds to reconnect with a more back-to-nature feel. Whichever way you go, you'll never be more at home than when you're staying at these RV parks and campgrounds in Elkhart County.
Stay in the Center of It All
Being at home is exactly how you'll feel when you stay at the Elkhart Campground.The 25-acre spot is more than a parking lot. It's an ever-changing community of campers. There is a large, heated swimming pool on site, as well as renovated bathrooms, a walking trail, and free Wi-Fi. The location is perfect for people looking to be close to RV infrastructure, good old Notre Dame, or the beaches along Indiana Dunes National Park.
With well-manicured open spaces and places to relax, Shipshewana Campground is the perfect place for the shopper with the well-trained eye. Close to the Shipshewana Auction & Flea Market and lots of unique local shops, this place offers you a chance to connect with locals and pop into stores you won't find anywhere else.
All's fair at the Elkhart County 4-H Fairgrounds. Stay for a night, stay for a month. The Fairgrounds are open beyond fair events. Close to several restaurants, you'll be able to engage with locals in their favorite spots. Do call ahead though, reservations are required.
Go For the Amenities
If you're looking for a more retro experience, Amish Log Cabin Lodging may be for you. These are handcrafted cabins with quilted comforters like grandma used to put out for your visits, but with modern conveniences including private bathrooms, A/C, and Wi-Fi. At the same location is the North Park Campground, ideal for hosting a reunion or holding a rally. Opt for a camping site or park your RV at a pull-through site where you'll have access to water and sewer amenities. And be sure to indulge your sweet tooth by checking out the ice cream shop.
If you need something with more activities to occupy the kids (and playful adults!), Pla-Mor Campground is ready and waiting. Sure, it has the basics like water and electric sites and full hookups, but there's also mini-golf, a driving range, swimming, and fishing. Plus it's close to Amish attractions.
If a riverfront view is for you, then you need to check out Eby's Pines Campground and RV Park. Here, you can bask in 40 acres of riverfront retreat and so much more. There's a nature trail, a well-stocked fishing pond, and two heated pools. If you're ready to head indoors, there's a roller skate rink and laser tag arena.
Another place away from it all, but close to everything is the Middlebury KOA. On site they have pull throughs up to 80 feet long or cozy cabins ready for you. There's a shuttle to the flea market and tours of the backroads that are waiting to be explored. It's close to the heart of the RV industry as well as Amish attractions. You won't be bored here!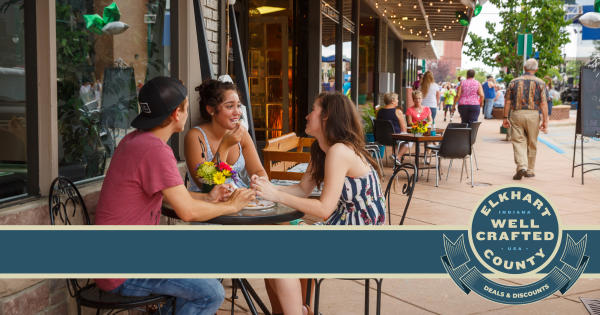 Enhance your visit with the Elkhart County Deals & Discounts Pass. Explore local dining, retail shops, fun attractions, and lodging option offers. Find details about each participating business, their location, and special offer. Simply sign up to access all currently available deals & discounts. Then have fun exploring Elkhart County, where the hand crafted welcome mat is always out!