Restaurants In Elkhart County
Whether you're exploring our museums or kayaking on a river, finding the deal of a lifetime at the Shipshewana Flea Market, or hiking a trail, at some point, you gotta eat. And no matter what time of day or what you're hungry for, there's something for every taste bud in Elkhart County.
Maybe it's a simple soup and sandwich for lunch during a shopping break. Some look for a hearty dinner with authentic Amish flavor. Others come with a big group and are looking for a space to accommodate their numbers and appetites. Your dining options are defined by your dreams and limited only by your imagination.

Start with Sweets
Let's start with dessert first! Your sweet tooth will love taking a bite out of all the treats scattered around Elkhart County. Start your day with a cinnamon roll right out of the oven (grab extra napkins because the icing is delicious and messy!) In the afternoon, find a homemade ice cream shop and then stop at a local candy store to stock up for a sweet treat later. Cherish the nostalgia make a memory at one of our iconic bakeries. Remember the smell of your grandma's pies wafting through the house before dinner? That smell will overwhelm you as you walk into our many bakeries, where the goods are fresh and the recipes are generations old. Cream pies. Fresh fruit pies. Double crusted pies. Take your pick.. or have one of each!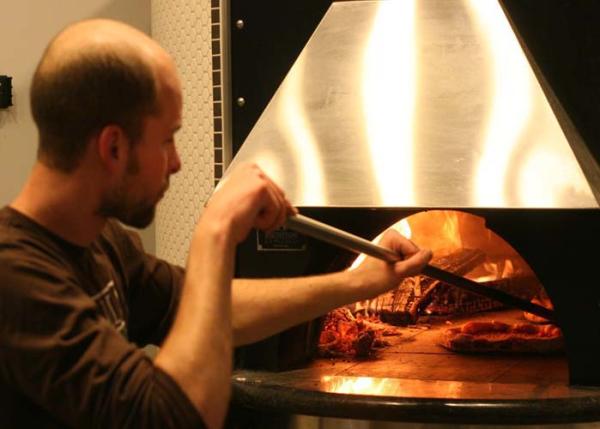 Go Authentic
Forget chain restaurants and chefs on The Food Channel. Real foodies know the best dishes are off the beaten path. The places you have to search the internet for or be lucky enough to spot as you're driving by. It's the local places and the local people that make a unique dining experience. Restaurants here have recipes handed down over decades, and each guest is treated like family. Here you'll feel like a regular, even if you only get to come every few months.
When you have a good thing, why mess with it? Elkhart is the heart of Amish Country, and food is at the heart of Amish culture. While they may shun technology and modern conveniences, they welcome guests into their homes. Learn about their experiences as they serve up authentic meals designed to satisfy the most hearty appetites.

Grab a Drink
Grab a pint and some pub food at one of our local bars. Sometimes a handmade burger washed down with a locally made craft beer is just what you need to cap off a busy day.. or start a busy night. From big, expansive spaces that fuel a party to more intimate rooms with just a couple dozen people at a time, you can find the right vibe and spirit to match your spirit.

Bring a Friend or Two… or the Whole Office
Elkhart County is a great meeting place for your long lost college friends, a business outing, a family reunion, or your wedding or anniversary. Lots of places across the county offer group dining for anywhere from a few dozen to a few hundred hungry stomachs. Some places have on-site theaters for an after-dinner show and comfy accommodations when you're ready to wind down.
View More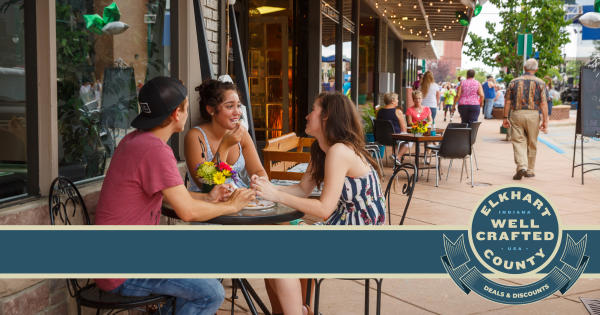 Enhance your visit with the Elkhart County Deals & Discounts Pass. Explore local dining, retail shops, fun attractions, and lodging option offers. Find details about each participating business, their location, and special offer. Simply sign up to access all currently available deals & discounts. Then have fun exploring Elkhart County, where the hand crafted welcome mat is always out!