Amish Culture
"Welcome To Amish Country" isn't just a slogan or sign on the side of the road. It's a greeting that comes with a warm welcome, genuine smile, and often a delicious plate of food. Nobody exemplifies the makers of Elkhart County, Indiana more than the members of our Amish community.
The Amish are famously known for living in tight-knit clusters that, to the outside world, can seem inaccessible, but nothing could be further from the truth. The number of Amish people in America has nearly tripled in the last 40 years, and these days Elkhart County is home to one of the largest Amish communities in the United States. As you plan your trip here, make sure to set aside time to explore the backroads more traveled by horse and buggy than by car, learn their traditions, and feast on their food.
If you're looking to do some shopping, make sure you explore the county's backroads. But be careful, you might just come up behind a horse and buggy! Most importantly, their businesses are often only marked by a simple roadside shingle, so keep your eyes peeled. These establishments don't have websites, so finding takes a little curiosity, some purpose, and a dash of luck. Or, take the guesswork out of the hunt, the Nappanee Chamber of Commerce put together a map to help you find the Nappanee Amish shingle shops.
Well-crafted furniture like solid wood bed frames and tables will be pieces you'll have in your home for decades and may pass through your family for generations. Smaller items that can fit in your bag or trunk are also lovingly crafted in their workshops. The Amish take immense pride in their work and it shows in everything they make.
While many eateries serve Amish-style food, there are also several authentic Amish Restaurants around the region. The food is served family-style, meaning a couple of meat dishes and a plethora of homemade sides. And while it's tempting to fill up on the main course, be sure to save room for dessert. The pies are always fresh and delicious.
As you enjoy your meal, don't hesitate to interact with the owners and workers. They are more than happy to share their stories and give insight into their culture and way of life.
As you explore Amish Country and discover Amish culture, it's important to respect the cultural differences. Always be vigilant and drive carefully. Horse and buggy rigs may seem like a tourist attraction to many, but for them, it's their main transportation. Feel free to wave but don't honk, as that may spook the horses.
Also, remember that their beliefs prohibit the Amish from being in pictures. Some may be okay with you taking a picture of their handcrafted goods or homemade food. Others may ask that you refrain. As much as you want to capture the memory forever, in this situation, it's best to be respectful and ask first.
Relax, learn, and savor your time here. While you may not have as many pictures to document your memories in Amish Country, they will remain in your heart forever.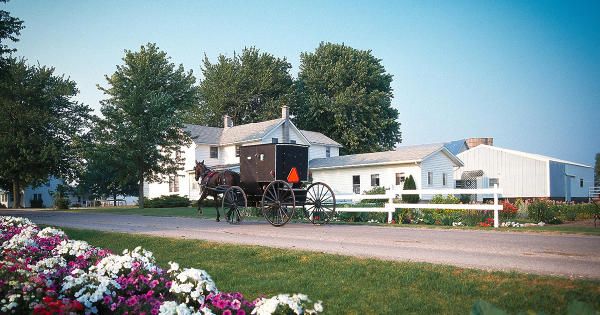 Three important tips for sharing the road with Amish buggies in Elkhart County:
Take care when driving - buggies travel well under the speed limit
Keep a sharp eye out for buggies as you crest hills and round corners
Flashing headlights and car horns can startle buggy horses. More information about the Amish lifestyle
Amish FAQ
Do stores in your area accept credit cards?
Many Amish businesses do not accept credit cards, preferring instead to conduct business in cash. However, non-Amish shops and most restaurants accept credit cards.
Are Amish shops open on Sundays?
Amish businesses are closed on Sundays.
Can I take pictures of the Amish?
Please do not ask to photograph or film the Amish. It's against their religious beliefs.
Where can I eat Amish food?