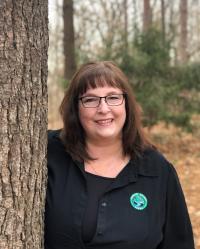 Ronda DeCaire isn't originally from Elkhart County. In fact, she's not even originally from Indiana but after living in Elkhart County for 28 years and raising a family here, she is officially a Hoosier that has dedicated her life to connecting people to the great outdoors.
When Ronda was a kid growing up in northern Michigan meant raising butterflies, building forts, fishing, swimming, and riding her bike everywhere. We're pretty sure it was no surprise to her or her family that her love for the environment moved in the direction of parks and recreation management as a profession.
After college, Ronda moved to Indiana for a seasonal position that led her to Elkhart County. That move happened because Ronda accepted the position of director of Woodlawn Nature Center, located at 604 Woodlawn Avenue, Elkhart. She then moved on to director of Elkhart Environmental Center, located at 1717 E Lusher Avenue, Elkhart. Ronda is now director of Elkhart County Parks which offers visitors and residents an opportunity to discover the natural beauty and rich history of Elkhart County.
The Elkhart County Parks Department's mission is to enhance the quality of life, preserve the County's cultural, historical, and natural resources; and provide educational and recreational opportunities and Ronda is doing a great job leading that mission. We asked Ronda, a self-proclaimed 'nature nerd', a few questions about what it's like to call Elkhart County home, what she loves the most about the Elkhart County Parks and so much more.
Of course, being Director for Elkhart County Parks, you have acres and acres of beautiful parks to relax and enjoy. Do you have a favorite spot you find yourself going to over and over?
My favorite spaces depend upon the season. Lieber Nature Preserve which Elkhart County Parks co-manages with the IDNR is my favorite spring spot for walking the dog. During the summer I love the emerging blooms and changing colors of DeFries Gardens located in the River Preserve County Park. When fall arrives my favorite becomes the migrating waterfowl at Boot Lake Nature Preserve. When my kids were growing up, they loved sledding in winter at Bonneyville.
The Elkhart County Parks has so many fun, family friendly events throughout the year. Do you have a personal favorite?
We have had many great events throughout the past decade from art shows to bark in the parks. One of my personal favorites is the Holiday at the Mill which is held in early November shortly after the mill closes for the season. The event features people gathering to purchase flour for their holiday baking traditions. We offer cookie samples, warm cider, crafts, a visit from Santa and more. The event has become an annual family gathering for many and attracts hundreds of people.
Where is your favorite spot to grab a bite to eat in Elkhart County?
At home, on the patio overlooking my gardens and backyard woods while my husband grills.
Tip: Best places to buy fresh meats in Elkhart County for the grill: Check out John's Butcher Shop in Nappanee and Old Hoosier Meats in Middlebury.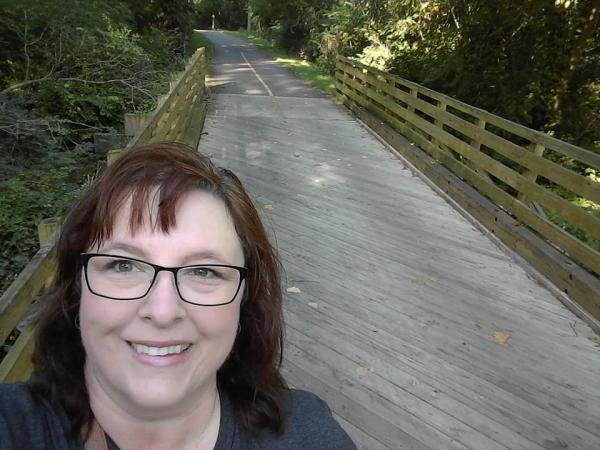 What, in your opinion, is a MUST SEE when visiting Elkhart County?
Bonneyville Mill is a MUST SEE if visiting Elkhart County. I feel an immense amount of pride when I walk into the historic structure and see the smiles of tourists from all over the world. The Mill is an icon for Elkhart County and a treasure, yet I am always surprised to find that some local residents have never visited the site. I invite EVERYONE to spend an hour or two and get a glimpse of Elkhart County's history and a taste of stone ground flour crafted right here in Elkhart County.
What's your favorite outdoor activity in Elkhart County?
I am a 'nature nerd.' I love gardening, wildlife watching (especially birds), and exploring the woods searching for spring ephemerals, mushrooms, and critters. Weekend evenings in the summer are spent by the campfire and 'mothing.' On occasion I even still raise the occasional monarch butterfly while allowing the milkweed to grow in my gardens.
What would you tell someone looking to relocate to Elkhart County?
Elkhart County offers a diverse area to make your nest and raise a family. It has a variety of school systems and neighborhoods to choose from. Do you like rural life with land to raise farm animals? Prefer the small-town atmosphere of Nappanee where everyone knows your name? If a more urban neighborhood is your thing try Elkhart or Goshen. If you like water, there are many rivers and several lakes to live on. In addition, there are family-friendly subdivisions woven throughout the county. My guess is you can find a home and neighborhood to fit your lifestyle anywhere in Elkhart County.
What is your favorite thing about living in Elkhart County?
My favorite thing about living in Elkhart County is the diversity of landscapes, people, and things to do. I love being a tourist in my own community and visiting places such as 820 Antiques or Coppes Commons, events such as the Elkhart Jazz Festival, and trails like the Pumpkinvine Nature Trail. We have a large variety of museums, gardens, parks, and paths that offer endless opportunities for people to explore. Ethnic restaurants add diversity to the palate and range from Maple Indian Cuisine to El Maguey to Antonio's Italian. It is also in the heart of a region with easy access to large cities such as Chicago and Indy, or small hometowns such as Shipshewana and Three Oaks.
Contact Ronda DeCaire, Director of Elkhart County Parks
p: (574)535-6458
e: rdecaire@elkhartcounty.com
Get to know some of Elkhart County's Well Crafted entrepreneurs, artists and leaders and where they like to eat, shop and play along the Heritage Trail here: