Fall activities and family fun go hand-in-hand in Elkhart County. Whether you've got a few hours or an entire day to fill, here are some great choices.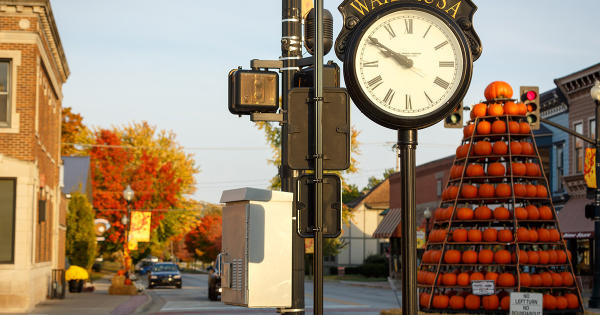 The family tradition of going apple picking is never more fun than at Kercher's Sunrise Orchard, 19498 County Road 38, Goshen. You can choose a family hayride, fill your baskets with apples, and then munch apple cider donuts and other tasty treats while browsing the produce market.
Sip your favorite tea along with scones and other sweets during this traditional English tea at Ruthmere Museum, 302 E. Beardsley Ave., Elkhart, from 2 to 3:30 p.m. Tuesdays through October 24. The teas will be in Ruthmere's garden (weather permitting) or in the basement game room.
West Coast swing has never been more popular, thanks to TikTok and Facebook videos. Learn how to dance this craze at Go Dance Studio, 113 E. Lincoln Ave., Goshen, from 7:30 to 9:30 p.m. Thursdays through December. Beginners (or anyone) can get a run-through with lessons at 7:30, with dancing starting at 8:30.
Supervillains are on the prowl at Wellfield Botanic Gardens, 1011 N. Main St. Elkhart,  in the second Garden of Villains October 6-7. Presented in collaboration with the Hall of Heroes Super Hero Museum, all are invited to come save your favorite superheroes from Superman to Batman to the Wolverine while enjoying games, Halloween decorations, and other festivities.
Goshen First Fridays: Arts Tour
Live music, shopping and dining specials, and family-friendly activities are all on the agenda for the monthly Goshen First Fridays from 5 to 9 p.m. Friday, October 6, in downtown Goshen. Arts Tour is the theme, and you're sure to see and feel a lot of creative energy!
Dorothy and Toto, the Scarecrow, the Tin Man and the Cowardly Lion all take the stage of the Lerner Theatre, 410 S. Main St., Elkhart, in Premier Arts' presentation of "The Wizard of Oz. Performances are October 13-15 with various show times.
The timeless tunes of Big Band jazz come to life with the Glenn Miller Orchestra, performing at 8 p.m. October 19, at Blue Gate Theatre, 760 S. Van Buren St., Shipshewana. Known for standards such as "In the Mood," the Glenn Miller Orchestra has been touring continuously since 1956.
Elkhart ArtWalk: 'Trick or Treat on Main Street'
It's time to don your costumes for this Elkhart ArtWalk, "Trick or Treat on Main Street," from 5 to 8 p.m. October 26. Grab some treats, shop downtown vendors and the Well Crafted Artisan Market, and compete in the costume contest in this monthly extravaganza of fun. Top it off with a free concert on Central Green.
Soak in the fall traditions of hayrides, campfires and spooky fun from 7 to 10 p.m. October 27 at Ox Bow County Park ,23033 County Road 45, Goshen. It's a night full of autumn fun complete with food trucks, fall crafts, and nighttime hiking.
What better sign of the fall season is there than the return of the Wakarusa Pumpkin Tree? Starting October 1, more than 200 large pumpkins will form a 25-feet tall pumpkin tree in the heart of downtown Wakarusa at Waterford and Elkhart streets. It's perfect for pictures!