Pack your calendar with these don't-miss concerts, activities and family-friendly fun: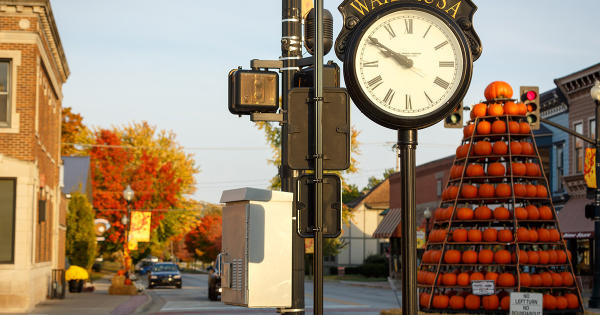 They made their name in the 1980s, and Air Supply is back to command the stage at the Blue Gate Performing Arts Center, 760 S. Van Buren St., Shipshewana. The concert starts at 8 p.m. October 1, and tickets and dinner packages are available.
Join the city of Elkhart's first Hispanic Heritage Festival from noon to 8 p.m. October 1 at downtown Elkhart Central Green. Live music, entertainment, food vendors and artisan crafters are a great way to celebrate this rich culture as well as Elkhart's sister city of Apan in Hidalgo state, Mexico.
What better sign of the fall season is there than the return of the Wakarusa Pumpkin Tree? Starting October 1, more than 200 large pumpkins will form a 25-feet tall pumpkin tree in the heart of downtown Wakarusa at Waterford and Elkhart streets. It's perfect for pictures!
Add a touch of English refinement at the Ruthmere Museum, 302 E. Beardsley Ave., Elkhart, with Tuesday's Teas @ 2. From 2 to 3:30 p.m. Tuesdays in October, enjoy your favorite cup of tea and select from a scone or other delicious sweets in Ruthmere's Game Room. If the weather is nice enough, tea may be served outdoors in the garden. Advance registration and payment is required. A special event, Witches Brew Tea, is planned for October 16.
Goshen First Friday: Harvest Festival
Sink your teeth into fall with Goshen's monthly First Fridays, featuring the theme of Harvest Festival. From 5 to 9 p.m., stroll downtown Goshen with seasonal food and drinks, pumpkin decorating and a petting zoo for the kids, a fall fashion show, and fire pits to help you keep warm. This night's festival is happening in conjunction with Goshen College's homecoming weekend and special events at the Goshen Theater.
Join an expert naturalist to learn about owls and other nocturnal creatures at Owl Prowl, from 8 to 10 p.m. October 7 and October 14 at River Preserve County Park. This fun interactive night hike will highlight native owl species, nocturnal adaptations, and an experience of River Preserve County Park after dark. Meet at Benton Spillway Shelter, 68550 County Road 31, Goshen. The cost is free and recommended for ages 8 and older. Register by October 6 as space is limited.
Coppes Commons, 401 E. Market St., Nappanee, will be the place to celebrate all things fall at its Fall Harvest Social 2022 from 5 to 8 p.m. October 7. Families will love playing cornhole, face painting, a fall-themed photo booth, pumpkin decorating and a number of other activities culminating in a free outdoor movie at 8 p.m. All Coppes Commons merchants will be offering specials, discounts and fall products, so don't miss treats such as apple cider slushies, pulled pork sandwiches, pumpkin baked goods, fall fashions, toys, and beauty products.
This Middlebury tradition of racing pumpkins down Warren Street returns from noon to 4 p.m. October 8. Compete as an individual, family, neighborhood, co-workers or other group. Purchase a race kit and get ready to race (and decorate) your pumpkin. It's a great day to enjoy community in Middlebury!
When the villains take over, it will be a spooky time at the Garden of Villains from 6 to 9 p.m. October 14 and 15 at Wellfield Botanic Gardens, 1011 N. Main St., Elkhart. The Hall of Heroes Superhero Museum and Wellfield Botanic Gardens are presenting an event that is open to caped crusaders and their evil nemeses alike. What lurks in the shadows?
Little House on the Prairie Musical
The Ingalls family and their journey come to life on The Lerner Theatre stage, 410 S. Main St., thanks to the magic of Premier Arts' latest theatrical production. You'll revel in Laura Ingalls Wilder's incredible story as told in words and music. Performances are at 7:30 p.m. October 14 and 15 and 3 p.m. October 16.
You'll be in the holiday spirit after a stop at Das Dutchman Essenhaus' Holiday Home and Fashion Show from October 19-21 at the Essenhaus campus, 240 U.S. 20. Your ticket includes the show, buffet meal, bakery coupon, shopping pass to the Village Shops, and entry into Fashion Show giveaways.
Goshen Theater Presents: You're a Good Man, Charlie Brown
The Peanuts gang is coming to Goshen with the Goshen Theater's production of "You're a Good Man, Charlie Brown." Performances will be at 7 p.m. October 20-22 and 2 p.m. October 23 at the Goshen Theater, 216 S. Main St., Goshen.
Browse from a variety of artists in the Well Crafted Artisan Marketplace, or create a new masterpiece with the family art activity. Either way, Elkhart ArtWalk from 5 to 8 p.m. October 27 will be great way to spend the evening in downtown Elkhart. Maybe you can learn a new step with That's Dancing's live demonstrations and lessons.
The historic, water-powered mill at Bonneyville Mill, 53373 County Road 131, Bristol, has produced quality grains for more than 180 years. But do you know what to do with some of the unique varieties such as spelt? Come to Bonneyville Bake Day from 11 a.m. to 1 p.m. October 30 to learn from the millers about the grinding process and what you can do with the stone-ground flours such as spelt. Admission is free.