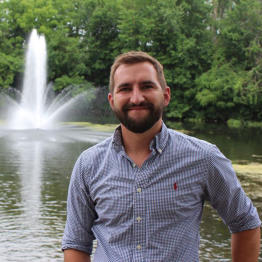 Jamison Cznarecki grew up in Elkhart County, graduating from Elkhart Memorial High School, but after graduation decided to leave the area and join AmeriCorps. Jamison's passion for a cleaner, resilient, and more conscious-driven society helped lead a composite team in environmental work in Tennessee and a disaster relief team in northern Mississippi. After a few years, he chased his dreams to the mountains and embraced the no-winter outdoor lifestyle in California and attended the University of California at Santa Cruz where he became a Carbon Neutrality Fellow. In the summer of 2017, after spending almost six months backpacking in South America, Jamison found himself back in Elkhart visiting friends and family.
Sometimes you're just in the right place at the right time and Jamison ran into the then-director of the Elkhart Environmental Center (EEC). That role was becoming available, and Jamison was encouraged to apply.  Although he had been interviewing for environmentally based positions in neighboring states, the potential and history of the EEC was intriguing. After spending a few years in that role, Jamison was hired to become the Superintendent of the City of Elkhart Parks and Recreation Department.
The City of Elkhart Parks and Recreation Department's mission is to maintain quality parks, facilities, open/natural spaces, and services to enhance the physical, social, and emotional well-being of Elkhart's citizenry and Jamison is doing a great job leading that mission. We asked Jamison a few questions about what it's like to help people get out and experience nature, what his go-to food spots are in Elkhart County are and so much more.
As Superintendent of the City of Elkhart Parks and Recreation Department, what is the most fun part of the job? 
Finding ways to make our parks better and see people enjoy that positive impact. I get to explore different parks, figure out what people like about them and then find ways to make that happen locally. There's a renaissance with people wanting to enjoy the parks and it's a lot of fun to figure out how to answer the call. Now more than ever, people are realizing how impactful parks are for communities and I've loved getting to help people experience them again. Sometimes I'm in the office working long hours, but "working" can also include kayaking the Elkhart River, testing playground equipment, listening to concerts in the parks, shopping at the Elkhart Farmers Market, enjoying festivals, and visiting our facilities like McNaughton Spray Park or Pierre Moran Pool. Everyone wants good parks and it's fun to make sure they are.
What do you love about living in Elkhart County?
I'm a big fan of our waterways here in town. When I lived out west, you had to travel to get to freshwater sites, but here we have ample opportunities to kayak/canoe, float, fish, and swim nearby. There's so much wildlife around that you notice once you get off the main streets and check out the local natural areas. You're almost guaranteed to see herons, kingfishers, turtles, but you might even see some otters, beavers, or raptor birds if you keep your eyes peeled. 
Where is your favorite spot to relax in Elkhart County?
There are many, but some spots I'm still really enjoying are hiking the New River Greenway Trail and the Elkhart Environmental Center, kayaking the stretch on Christiana Creek between the airport and High Dive Park, playing at McNaughton Park playground, and enjoying a backyard BBQ-campfire with good friends. We'll also go to Ox Bow County Park or spend a couple hours on the Pumpkinvine Nature Trail. 
Prior to becoming the Superintendent, you were the manager of the Elkhart Environmental Center. Tell us a little bit more about this incredible hidden gem in the city of Elkhart.
The Elkhart Environmental Center will always be near and dear to my heart. I've been going there since I was a kid, so it was a privilege to be able to work to make a positive impact on the Center. People can visit the site for free to explore over 60 acres with trails, wetlands, prairies, woods, and along the Elkhart River. It's become a wildlife refuge in the city's backyard that allows for a quick walk-in nature without having to travel far. I've seen big pileated woodpeckers, turkeys, deer, otters, large snapping turtles, traces of coyotes, fox, snakes, and much more. It's actually an old city dump that's been remediated and has lots of potential to be even better than it has become. The Center also puts on many programs and does sustainability work for the city of Elkhart. It's been promoting and encouraging environmentalism locally since the early 1990's!
You are originally from Elkhart and moved to California for several years. What brought you back to Elkhart?
When I left California, my wife and I backpacked in South America for almost 6 months, and I decided to come back home to reconnect with family and friends I hadn't seen for a while. In summer of 2017, I volunteered at EnviroFest (as I liked to do whenever I was home during the summer) and I met the EEC director at the time. It was timed well that she was leaving the role and gave a chance for me to apply. I had been interviewing for positions in nearby states but ended up at the EEC as the director. I had never thought I'd be working in my hometown doing work that I love. That privilege has carried over to currently running the Parks and Recreation Department for the City. The west coast is beautiful and full of adventure, but I've realized there is still a lot of beauty, great people, and beautiful sunrises here locally. It's much more affordable and I know more and more people are realizing that there's more to Elkhart County than people realize.
Where is your favorite spot to grab a bite to eat in Elkhart County?
So many good spots! Brass Elk Brewing on the Elkhart River, Vanilla Bean Creamery, and Tipsy Biscuit are becoming new favorites. For a quick bite, I'll grab a hot dog from Hot Dog Eddy's or Old Style Deli downtown. For Asian cuisine, Lucky's or Kao's are where it's at. For a burger, Flippin' Cow or Heinnies. Pizza, well this is controversial, but I love Volcanos and they have great sandwiches and breadsticks as well! Cravin tacos? Heading to Coco's! I always get coffee at Electric Brew, but Steelyard off North Michigan Street has some delicious treats. For BBQ, I go to That Guy's on Cassopolis Street or Bill's BBQ if I'm on the southside of Elkhart. If I'm out with the family and not in the mood for something specific, you can find me at Cappy's enjoying the perch and a brew from the tap. As you can tell, I'm not able to just pick one and for good reason! 
What, in your opinion, is a MUST SEE for visitors when they come to Elkhart County?
I always take people to see the Riverwalk in downtown Elkhart and explore the area for shopping and a good beer. But if they're staying a couple days the easy ones are Wellfield Botanic Gardens, Midwest Museum of Art, the Railroad Museum, the Pumpkinvine Nature Trail, or Bonneyville Mill County Park. During the summer though, there's almost always something going on somewhere in Elkhart County and it's fun to take people to check it out. 
Earlier this year the City of Elkhart Parks Department added ADA-accessible launches that allow canoe and kayak access to the St. Joseph River. Can you tell us a little bit more about these and how they add to the quality amenities that the parks can offer all residents and visitors?
The launches were installed out of a requested need from the community. As people realize our rivers are amazing spots to enjoy, we realized that not everyone was able to enjoy them as easily as others. The Parks Department worked with the City of Elkhart Redevelopment folks to leverage federal funding to help pay for these to be added which create the first ADA kayaking path in Elkhart County which stretches from Beardsley Park to Edgewater Park on the St. Joe River. These launches are for everyone though and many people have realized that they can utilize them to get in and out without scraping their kayaks or working as hard to get in and off the river. We hope to install more in the future in other parks!
What would you tell someone looking to relocate to Elkhart County?
Elkhart County is a place for everyone that is currently in a renaissance of growth. This is not the same county it was 20 years ago and I can't imagine a better time to be here. There's many local stores and restaurants to experience and there always seems to be some type of event happening to enjoy. It still has a small-town vibe where lots of people know each other, but I've never felt bored or overpaying to do fun things with the family. And on the off chance I do get bored, Elkhart County is centrally located within a few hours' drive to several big cities - Chicago, Indianapolis and Detroit to name a few! Affordable living, quality experiences, and lots of great food and beverage options!
Contact Jamison Czarnecki​, Superintendent of the City of Elkhart Parks and Recreation Department
p: (574) 295-7275
e: Jamison.Czarnecki@coei.org
Get to know some of Elkhart County's Well Crafted entrepreneurs, artists and leaders and where they like to eat, shop and play along the Heritage Trail here: