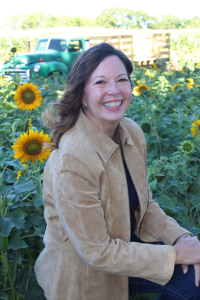 Vickie Estep, Great Life Tours
Today we'd love to introduce you to Vickie Estep, a proud Elkhart County entrepreneur and owner of Great Life Tours. Vickie started her step-on receptive guide tour company because of her love for welcoming people from all over the country to Elkhart County. She loves to share the stories of the makers along the Heritage Trail and help people experience our area as a local.
Vickie is also a Master Gardener and loves when visiting bus groups get to experience the Quilt Gardens along the Heritage Trail. In fact, it's one of her favorite things in Elkhart County.
What is your favorite thing about living in Elkhart County?
I love living in Elkhart County because there's a lot of green space and wonderful opportunities to interact with nature. Everything you love about the outdoors…great parks, waterways and beautiful lakes. I also love the community spirit.
Where is your favorite spot to relax in Elkhart County?
I love to walk around the beautiful Wellfield Botanic Gardens in Elkhart. There are numerous themed gardens, water features, and local art to explore. It's a great way to get away and relax.
What / Where is your favorite spot / attraction / etc. to take a bus group to in Elkhart County?
Bus groups really love the Authentic Amish Experiences they can get here in Elkhart County. We have so many opportunities to engage with local craftsmen, meet the Amish and learn about their culture, and have a hands-on and interactive experiences.
Where is your favorite spot to grab a bite to eat in Elkhart County?
My two favorite places to eat are Chubby Trout in Elkhart and the Goshen Brewing Co. in Goshen. Both offer a unique, locally owned dining experience that you won't find anywhere else.
What, in your opinion, is a MUST SEE when visiting Elkhart County?
Ruthmere House Museum in Elkhart is a must-see. It's a house museum built by architect E. Hill Turnock, commissioned by Albert and Elizabeth Beardsley in 1908 and completed in 1910. This three-story Beaux-Arts mansion and one of the most prominent historic residences in Elkhart.
What would you tell someone looking to relocate to Elkhart County?
Elkhart County is energetic and welcoming. It's a community of entrepreneurs and craftsmen with a creative drive to succeed.
Contact Vickie Estep, Great Life Tours
p: (574) 970-3344
e: MyGreatLifeTours@gmail.com
Get to know some of Elkhart County's Well Crafted entrepreneurs, artists and leaders and where they like to eat, shop and play along the Heritage Trail here: