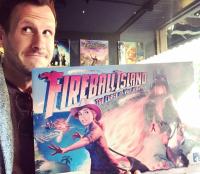 Tanner Smale, Director of Marketing and Communications at Premier Arts
Tanner Smale grew up in Elkhart, Indiana and graduated from Elkhart Memorial High School in 2008. Like a lot of high school seniors, he wanted to move to a new city. After attending North Central College in Naperville, Illinois with a Bachelor of Arts degree in Musical Theatre with a Minor in Dance he began working at the Prairie Fire Children's Theatre in Barrett, Minnesota. But in 2013, moved back to Elkhart to begin high theatrical journey with Premier Arts.
Tanner is now the Director of Marketing and Communications at Premier Arts, the resident theatre company of The Lerner Theatre, based in Elkhart. But that does not fully describe all that Tanner does - he's an actor, a set designer, a creator, a recovering Starbucks barista but most of all he's a huge advocate and supporter of arts in Elkhart County. We asked Tanner a few questions about what it's like to be involved with Premier Arts, what he loves the most about Elkhart County and so much more.
Premier Arts inspires the imagination and develops the creative spirit of the greater Elkhart community. Its focus is on youth, family, and lifelong learning and is comprised of professional staff guided by engaged community leaders serving as the Board of Directors. 
As Director of Marketing & Communications for Premier Arts, what is the most fun part of the job?
The thing I love most about my role as Director of Marketing & Communications for Premier Arts is getting to create discussion about the amazing impact this organization has had over the past 14 years. It seems all I need to do is post a throwback photo from a past production and people can't wait to share a memory or express gratitude for the experience. That's an incredible feeling.
What do you love about living in Elkhart County?
More and more, Elkhart County is becoming such a wonderfully diverse and creative part of the world. It always has been but I can almost feel the electric energy of those living here coming alive and finding their passion which is then welcomed and celebrated. Folks in Elkhart County have a "start with YES" attitude and it makes finding solutions and creating possibilities so collaborative and exciting.
Where is your favorite spot to relax in Elkhart County?
When my wife and I are wanting to wind down, we'll usually find a new place to nosh on some appetizers and sip on a drink like 42 Degrees North in Middlebury or the Goshen Brewing Company. But when we're wanting to cut loose we love to catch a band at 5 Star Dive Bar!
What is the best thing about being a cast member in a Premier Arts production?
The greatest thing about being a cast member in a Premier Arts production is the sense of community that you feel. It's incredible to think that a cast full of school teachers, industrial workers, bankers, grocers, and students, can create something the magnitude of a Premier Arts show. All the time I hear questions like, "Where did you hire these people?" And I love to tell them that those amazingly talented performers are their neighbors. Welcome to Elkhart County.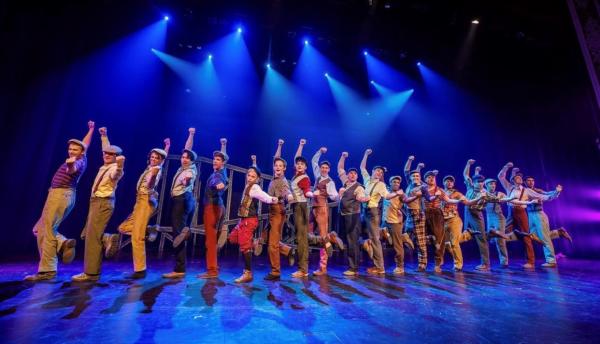 Premier Arts is the Resident Theatre of the Lerner Performing Arts Center. What / Where is your favorite spot / seat to experience a show on The Lerner's stage?  OR What is your favorite spot in The Lerner and why?
Next to my little lamp-lit studio in the Premier Arts Education Area, my absolute favorite spot in the Lerner is center stage with an empty house. When I look out at those seats and look up and see "the mushroom" above, a flood of memories from past productions comes rushing in followed by a thrilling wave of thinking about all the magic that is still to come on that stage. 
Where is your favorite spot to grab a bite to eat in Elkhart County?
When we are looking for a bite to eat before a show at the Lerner, our go-to spot will always be Hacienda because, duh, ranch and salsa. But we recently fell in love with the Brussel Sprouts at the Brass Elk Brewery and I am constantly craving the Ricotta Pizza at Venturi's in Goshen.
What, in your opinion, is a MUST SEE for visitors when they come to Elkhart County?
A MUST SEE in Elkhart County? A Premier Arts show, of course! But if someone were to happen to visit between productions, I would point them to the Hall of Heroes Superhero Museum and Secret Door Games in Elkhart or Next Reality Arcade in Goshen. I'm a big geek at heart so I love that we have places that support the gaming, cosplay, comic book, and geek community locally. 
What would you tell someone looking to relocate to Elkhart County?
I truly believe that anyone looking to find community and unlock their passion can do it here in Elkhart County. There are more resources here than most people realize and we're only a stone's throw away from Chicago. Like anything, this place is what you make of it and, if you let it, Elkhart County will help you become more than you ever thought you could. I see it all the time and I'm living it every day.
The Lerner Theatre is usually busy with programs, plays, and musicals during the holiday season but those were canceled due to the pandemic in 2020. Instead, The Lerner partnered with Premier Arts to create a beautiful window display featuring the story of Rudolph the Rednose Reindeer. Tell us a little more about that. 
One of my favorite new traditions happens at the holidays. In partnership with The Lerner, our Premier Arts team now creates beautiful displays filling up every window of The Lerner on Main St. and Franklin. Last year was so much fun watching families bring their little ones and light up at the elaborate displays accompanied by holiday music playing from above. I'm excited for everyone to come see this year's theme in November!
 
Contact Tanner Smale, Director of Marketing and Communications at Premier Arts
p: +5742934469
e: tanner@premierarts.org
People & Places along the Heritage Tail Podcast
You can learn more about Premier Arts by listening to the People and Places along the Heritage Trail podcast where we talk to Craig Gibson, Executive Artistic Director, for Premier Arts. Listen here
Get to know some of Elkhart County's Well Crafted entrepreneurs, artists and leaders and where they like to eat, shop and play along the Heritage Trail here: