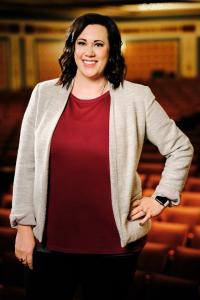 Michelle Frank, Executive Director of The Lerner Theatre​
Michelle Frank didn't grow up in Elkhart County, but she sure is one of Elkhart County's loudest cheerleaders. She relocated here when she accepted the job as Theatre Manager of The Lerner Theatre, a stunningly beautiful historic theatre in downtown Elkhart, in 2016 and was later promoted to Executive Director. Michelle has a huge heart for all things art, music, animal and more. We asked Michelle a few questions about theatre life and what she fell in love with at The Lerner during her initial interview and what she continues to love about Elkhart County.  
We love to hear about visitors and residents seeing a show at The Lerner for the first (or tenth plus) time. Did you know: the $18 million Lerner Theatre renovation project was designed, budgeted, and approved by the City of Elkhart in 2008 with construction beginning in early 2009.  Inside the theatre itself, the renovation was painstaking. Craftsmen hand-painted the ceiling and the signature "mushroom" chandelier while standing on scaffolding that took several weeks to construct.
Project managers meticulously found swatches of original curtain fabric, upholstery, wallpaper, and paint that had been covered and protected over the years, then used spectrum technology to match the color with modern materials. The project was completed in June 2011 and it is even more stunning than Elkhart residents could imagine.
The end result is a marvelous example of what can happen when a community's love for history, the arts, and civic pride are expressed through the willingness to fund – through public and private dollars – a project of this magnitude.  

You moved to Elkhart from Ohio. What do you love about living in Elkhart County?
There is an overwhelming sense of pride and love for community that I felt almost immediately upon moving here and it's the people that I've met that make living in Elkhart County so special. There is a genuine kindness exhibited from people that live and work in this community. When I travel to visit family in Ohio, I'm reminded of the differences in where I grew up versus where I live now in Elkhart County. People don't say hello to you when you pass them on the street in Downtown Dayton, but they absolutely do in Downtown Elkhart. It's a small thing, but it's the Hoosier Hospitality that makes living in Elkhart County special to me. 
During the pandemic, the marquee of The Lerner had "All you need is love" big and bold. We loved it! Can you tell us what sparked that?
Thank you! I loved that initiative during the pandemic. When the Covid-19 pandemic first hit and venues across the world shut down, a colleague at the Sandusky State Theatre, Chris Parthemore, posted "All You Need Is Love" on the State's marquee and I saw an opportunity. Chris and I teamed up together and challenged other theatres on social media to change their marquees to this message and challenge others, all in an attempt to send hope and well wishes to other neighboring venues with the message of love and unity during such unprecedented times. Within two weeks, 25 venues across four states changed their marquees and took to social media with the message "All You Need Is Love." The message continued to spread further months later. That message changed things for me during the pandemic. It was my light-at-the-end-of-the-tunnel quote and made me realize that our friends across the entertainment industry were all in it together. 
Where is your favorite spot to relax in Elkhart County?
You can make your own version of relaxation in Elkhart County. For me, I always enjoy a walk around Wellfield Botanical Gardens. The grounds are beautiful and it's hard not to feel at peace as you walk around the gardens. I can also feel relaxed with a mango margarita in hand at Cubilete's, surrounded by friends. But if I'm looking for true relaxation, my favorite spot is Fix Salon and Spa in Downtown Elkhart. Relaxation and hospitality are at its finest with the team at Fix. It's been one of my favorite finds that I've discovered since living here.
What is your favorite spot in The Lerner to see a show?
My favorite spot to see a show is any seat in the balcony, even in the very last row. There truly isn't a bad seat in the house at The Lerner, but the reason the balcony is my favorite is because of the beautiful mushroom chandelier. The chandelier alone is stunning, but when you have the energy of live music while being surrounded by beauty and history at the same time, that is so powerful. It might sound cliche, but that chandelier is the reason I moved to Elkhart and took the job at The Lerner. When I interviewed for the Theatre Manager position in 2016, I had driven 3 hours from Ohio for my interview. During the tour, the first place I was taken was up into the balcony. It was my first view inside the theatre itself and when the balcony doors opened, I saw the chandelier for the first time. It honestly took my breath away. I'll never forget that moment because I was hooked. I feel incredibly grateful to be leading such an amazing facility and it all started when I fell in love with a mushroom chandelier. 
 
Where is your favorite spot to grab a bite to eat in Elkhart County?
Oh, but I can't pick just one! My friends will tell you that I'm a picky eater, but coming from a line of chefs, I'm honestly just a good snob! These are some of my favorite foods from local restaurants: The Vine Classic salad with steak from The Vine is my go-to favorite. Their desserts are great at The Vine also. I'll never turn down a trip to Goshen to Maple Indiana Cuisine for their Chicken Tikka Masala. The Sue Sue Shrimp and Walley The Zander at Chubby Trout could win awards in my book. I've been known to order extra sides of ranch dressing at 523 Tap and Grill to take home because it's THAT good. An amaretto sour at Artisan is a true work of art. And lastly, Vanilla Bean Ice Cream never ceases to amaze me with their ice cream. Their strawberry ice cream will always be my number one.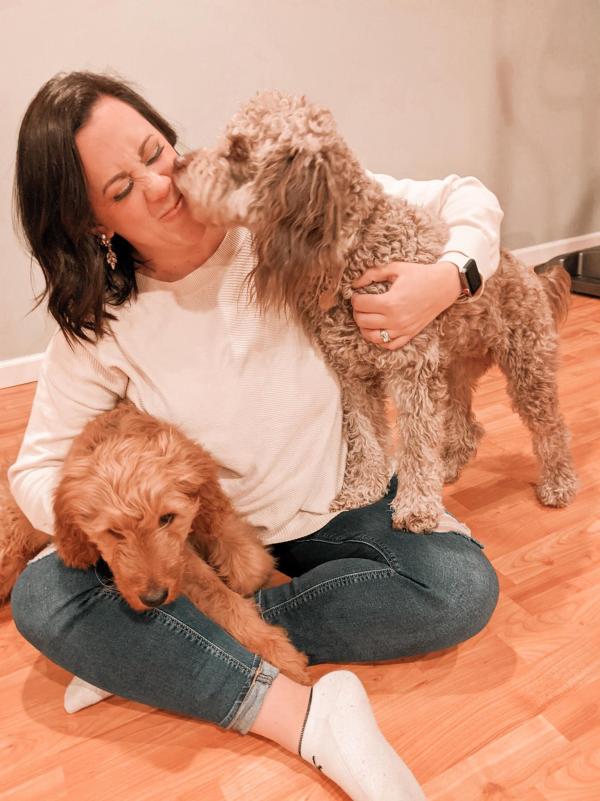 You have two adorable dogs - what are their favorite things to do and see in Elkhart County?
Ah yes, our "wrecking crew." My husband, Brad, and I have two doodles, Finley and Harvey. Oh so cute, but they're quite a handful! They have so much doodle energy, so we've found some great things for them to get their energy out in Elkhart County. We have made some of the best friends at the Dr. Frank Booth Dog Park. The dog park is a City of Elkhart park and is a membership park. We joined during Covid last year so that Finley could have somewhere to run because we were living in Downtown Elkhart at the time without a yard. We became friends with some incredible people at the park and Finley and Harvey have made some best friends to romp around with there. We also love the people who operate Joshica's Planet Canine, where they go to doggy daycare and training classes. The owner, Pam, and her staff, care for the dogs at Planet Canine like their own and we love that we can trust our dogs with them. Plus, the "doggy daycare hangover" is a blessing after a long work day. Another favorite of ours is our walks along the Downtown Elkhart Riverwalk area. When we lived Downtown, our nightly walks were the highlight of our day. Downtown Elkhart has really transformed over the last few years and we loved walking the Riverwalk. Plus, stopping in to see Jeanne at The Vine or Derek at Old Style for some treats for the pups, is always a highlight for them! 
What, in your opinion, is a MUST SEE when visiting Elkhart County?
I know I am biased, but my answer is The Lerner Theatre, even if it isn't for a concert or show. We hear comments from artists, visitors and renters from all over the country that visit us for the first time and comment about how blessed this community is to have a theatre such as The Lerner because it's something that much larger cities are missing. Fellow theatre operators are often envious of the amenities that The Lerner offers to guests and artists. Those are the best compliments we can receive and we want to share our theatre with everyone. Our Volunteer program gives behind-the-scenes tours for those not able to make it to a show or for those that just want to hear about The Lerner's history. Not many concert venues or performance halls can say that Harry Houdini performed on their stage! 
What would you tell someone looking to relocate to Elkhart County?
Get involved and get to know the people that make up Elkhart County because it's what makes living here so special. Whether it's your colleagues, neighbors, church organization, fitness group or volunteer opportunity, you won't regret opening up to this community. I'd also suggest living in Downtown in any of the cities that make up Elkhart County. It's a great way to get to know and support the businesses and to gain an appreciation and love for the epicenter of each community. Last suggestion, even if you're not a jazz music fan, attend the Elkhart Jazz Festival at least once. The atmosphere of music, dancing, food and fun within Main Street of Downtown Elkhart can't be beat. It's one of the things I look forward to every June. 

Contact Michelle Frank, Executive Director of The Lerner Theatre​
p: (574) 293-4469
e: michelle.frank@coei.org
Get to know some of Elkhart County's Well Crafted entrepreneurs, artists and leaders and where they like to eat, shop and play along the Heritage Trail here: