Jose Rodriguez, Administrative Manager for the RV/MH Heritage Foundation
This week we'd like to introduce you to Jose Rodriquez, Administrative Manager for the RV/MH Heritage Foundation in Elkhart, Indiana. Jose was born in Nezahualcóyotl, Mexico - a city in the suburbs of Mexico City. His parents immigrated to the United States in December of 1997 when Jose was only 4 years old, and he's called Elkhart County home ever since. When Jose isn't working, he's a proud and loving husband and father of two who loves to share the stories of the makers and doers in the RV industry with locals and visitors. In fact, he began his professional career in banking but his hard work ethic that he learned from his father, combined with his knack for numbers and love of the outdoor lifestyle led him to his job with the RV/MH Heritage Foundation.
Did you know: The RV/MH Hall of Fame is a 100,000 sq. ft. museum located in Elkhart, right off of I-80/90 Indiana Toll Road Exit 96, that features a variety of historical recreational vehicles from Airstream, Winnebago and other American makers. The RV/MH Heritage Foundation runs and operates the RV/MH Hall of fame and its mission is to recognize, preserve, and honor the history, pioneers, and individuals who have been instrumental in making the Recreational Vehicle and Manufactured Housing industries what they are today.
We asked Jose a few questions about his favorite RVs, where he likes to hang out, what he loves about living in Elkhart County and so much more!
As Administrative Manager for the RV/MH Heritage Foundation, what is the best part of the job?
One thing I value about the leadership of my company is that they allow me to be creative, I get to help streamline processes, and make the overall guest experience a positive one.
I enjoy talking to people from all over the nation and abroad when they visit our museum. I love being involved in the events within the community and seeing the event come together from start to finish. I love that my job allows me to be able to have an active role within the Elkhart Chamber of Commerce and share leadership responsibilities as Co-Chair of the Young Professionals Executive Committee.
The RV/MH Heritage Foundation runs and operates as the RV/MH Hall of Fame and Museum, located at 21565 Executive Parkway, Elkhart. The RV Founders Hall has trailers, photos, and memorabilia reaching back to the 1920's and 1930's. What's your favorite trailer currently on display?
Oh man! That is such a difficult task. If I had to choose, I would have to pick the 1937 Hunt House car, one of several housecars built by Hollywood cinematographer Roy Hunt between 1935 and 1945. I could not imagine driving down the road on that thing in 1937, it's such a cool housecar!
What do you love about living in Elkhart?
I love living in a city where everything seems to be "just right". We have the right balance of calm city streets and hardly any traffic compared to larger cities. We get to experience all four seasons in their fullest form. I am a proud homeowner and firmly believe the housing market in Elkhart County is very affordable and ideal for many, especially compared to other markets in the country.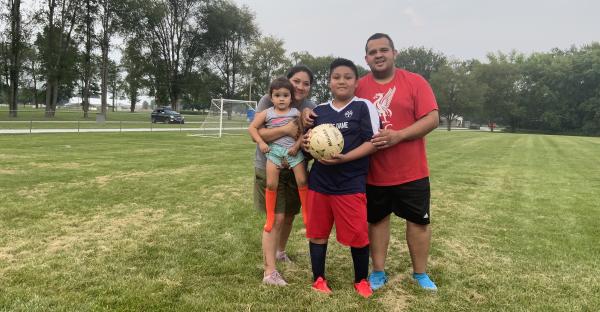 You're raising a family here in Elkhart County - tell us a little about them!
I feel like I'm "originally" from the area and love calling Elkhart County home and raise my family here. My wife, Bertha, is an excellent partner and is always on top of everything to help make our little family's lives run smoothly. My son, Anthony, is the drumbeat of the family, he is rambunctious, loving, and super helpful. Last but certainly not least is Violet Grace. She is our three-year-old, she is such a charismatic little girl. She is also very smart and loving, I love that she is also very sassy, and she doesn't get that from me!  As you can imagine I spend all the time away from work with my little family and we love going out on bike rides and taking the kids to and from soccer games and practices.
Where is your favorite spot to relax in Elkhart County?
This past 4th of July our family had no plans and it's easy to forget all that Elkhart County has to offer. We wanted the kids to be able to go for a swim, but we thought the beach would be to very crowded for the occasion. This is when I rediscovered Ideal Beach here in Elkhart, the whole family had an absolute blast. My son was jealous that I was a frequent visitor growing up, it's by far my favorite spot to relax.
Where is your favorite spot to grab a bite to eat in Elkhart County?
The wife and I love supporting local businesses. We enjoy having dinner at Five Star Dive Bar. Their burgers are amazing! We also love Chef Gils Sushi at the Chubby Trout.
We know that the RV/MH Hall of Fame is a must-see when visiting Elkhart County. What else, in your opinion, is a must see or do when in the area?
I love living only five minutes away from downtown Elkhart. Elkhart is such a vibrant community. Pre-pandemic we enjoyed going downtown for the weekend and watching the summer series movies available in Central Park.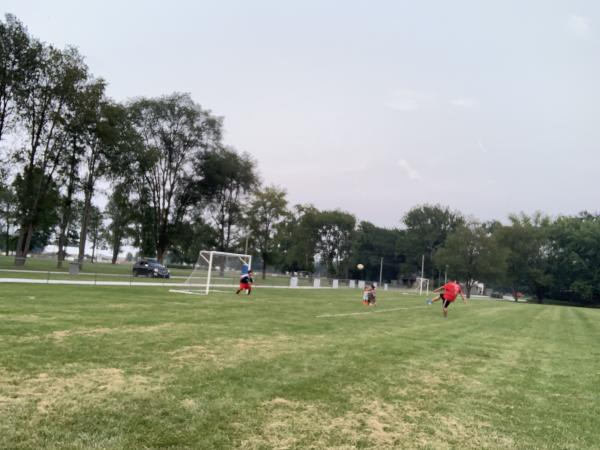 What would you tell someone looking to relocate to Elkhart County?
I have always been an advocate for Elkhart County. This community is amazing, and I want more people to know about it. I have in-laws that live out of state, and friends that have left the area after high school and they've all heard my spiel and know how beautiful Elkhart County is and why they should be living here.
Do you have any tips or pointers for someone looking to dip their toes into the RV lifestyle?
The beauty of the RV industry is that RVing can be a lifestyle for everyone! There's so much quality and versatility in small affordable units starting off in a teardrop, or a pop-up tent trailer is a good way to dip your toes in the RV lifestyle. Van conversions are all the rage nowadays. That is also a perfect project to take on that can be affordable and allows for perfect getaways.
Contact Jose Rodriguez, Administrative Manager for the RV/MH Heritage Foundation
p: (574) 293-2344
e: joser.rvmhhall@gmail.com
Get to know some of Elkhart County's Well Crafted entrepreneurs, artists and leaders and where they like to eat, shop and play along the Heritage Trail here: