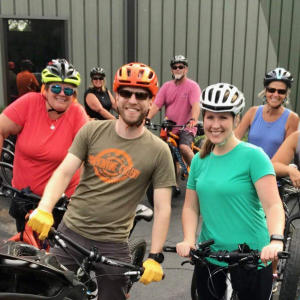 Let's introduce you to Brittany Short, co-owner of Pumpkinvine Cyclery in Middlebury. Brittany grew up in Middlebury and graduated from Goshen College. She grew up on a farm in Elkhart County so it's no surprise that living a more rural lifestyle and being outdoors are some of the things that Brittany loves the most.
Like any other kid, she spent most of her summers riding bike everywhere, but it wasn't until she met her now-husband Spencer that she really got into the sport (or as she says, yelling at the TV during the Tour De France). Most of her riding now involves her kids, or quick solo fitness rides. Being so involved in the cycle industry, and having a passion for trails, led Brittany to be one of the biggest cheerleaders for the Pumpkinvine Nature Trail, a rails-to-trails biking and walking trail that covers just over 17 miles between the towns of Goshen, Middlebury, and Shipshewana.
Pumpkinvine Cyclery was established in 2010, just as the Pumpkinvine Nature Trail was nearing completion in Middlebury. They are a full-service bike shop, offering everything from repairs to rentals, and an array of bikes, accessories, and apparel. Pumpkinvine Cyclery is located at 413 North Main Street, Middlebury, across from the Pumpkinvine Nature Trail's most popular access point, the Middlebury Dairy Queen.
Learn more about the Pumpkinvine Nature Trail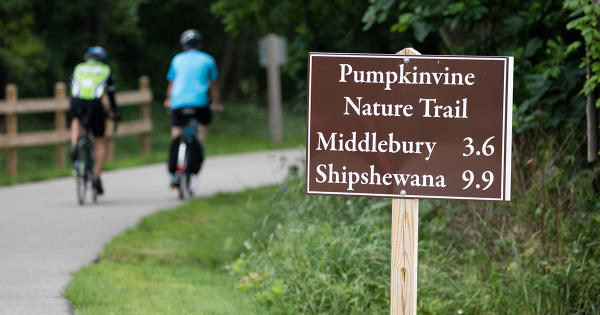 We asked Brittany a few questions about the perfect way to get into biking, what she loves the most about Elkhart County, where you should grab a bite to eat on your bike and so much more.
As co-owner of Pumpkinvine Cyclery, you get you see all kinds of bicycles!  What is your go-to type of bicycle when you go out riding? 
Personally, I love a good hybrid--not too sporty and not too relaxed. Of course, we sell Specialized bikes, so I'm partial to the brand, but there are a lot of great options out there. At this stage in my life, I tend to do shorter rides, either with the kids or to check different areas or projects along the Trail, so a hybrid works well for that.
You have been dedicated to maintaining and developing active transportation infrastructures in Elkhart County.  What has been one of the best accomplishments you've had?
I've spent the last five years engaged in negotiations to link the Pumpkinvine Nature Trail between County Roads 35 and 20 in Middlebury. It's tough...we don't have the same tools as government organizations to get infrastructure projects through. It's hundreds of hours of research, brainstorming and negotiations with adjacent landowners, hoping that they will eventually agree to sell a portion of their property to us for a trail project.
That said, were finally able to pave the first phase of that project this Spring - the 600 feet directly off CR 35. We are working on engineering for the remaining 2000 feet now, which will complete the path sometime next year. So, to answer your question, I think purchasing that final parcel of property in late 2020 was a significant milestone for me personally. I'm so incredibly excited to help make this final connection.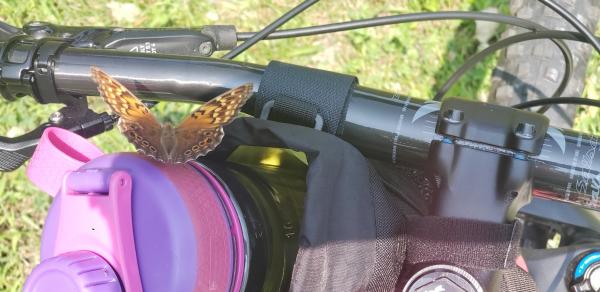 The Pumpkinvine Nature Trail, a linear park and greenway on the former Pumpkinvine railroad corridor, is breathtakingly beautiful. What, in your opinion, is the most "Instagrammable" spot along the trail?
There are several sections along the trail that are just filled with wildflowers during the summer. I know I have hundreds of those pictures on my phone's photo gallery. I'm constantly stopping to take pictures - which doesn't do a lot for my average speed while biking. But every once in a while, I get a good shot of a monarch butterfly or a honeybee - which feels a little bit magical.
What do you love about living in Elkhart County?
There's something about the juxtaposition of a slow, rural lifestyle and the innovative and entrepreneurial spirit here, that just makes it comfortable, but keeps me excited for the future. I grew up in Middlebury, moved to Goshen for most of my 20's, and then moved back to Middlebury - so Elkhart County is home. My dad is a farmer and would attest that I never really embraced farm-life as a kid.
I wanted to go somewhere else, where "things" were happening. But that upbringing has given me a deep appreciation for quality of place and taking ownership and pride in your home. Here, people really care deeply about their homes and farms, they work hard. And on some level really want to keep things slow and small. But there's also excitement around new industry, development, and progress, which has led us to find creative ways to develop with, and for, all the members of our community. County trails are just one such example, and I love being a part of that. There's really nothing better than feeling that you're making a positive difference in the community that you love.
Where is your favorite spot to relax in Middlebury?
If I need to clear my head I do one of two things, either head to Krider Garden and then start out on the Pumpkinvine, or I head to the hammock in my back yard. We are fortunate to live on the Little Elkhart River, and I'm telling you, there are few things more peaceful than moving water. It's like vacation every day.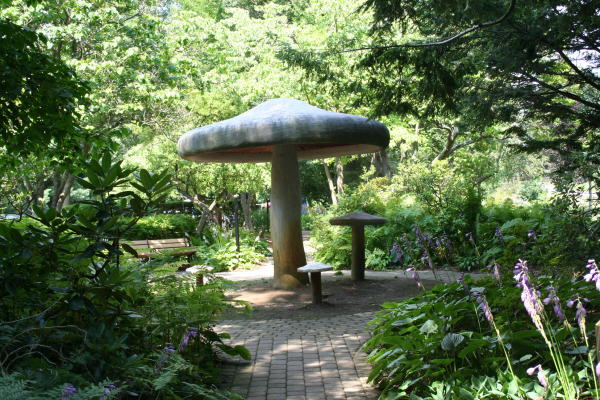 Where is your favorite spot to grab a bite to eat in Elkhart County? 
Favorite? Wow, that's hard. Here in Middlebury, we love West on Warren. It has a great vibe for an evening out, and is only a block away from the Pumpkinvine, so we can ride there if we want. Also, Wedgewood Brewing is fantastic; I'm really excited about their new location. 10 miles down the road, I'm also partial to Goshen Brewing Company. Their food is on point, and afterwards we'll usually go on a short walk down the Mill Race. Can I also mention that we have two of the absolute best ice cream places here? The Chief, in Goshen, and Vanilla Bean Creamery, in downtown Elkhart. So, so good.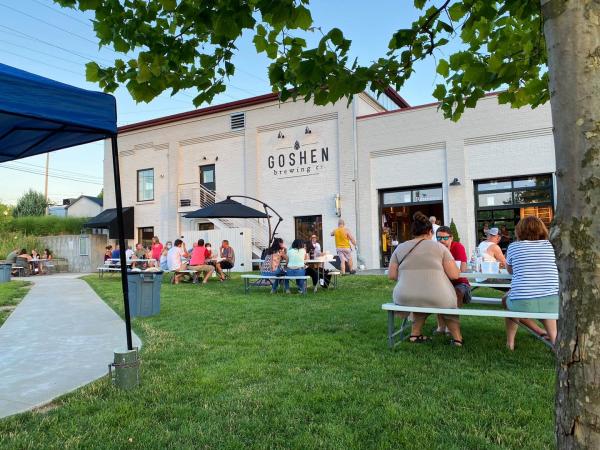 Do you have any tips or pointers for an adult looking to experience the great trails in Elkhart County and purchase their first bicycle?
The first thing to do is plug in to your local bike shop - and I'm not just saying that because I own one! There are several great shops in the area who host weekly group rides. Just find one where you enjoy the community and trust the staff. Their staff can get you set up with the right equipment for the type of riding you plan to do.
Mountain bikers have different needs than road bikers, just like commuters need different gear than folks who just want to pedal around the neighborhood. And if you're just starting out, you won't know what you don't know. They can direct you to resources, and help you find the best trails and routes to fit your riding style. Ultimately in the right community, you'll benefit from the experiences of other riders and probably make some new friends, whether you're looking for them or not!
We know that the Pumpkinvine Nature Trail is a must-see when in Elkhart County.  What else would you say is a must-see for visitors?
I'm a parks girl, so Wellfield Botanical Gardens is on that list. Bonneyville Mill County Park has a great mountain bike trail, hiking and walking trails, and operational grist mill where you can purchase locally grown and milled flours (their cornmeal makes the best homemade cornbread!). Downtown Elkhart's Riverwalk is fabulous, and then you have great food options and shops to explore. Also, if you're going to come to Elkhart County, you must go to Das Dutchman Essenhaus. Walk around their shops, play some mini golf, and grab a bite to eat - you won't be disappointed.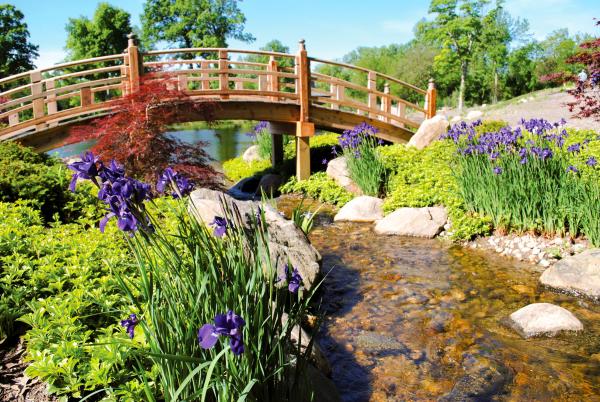 What would you tell someone looking to relocate their family to Elkhart County?
I have two elementary aged kids, and I can't imagine a better place to be. We have wonderful school systems, an exciting outdoor scene (maybe our best kept secret) and expanding career opportunities in nearly every category. This really is a place families can put down roots and expect to thrive.
Contact Britanny Short, Co-Owner of Pumpkinvine Cyclery
p: (574) 825-2252
e: sbshort07@gmail.com
Get to know some of Elkhart County's Well Crafted entrepreneurs, artists and leaders and where they like to eat, shop and play along the Heritage Trail here: