Allen Stewart, Founder of the Hall of Heroes Superhero Museum
The makers in Elkhart County create some incredibly cool Well Crafted items like hand-made furniture, craft beer, motorcycles, luxury and performance boats. Elkhart County is also known as the RV Capital of the World and the Band Instrument Capital of the World.
But did you know Elkhart County is also home to the largest collection of superhero memorabilia, art, and comics in the United States (and quite possibly the world!). The Hall of Heroes Superhero Museum, located at 1915 Cassopolis Street, Elkhart, was founded by Allen Stewart whose love for comic books at an early age jump-started this incredible collection. The museum's collection is now comprised of over 60,000 comics, over 10,000 toys and games, and over 100 pieces of animation and comic art covering the 80-year history of superheroes in comics, toys, film, and animation. Holy mackerel!
We asked Allen how he got started with his comic book collection, what he loves about Elkhart County, how he's dedicated to sharing the history of superheroes to residents and visitors and more.
As founder of the Hall of Heroes Superhero Museum, what is the best part of the job?
The best part of my job?! It's sharing the 80+ year history of superheroes with visitors. It is so wonderful to see visitors get excited about seeing things on exhibit from their childhood such as the old lunchboxes, view masters, toys etc.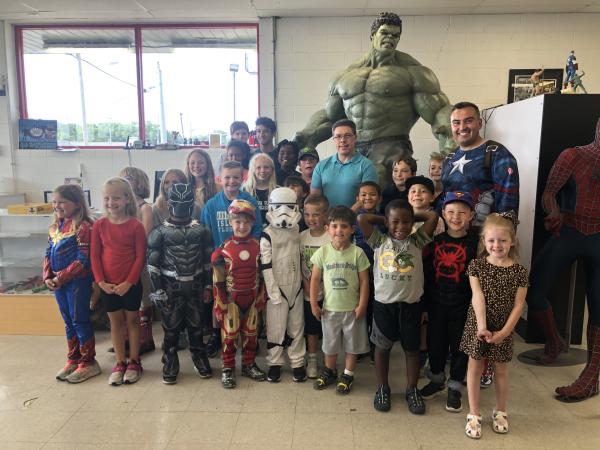 What do you love about living in Elkhart County?
I love living in Elkhart County! This is where The Hall of Heroes collection began and grew over 40 years to become the largest collection in the world. We have had offers from several large cities in the U.S. to move the museum but we're dedicated to keeping it right here.
Where is your favorite spot to relax in Elkhart County?
My favorite spot to relax on the rare occasion that I have free time (lol) is at home. My home is in the Pheasant Ridge neighborhood in Bristol, right on the pond. I love my home and the view just watching the birds from my deck overlooking the water.
You grew up on a love of comic books and TV shows like the Adam West Batman series and Superfriends. How did this love turn into the world's only comic book and superhero museum?
My love of all things superhero began with watching The Batman televisions series after school and the classic super friends cartoons on Saturday mornings. I had two paper routes for The Elkhart Truth as a youngster to support my comic habit.
When you're not at the museum, you're a licensed real estate agent helping people find their new home in Elkhart County. What would you tell someone looking to relocate to this area?
When I am wearing my other hat for Real Estate, I am happy to let folks that are relocating know about how affordable housing is in our area. I also let them know about the great parks and restaurants in our community.
Where is your favorite spot to grab a bite to eat in Elkhart County?
My favorite eateries in Elkhart County are Flippin Cow, The Simonton Lake Root Beer stand and Heinnies. Out of town visitors are always asking us at Hall of Heroes where to go for good locally owned, non-chain restaurants and these are the ones we always send them to.
We know that everyone should visit the Hall of Heroes Museum, located at 1915 Cassopolis Street, Elkhart.  What else, in your opinion, is a MUST SEE for visitors when they come to Elkhart County?
We have visitors daily asking us what else there is to do close by. We offer them the Elkhart County Area Guide and our #1 recommendation other than The Hall of Heroes is Wellfield Botanic Gardens just a mile away from the museum.
Contact Allen Stewart, Founder of the Hall of Heroes Superhero Museum
p: (574) 333-3406
e: stewartreality@egixmail.com
Get to know some of Elkhart County's Well Crafted entrepreneurs, artists and leaders and where they like to eat, shop and play along the Heritage Trail here: