Jump in your car and take the 90-mile Amish Country Indiana Heritage Trail that winds through the cities and narrow country roads of Elkhart County and you will find why this part of Indiana takes pride in craftsmanship.
In July 2022, six writers with the Midwest Travel Network visited Elkhart County on a trip hosted by the Elkhart County CVB. The writers met many of the friendly and creative makers who call the close-knit communities of Elkhart, Goshen, Middlebury and Nappanee home, while experiencing the natural beauty, warm hospitality, and hand-crafted products that make Elkhart County special.
Here is one of the articles that Lori Helke of Wisconsin (Lori Loves Adventure) wrote of her experience.
Click here to read Lori's blog post on her website.
Jump in your car and take the 90-mile Amish Country Indiana Heritage Trail that winds through the cities and narrow country roads of Elkhart County and you will find why this part of Indiana takes pride in craftsmanship. From carefully crafted beer and food to Amish-crafted baskets and buggies, and even the meticulously planned Quilt Gardens on display in summer, the "well crafted" tagline is the center of every experience in Elkhart County.
To Take Full Advantage of the Hand-Crafted Excellence of Amish Country Indiana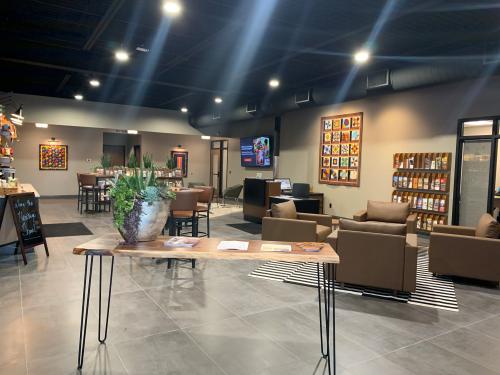 You need to stop at the Elkhart County Visitors Center and pick up a copy of the audio Heritage Trail driving tour CD or USB, plug it in and hit the road. We can do the tour in a day, but honestly, I would recommend taking your time and make a few stops along the way. You will get so much more from the tour. You can also find the tour, as well as interesting interviews and more on the People & Places Along The Heritage Trail Podcast. If you listen to Apple Podcasts, the audio driving tour is on the July 13, 2021, episode. The tour starts at the Visitors Center.
Where Can We Stop and Experience Hand-Crafted Excellence Along the Heritage Trail?
Elkhart County is Amish country Indiana, so why not learn a bit about their culture while enjoying a home-cooked Amish meal?
Thankfully, through the Elkhart County Visitors Bureau I could experience just that. Being welcomed into the home of Carolyn Yoder as she and her husband cooked an Amish haystack breakfast for us was an amazing experience. She talked about their business and shared a glimpse into the carefully guarded simple lifestyle of the Amish while she showed us how she makes her tasty cinnamon rolls. It was a breakfast to remember and the perfect start to exploring more stops along the Heritage Trail. 
The best way to schedule your own Amish home experience is through the visitors' center.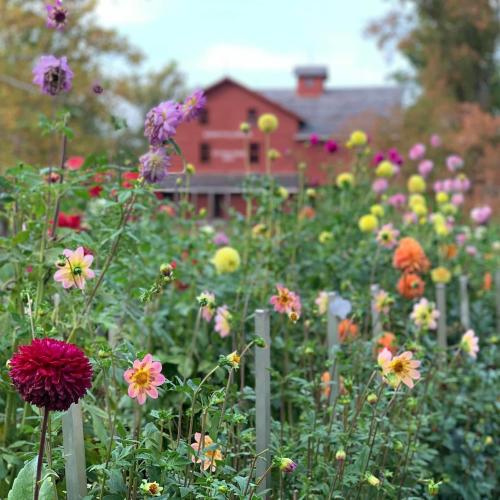 This gristmill is still in operation today, as we witnessed firsthand. It's a step back in time to when water-powered mills like Bonneyville Mill stone-ground grain into flour. The mill itself is open mid-April through mid-November for visitors to check out the grinding process and purchase various flours. 
The Bonneyville Mill is part of the Bonneyville Mill County Park and is a nature lovers' oasis with 222 acres of rural Indiana landscape to explore. There are trails for biking and hills for sledding and skiing, as well as fishing in the river and many shelters to rent for gatherings.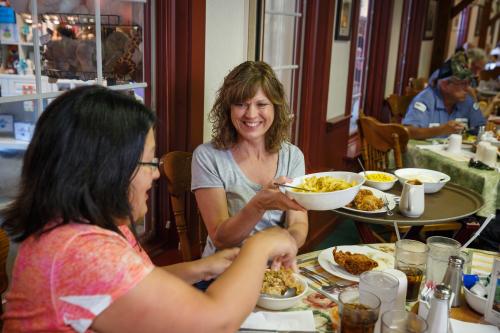 Growing from a small Amish-style restaurant into a sprawling campus complete with a welcoming inn, the largest restaurant in Indiana, shops, bakery, and more, Das Dutchman Essenhaus in Middlebury is a destination‌. Even if you don't stay here, enjoying an Amish-cooked meal in the restaurant is reason enough to stop. I had the lunch buffet. The roast beef was so so tasty and tender, hands down the best I've ever had. Then there is the pie. It's hard to pick from the menu of over 30 choices. I stuck with an old favorite: coconut creme. Make sure you visit the bakery and pick up some goodies, then head on over to the shops for a bit of retail therapy. 
Please be sure and check websites for information about open times and days for all the places listed in this article. Due to staff shortages and other issues, times and days may change.
The inn has a cozy traditional country feel, each room decorated in a theme and they change periodically the hallway decor. There is great attention to each detail. Even the carpeting pays homage to Amish tradition with quilting patterns dispersed throughout. 
Das Dutchman Essenhaus is also one of places to view a Quilt Garden along the Heritage Trail in Amish Country, Indiana.
Find out more about the Quilt Gardens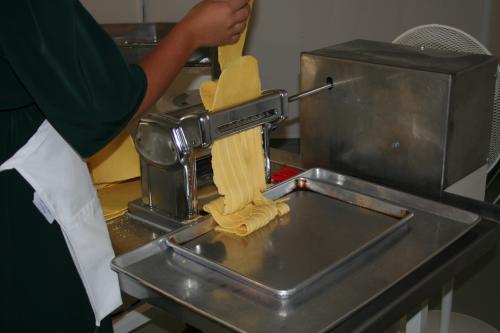 If you want to load up on Amish Country Indiana-made goodies, stop at Dutch Country Market. You can watch Katie make her famous noodles. There is homemade peanut butter, jams and jellies, flavored milk (try some orange creme), candies, crafts and more. 
Dutch Country Market is also the site of one of the Quilt Gardens.
Each Quilt Garden represents a themed quilt pattern. Every year volunteers plan, plant, and maintain each garden around the county. 2022 was the 15th anniversary of the project.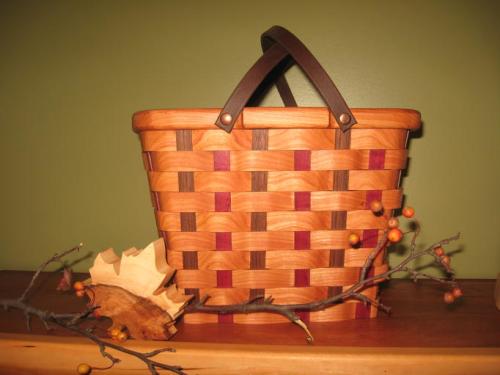 LaVern Miller and his family make wooden weaved baskets, wood puzzles, and other handmade wood crafts from their shop in Middlebury. They welcome visitors to stop in their store and watch how they make their items. Everything is made by hand, starting from a pattern. The Miller family opened their shop in 2015 with LaVern's wife designing and their son making baskets from leftover scraps of wood. Their shop is a popular stop for bus tours and in 2019, they welcomed 175 groups to the shop. 
Janus Motorcycles
Janus Motorcycles is the very definition of hand-crafted excellence. Janus makes each made-to-order motorcycle that leaves their small shop in Goshen. It's this dedication to quality and their unique vintage look that has earned Janus a spot of national and international recognition. The bikes are lightweight, which makes it the perfect choice for the older rider. They designed Janus Motorcycles with simplicity in mind. Even if you are not a rider, this is an interesting stop. Hannah gave us a fabulous tour of the shop floor. It was clear the pride in craftsmanship each person took in their work.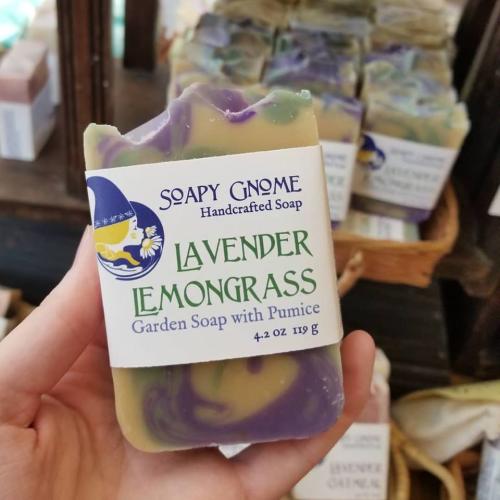 Is there a science to crafting soap? Former science teacher and owner of Soapy Gnome, Jenny Frech, will tell you yes. She turned her DIY passion into a growing business, starting with selling her soaps at local farmers markets to a large storefront in downtown Goshen. Jenny adds buttermilk to her soap to add extra creaminess. She and her staff make all the soaps and other goodies in the house.
When you walk in the front door of the Soapy Gnome Homebody Mercantile, a light scent tickles your nose. You cannot help but draw each bar of handcrafted soap to your nose to take a whiff.
Soaps are just the beginning of why this store is so special. There are home goods, bath fizzes, lotions and scrubs, teas and inspirational gifts. I love the Dandewilde Affirmations line. Call it soap with a message!
You can shop the Soapy Gnome online.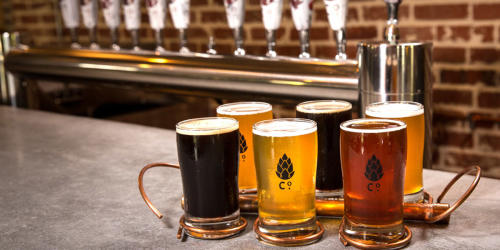 Goshen Brewing Company
How about some hand-crafted beer? While some parts of the Amish Country Indiana Heritage Trail may be "dry," Goshen is not. After a bike ride on the Millrace Canal Trail, we were hungry, so we stopped at Goshen Brewing Company. From the look of the amount of people here on a Wednesday afternoon, this looks like the community gathering place. The outside patio area with live music, the inside, and the covered outside bar area with the raised garage doors were all filled with patrons enjoying a hand-crafted brew, conversations with friends and neighbors, and the late afternoon sunshine. 
Before we sat down to dinner, we took a tour guided by founder Jesse Sensenig. After dabbling in brewing his own recipes in Colorado, he and his wife, Amanda, brought that skill to Amanda's hometown of Goshen and opened their own brewery and restaurant in the former Northern Indiana Public Service Company building. They operate on 100 percent solar and wind power. The restaurant serves farm-to-table dishes. We sampled a variety of appetizers, and I had the steak and avocado salad. 
Nappanee Center
If you are interested in local history, you'll want to add the Nappanee Center to your list of stops along the Heritage Trail. Did you know Nappanee was the birthplace of the Hoosier Cabinet? Inside the Nappanee Center, you can learn about the history of the local industry, including cabinets and the RV industry. 
In back outside here you will find another Quilt Garden and a quilt mural.
You can also head over to nearby Coppes Commons in Nappanee and look at the cabinet museum upstairs.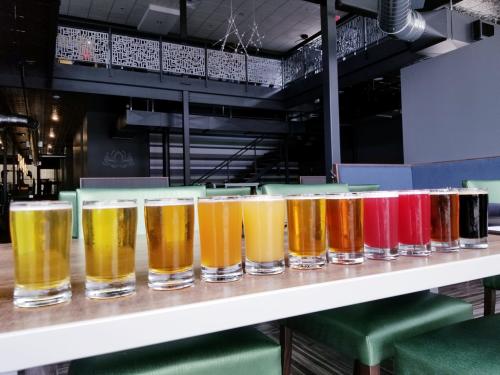 Another stop in Nappanee and a great way to end a day is with dinner at the ultra cool Ruhe152. The bar and restaurant has a big city urban ambiance that is a surprise in quiet Nappanee. They also are a brewery and distillery. At Ruhe152 Bistro, hand-crafted excellence is a passion. The food, the cocktails, and the small batch brews and spirits. We could sample the menu while we watched mixologist Erin shake us up some cocktails. We also met David Michael, the genius behind the unique brews and spirits. I highly recommend stopping, have a drink, and enjoying some unique food. 
Tips for driving the rural roads in Amish Country Indiana
You will encounter horses and buggies while driving along. Please be mindful of speed.
Do not flash your headlights or honk your horn, you may startle the horse.
Leave plenty of room if you plan to pass.
Another tip: Please do not take photos or take selfies with Amish. It is perfectly fine to strike up a conversation or ask questions.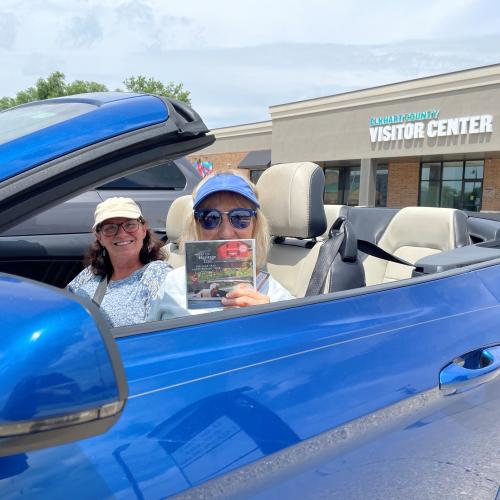 There are examples of hand-crafted excellence in Amish Country Indiana all along the Heritage Trail and in Elkhart County. As visitors, we are lucky to witness the genuine pride of the people that live here through the things they make. Be it food, brews and spirits, wood baskets, motorcycles, or soap, hand-crafted excellence is Elkhart County's gift to the world. I highly recommend you come take a drive along the Heritage Trail and see for yourself.