Great places for tacos in Elkhart County
So simple, yet so satisfying - great tacos can be found everywhere in Elkhart County, from family-style dine-in restaurants to modest taquerias. Here are some fantastic spots for tacos, all beloved by their regulars.
Have a favorite taco spot of your own. Share it with us on social media; use the hashtag #INElkhartCo.
Now, let's eat!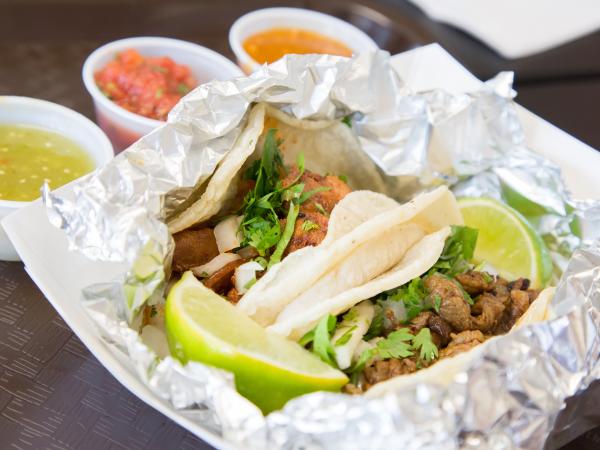 Los Primos Mexican Grill
124 W. Jefferson St., Goshen
The winners of Elkhart County's Taco Wars in 2017, Los Primos delivers incredible flavors in countless combinations from a cozy storefront just off Main Street in downtown Goshen. Step to the counter and watch as your taco, burrito or bowl are built with the toppings you choose. One online reviewer gushed, "Best Mexican food in Goshen, Indiana!!"
Ricky's Taqueria
57995 County Road 9, Elkhart
Don't be fooled by the size of the building. Ricky's Taqueria just south of Elkhart is a longtime institution known for its tacos and sizable burritos. The dining room is cozy but, if the weather is nice and you can't squeeze into a table or counter, you can probably find a seat at a picnic table under one of their canopies. Online reviewers confirm any inconvenience is worth it. "Love the food … always fresh and tasty," wrote one Google local guide.
El Rosal
2693 S. Main St., Elkhart
Many of the best taquerias in Elkhart County work in collaboration with a grocery store. So it is with El Rosal, where you make a left after entering the grocery and head to the counter to place your order. Once you sit down at a table with your tacos, you have your choice of three salsas depending on your tolerance for heat. From a Google local guide, "I'm probably going to dream about those tacos tonight. They were perfectly done and $1.75 each. That's what's up."
Universal Tamal
225 S. Main St., Goshen
From house-made tortillas to tacos al pastor, Universal Tamal keeps its loyal diners happy at this humble eatery tucked into Goshen's bustling downtown.
Cubliletes Mexican Bar & Grill
4100 E. Bristol St., Elkhart
For a more traditional restaurant experience, consider Cubiletes. Regulars swear by the menu, which includes many vegetarian choices and décor that imparts a cool vibe on the dining experience.
El Cielito Lindo
108 W. Market St., Nappanee
Even in the heart of Amish Country, you can find great tacos. El Cielito Lindo is well established in the Nappanee community, never leaving their long-time customers hungry. One online reviewer loved their meal and especially the hot salsa: "If you like looking like a fire breathing dragon, this stuff is for you. I bought 12 ounces of it to take home."