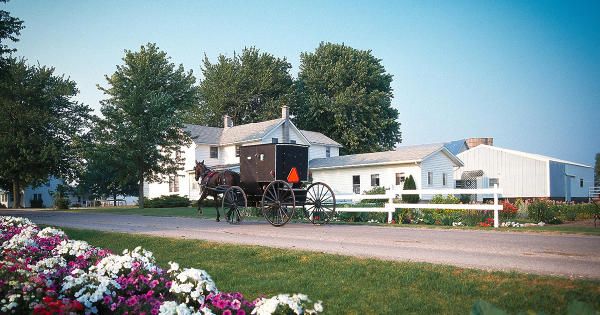 The fall bounty from her garden is keeping Amish wife Elaine Jones busy.
By Elaine Jones
Such a gorgeous morning and fall is just around the corner — my favorite time of year! The mornings are fresh, the sky is so blue, the clouds are so white, and the harvest is plentiful.
I've been cleaning out the gardens as things mature. We had the last of the sweet corn two days ago. I like to do three plantings in the spring two weeks apart so we can enjoy fresh corn on the cob longer. The potatoes are dry and sorted. The very small ones are something our sons just devoured after I made these:
Potato Dollars:
Small potatoes
Clean and slice ¼-inch thick. Pour boiling water over them in a stainless steel bowl. Let them sit in the water. Heat veggie shortening to 350 degrees. Drain the potatoes and pat dry. Place in oil to deep fry.
They are chewy and crisp. Potatoes are my favorite food; there are so many ways to fix them.
We have harvested tomatoes and more tomatoes. Each of our three sons' wives got some. The neighbor lady was here and picked all she wanted, and I even set the ripe ones out for a tour bus to take — free, of course.
I planted Roma, beefsteak (large red ones) and yellow.
The red ones we use for juice, pizza sauce, spaghetti sauce, V8 juice, stewed tomatoes and salsa. Tomatoes are my favorite fresh garden vegetable. They are wonderful for breakfast with eggs and toast, in salads at lunch, and in slices for supper. I really like the yellow ones to eat fresh as they are less acidic. The plants just outgrew and overflowed the vine cages I staked them with.
I give a lot of credit for all those tomatoes to banana peels, which leads me to this story:
When we hosted church last March, my husband brought home a whole box of bananas for our noon meal after service. Of course, we also had the usual bread, spreads, cheese, beets and pickles, and cookies. The bananas were just an extra. We sliced them into bowls and drizzled glaze over them. The children really loved it so I want to do it again.
Glaze for Bananas
Pineapple Juice
Water
Tablespoon of sugar
Pinch of salt
Orange Tang powder
Rum flavoring
Heat ingredients. Thicken with perma-flo for desired consistency.
So I saved all those banana peels. I dried them first, then when I planted the tomatoes I dug larger holes and scattered the peels around the roots before I covered them. Tomatoes must love potassium.
We are due for another warm week according to the weather forecast, so the next batch of ripened tomatoes I want to try a new salsa recipe my husband brought home. He is the human resource manager at E&S Sales and one of the girls from the cheese room brought salsa in to share one day.
Salsa
14 large tomatoes, peeled and diced
7 large peppers, diced
1/4 cup salt
2 cloves garlic, minced
2 onions, chopped
2 chili peppers, finely chopped
Cilantro
1 cup vinegar
3/8 cup sugar
1 1/2 teaspoon cumin
Drain tomatoes a little. Mix all ingredients.
This will keep in fridge for a week. I'm going to make a batch, freeze some, then thaw, and if the texture is still acceptable, I want to make more to freeze. Then I'll have fresh tasting salsa in the winter. I have all the veggies I need in the garden except the chili peppers but I'll substitute garden salsa peppers. They are hotter and I'll have to cut back.
I harvested 16 large butternut squash — the one vine was all over the place and I was ready to be done with it, so I pulled it out. I told Steve now we can have squash once a week for four months! I peel, chop and cook the neck part. Steve likes his with butter and brown sugar. I eat mine with a little butter and lots of fresh ground pepper and green tomatoes on the side. That was our supper last night, plus chicken breast.
Once the garden is all cleared, then it will be time to focus on house cleaning — not my favorite thing — so I decided to book a cleaning online!. It's always so refreshing to have everything clean again, from the cupboard to the walls, windows and floors.
Tonight I'm surprising my husband and making half-moon pies. I use a basic fruit pie recipe for the filling. We have fresh red raspberries so I'm using those:
Half Moon Pies
Fruit
2 cups fruit, fresh or frozen
1 cup sugar
Pinch of salt
2 cups water
1/3 cup Perma-flo
Heat fruit and 1 1/2 cups water. Mix sugar and salt and Perma-flo and add ½ Cup water. Stir hot fruit into water mixture and heat till it boils.
Red raspberries need no other seasoning.
Black raspberries: Add ½ teaspoon lemon juice
Sour cherries: add ¼ teaspoon lemon juice and ¼ teaspoon almond flavoring
Blueberries: Add ½ teaspoon lemon juice
Dough
2 cup flour
1/2 teaspoon salt
2 1/2 teaspoons baking power
2/3 cup shortening
1/2 cup milk
Mix flour, salt and baking powder together. Cut in shortening and then add milk. Mix as pie dough. Divide into eight balls. Roll out ball into 6-inch circle. Put 1/4 cup filling in center. Wet 1/2 of circle with water. Fold over dough and press wet part. Cut off excess dough.
Slide onto cookie sheet. Use excess dough for two more half-moon pies. Brush with milk, sprinkle with sugar. Use raw macaroni and poke hole in the center all the way through top dough. Leave macaroni in to bake for steam vent. Bake at 375 degrees till golden. Discard macaroni and watch your love ones be surprised. Enjoy!
The dough also works for apple dumplings. Half and peel and core apples. Fill center with brown sugar. Wrap each apple half in dough and bake at 375 till apples are soft and wrap is golden.
Be yourself and strive to be happy.
Elaine Jones is an Amish wife, mother and business owner. She and her son, Seth, host traditional Amish meals in their rural Topeka home. Often these gatherings are paired with cooking or quilting demonstrations. Elaine shares a bit of her everyday life in this occasional column.