Let's Go on A Road Trip to Elkhart Indiana
In July 2022, six writers with the Midwest Travel Network visited Elkhart County on a trip hosted by the Elkhart County CVB. The writers met many of the friendly and creative makers who call the close-knit communities of Elkhart, Goshen, Middlebury and Nappanee home, while experiencing the natural beauty, warm hospitality, and hand-crafted products that make Elkhart County special.
Here is one of the articles that Lori Helke of Wisconsin (Lori Loves Adventure) wrote of her experience.
Click here to read Lori's blog post on her website.
Let's Go on A Road Trip to Elkhart Indiana
These days, I don't venture outside of Wisconsin too much, but when I do, it's always an epic road trip adventure. Take, for instance, my cross-country car camping experience to Gulf Shores in 2021.
So when I was invited on a whirlwind three-day hosted trip by Visit Elkhart County with a group of fellow writers from the Midwest Travel Network to Elkhart County, Indiana, my only response was "Where do I sign up?"
Truth is Elkhart Indiana has been on my radar for a while. In fact, when I went on that epic road trip south last year, my initial plan had been to stop in Elkhart, which is the RV capital of the world, on my way home. Since I LOVE vintage campers and have one of my own, I had been wanting to visit the RV Hall of Fame and Museum. My plans changed, though. I was tired and had caught a horrible cold and had just wanted to get home from that trip, so I put it on the back burner for another time.
That time came in July.
Even if a visit to the RV museum wasn't on the itinerary, I was going to stay an extra day and visit it myself. When the itinerary came out, I was doing happy backflips (not really, this 58-year-old body is no longer that limber, but you get my drift) to see it was the last thing on the last day of our schedule.
And so I set off early on a Tuesday morning, worried about getting through Chicago traffic to get to Hotel Elkhart in plenty of time to begin the adventure. No worries, I sailed through Chicago with no problems.
Making Elkhart the Perfect Home Base When Visiting Elkhart County, Indiana
In this first of a series of posts focusing on visiting Elkhart County, I'd like to share with you why making Elkhart home base during a visit to Elkhart County a fabulous option. Elkhart is the largest city in the county and with its lively downtown scene full of art, history, and access to the Elkhart River, it's the perfect starting point.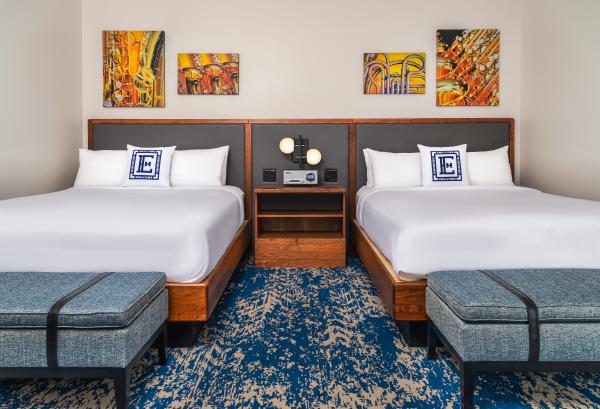 Staying at the Ultra Cool Hotel Elkhart
Like an expert jazz musician that uses syncopated rhythm to catch the listeners attention, Hotel Elkhart has placed emphasis in unexpected places like the use of musical instruments in the light fixtures and borrowed art from the Midwest Museum of American Art to grace the walls in the public areas. Hotel Elkhart is a Hilton Tapestry Collection hotel. According to the Hilton website:
"Tapestry Collection by Hilton is a portfolio of original hotels that offer guests unique style and vibrant personality. Each handpicked Tapestry Collection property encourages guests to explore the local area, seek their adventurous sides, and create an authentic connection to their destination."
Hotel Elkhart is a fine example of a boutique hotel. Reopened in 2021 after an extensive restoration, it is the only hotel ‌in the heart of downtown Elkhart, Indiana. The hotel features a grand lobby with an original terrazzo floor and two very comfortable and separated seating areas. There are two restaurants on the main floor. Enjoy a juicy made-from-scratch burger (I recommend the Bourbon and BBQ Burger) in The Corner Bar and breakfast inside Relish Cafe. Head to High Note, Hotel Elkhart's rooftop bar, after a day out exploring.
Insider tip: the hotel's pastry chef makes all pastries in the house, according to Denita Henry, director of sales for the hotel. I can attest to the donuts being outstanding!
Hotel Elkhart has 93 rooms including suites. After I checked in, I found my room on the sixth floor. I had an incredibly spacious corner room with a king-sized bed and enormous bathroom. The rooms feature hand-crafted furniture, Molton Brown bath amenities, ultra comfy Kingstown Capeplush mattresses, single cup coffee maker, and plush towels. Talk about the royal treatment! If you'd like, you can request daily room service. I declined since I wasn't staying long. If you need anything, you can just call the desk and they are happy to help. I only hoped that I was staying longer to take full advantage of this incredible hotel.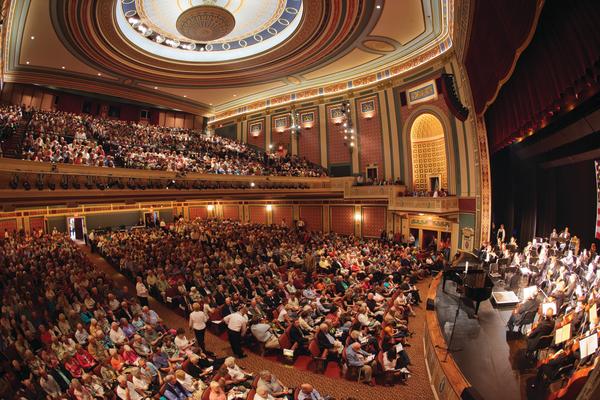 Take in a Show at The Lerner Theater
Whether it's local home-grown talent or a national headliner, The Lerner Theater takes center stage in downtown Elkhart, Indiana. Built in 1924 by Harry Lerner, it changed ownership several times, even sat vacant for a few years until the city purchased it in 1990. The newly formed Premier Arts Inc. took over and tried to make as many improvements as possible. It was apparent that for the present ELCO Theater to realize the group's dream, it was going to need major funding. In 2008, the city Of Elkhart approved funding on an $18 million dollar project to get the theater project going. The 2011 completed project gave the city its present-day theater, as well as a ballroom, rehearsal rooms for the Premier Arts group, spacious dressing rooms, and a stunningly elegant theater which pays homage to its grand beginnings was open.
Fun fact: The recent addition and the original theater are not connected, which you cannot tell from the inside.
And elegant it is. The Lerner Theater is something to see, and to see a show here is amazing. I witnessed this first-hand when our group were guests of Mayor Rob Roberson of Elkhart for the Weird Al Yankovic show the first night of our visit. It was an odd pairing. The grandiose theater and the weirdness of a Weird Al show, but it fit. The acoustics were amazing!
Theater manager Michelle Frank works hard to get national acts to come to Elkhart and perform in the theater. In 2021, there were ‌190 performances at The Lerner Theater. There's always something going on, and December is the busiest month.
Fun fact: There were 400 ZIP codes represented in ticket sales for the sold-out Weird Al show we attended.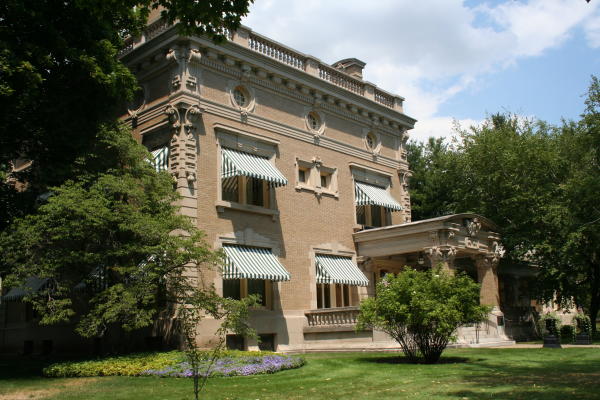 Immerse Yourself in Elkhart History with a Tour of Ruthmere Mansion
Even if you're not extremely interested in history, you'll still want to stop at Ruthmere, just for the sheer opulence of the home and grounds. A visit to the Ruthmere Mansion is part history, part art museum, and part architectural tour. Built in 1908 by Albert Beardsley, nephew of Elkhart's founding father, Havilah Beardsley. A prominent business person, Albert was general manager of Miles Laboratories (the creator of Alka-Seltzer), and Ruthmere was the social center of Elkhart.
They named Ruthmere after Albert and his wife, Élisabeth's daughter Ruth, who died in infancy.
A tour through Ruthmere is a lesson in details. The ceiling artwork in the bedrooms and receiving room, the blend of styles in the stained-glass windows at the staircase, and all the fine art located around the house makes you want to stop and drink in all those details. It's a must along with the Havilah BeardsleyHouse just down the street.
Along with hosting several events throughout the year, Ruthmere also has one of the famous Quilt Gardens along the Heritage Trail in Elkhart County.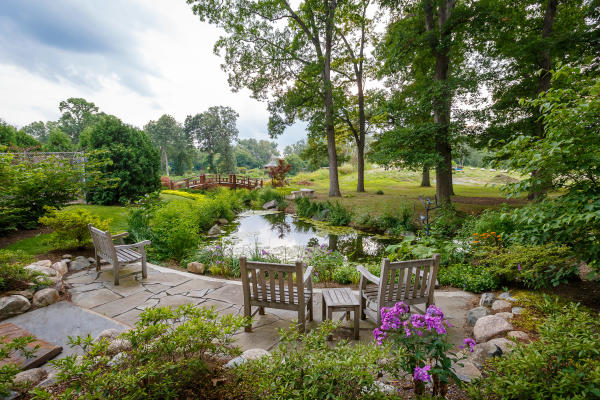 For a Dose of Nature in Elkhart Head to the Wellfield Botanic Gardens
Wellfield Botanic Gardens is not like other gardens in that, ‌on this property, they cleverly incorporated 13 live wells into the landscape that provide 70 percent of the drinking water to Elkhart. The gardens are on 36 acres with 18 of those being surface water. All ages will enjoy spending an afternoon here. There's a very cool children's garden with a fun play structure and nooks and crannies to enjoy. My favorite was the Island Garden, a Japanese-inspired garden that gave me flashbacks of visiting Monet's Gardens in Giverny, France, in 2011. Cristiana Creek winds through the garden and there are places to relax and enjoy the sounds of the water along the way.
Listening to our tour guide, Eric Garton, Wellfield has an enthusiastic executive director who is passionate about the present and future of the gardens. Construction was happening for a future Peace Garden which will open this fall.
There are events that take place during the year, including a holiday lights display, summer concert series, and educational programs. Wellfield Botanic Gardens is open year round. Be sure and check the website for times. There is an admission charged for non-members.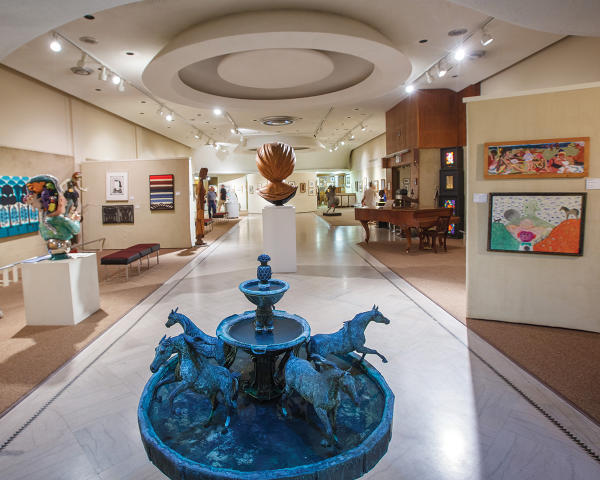 View an Extensive Collection of Signed Norman Rockwell Lithographs at the Midwest Museum of American Art
When you are staying at Hotel Elkhart, cross the street and you will stand in front of the Midwest Museum of American Art. You can also identify it by the tall John Mishler (Mishler is from nearby Goshen) sculpture in front. A former bank, the museum displays a permanent collect of 900 of its 6,500 American art pieces throughout the year. Curator Brian Byrn is a wealth of knowledge about the museum and its works as we found out during our tour. Upstairs you ‌find that extensive Norman Rockwell collection and Overbeck Art Pottery. The pieces are all donated by collectors (500 sources). The museum loans out art from its collection to Hotel Elkhart and The Lerner Theater.
One of the biggest events to take place annually is the Elkhart Regional Juried Art Competition. The competition takes place in September and the exhibition runs from October through December.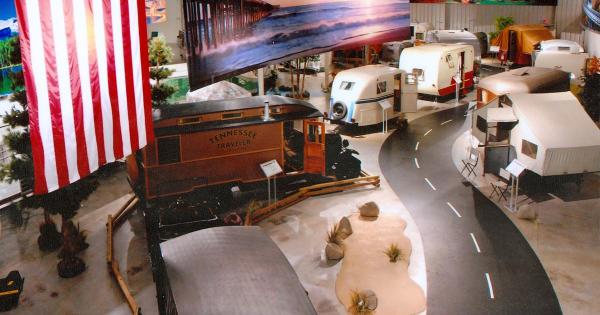 Look at the History of RVs at the RV Hall of Fame and Museum
Elkhart County is the RV Capitol of the World and it's only fitting that no visit to Elkhart is complete without a stop at the RV Hall of Fame and Museum. While there's ‌plenty to see, the old campers in the Founders Hall were what I was there for. Covering a time ‌from the first camper (a 1913 Earl Trailer and Model T Ford) to a 1988 Star Streak, it's a genuine timeline of camping. Some you can go inside, some not. My favorite was the 1957 Serro Scotty Rear Entry. I would have loved to ‌spend more time here, but that just gives me another reason to go back.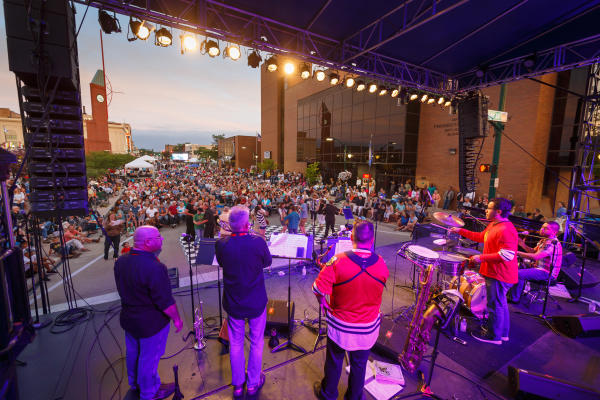 More Things To Do in Elkhart
Take a bike ride or walk one of the many trails.
Discover shopping, restaurants and more along the Gateway Mile.
Attend Jazz Fest in June.
Whether you spend an overnight getaway, or make Elkhart, Indiana your home base for your visit to Elkhart County, you'll love this city. Solo travelers like me will love all the great things to do. I'm looking forward to returning!