Guys' Dynamite Top 10 Places to Visit in Elkhart County ...and the surrounding area
IN ELKHART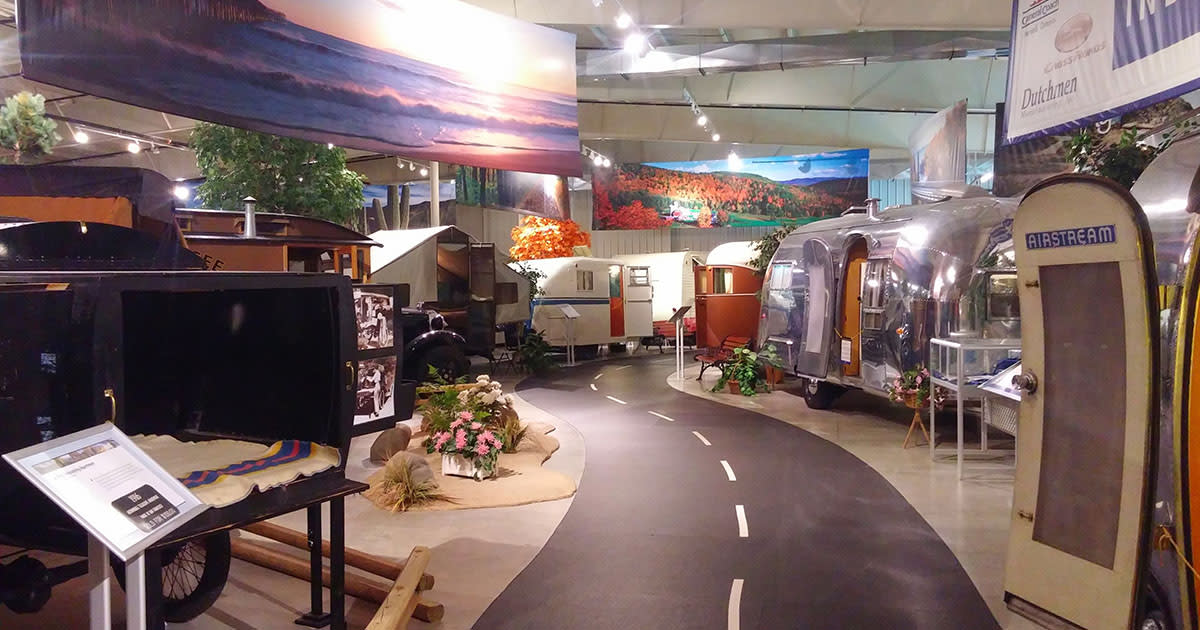 21565 Executive Parkway // 574.293.2344 // Admission // Call for hours of operation
It's the only museum of its kind. Follow the path that's lined with antique vehicles, including the oldest known, non-tent trailer in existence – a 1913 custom built travel trailer attached to a Model T Ford. The museum's impressive collection includes plenty of quirky highlights like the custom-built 1931 Chevrolet Housecar owned by screen siren Mae West. She used it as a lounge car transporting her between home and the studio. The Hall also features modern RVs, so you can climb aboard the most current models.
721 S. Main Street // 574.294.3001 // Admission // Open Tue - Sat 10am - 5pm; Sun Noon - 4pm
Let your inner engineer come out viewing an outstanding collection of NYC artifacts and cruise through rail - roading history. Ring the bell and blow the whistle at an interactive display of a steam locomotive. Step into the engine compartment and cab an EMD E8 diesel-electric locomotive. Outside view rolling stock that includes the largest surviving piece of New York Central steam locomotive technology, a dual-service (passenger & freight) 4-8-2 L-3a Mohawk, No. 3001. It's huge and impressive!
58005 CR 105 // 574.293.0755 // Admission // Call for appointment to tour
Be a kid again. Step into a two-story recreation of the Hall of Justice and browse through the world's largest collection of comic books, super hero memorabilia, original art and props (featured on the FX collectible show). Slide down the Batpole to visit Batman's Batcave recreating the scene from the popular 1960s TV show.
IN BRISTOL
(approximately 8 miles from Elkhart)
53373 CR 131 // No Admission // Open Wed – Sun, May thru Oct
Tour a refurbished, water-powered mill that has produced flour for the last 150 years. (It's the most photographed spot in the county.) Feel the floor shake as the giant millstones rumble into action. Talk to the friendly miller who tells all about the mill and the types of flour produced there. Buy a bag of freshly ground flour to take home. Then enjoy the day and take a stroll along the well-marked trails through Bonneyville Mill County Park.
IN SOUTH BEND
(approximately 15 miles from Elkhart)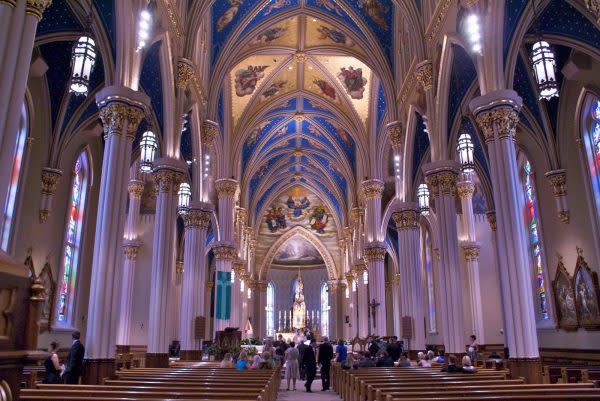 Notre Dame Avenue // 574.631.5726 // Free Public Tours Mon - Fri
Immerse yourself in the history and traditions of Notre Dame on a 90 minute walking tour of campus. Hear about the Gipper. See the "House that Rockne Built," "Touchdown Jesus," the Basilica of the Sacred Heart and the world-famous "Golden Dome."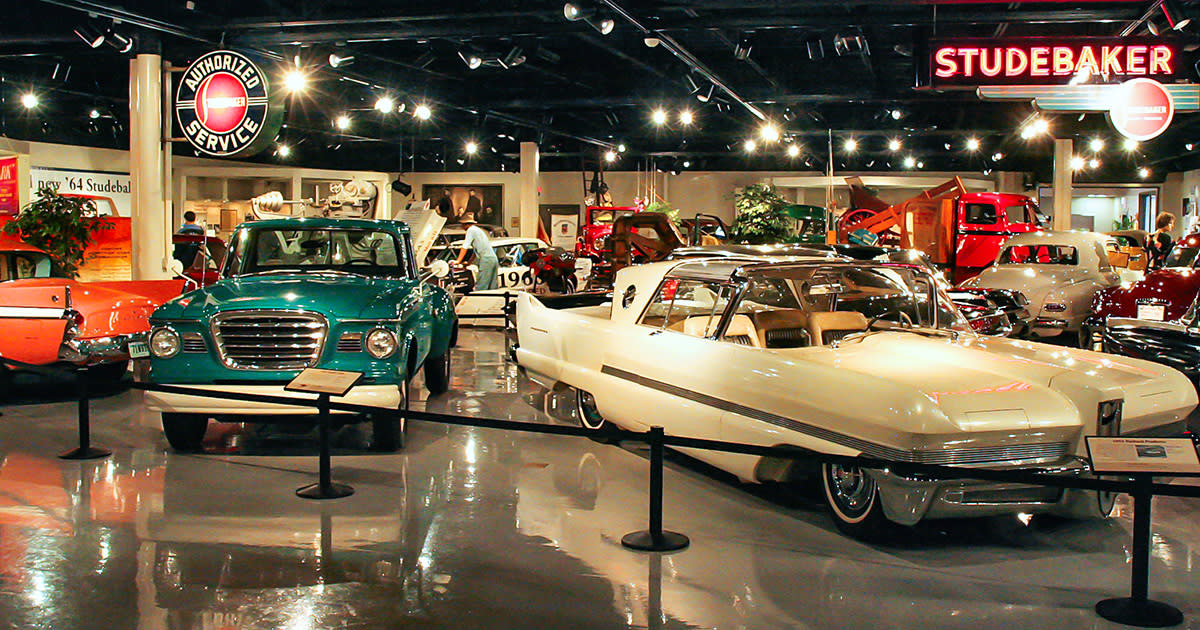 201 S. Chapin Street // 888.391.5600 // Admission // Open Mon - Sat 10am - 5pm; Sun Noon-5pm
Cruise through 150 years of history and step back to the golden age of automobiles. Experience the progression of automotive history and view iconic autos. Admire the nation's largest Presidential Carriage Collection. See the carriage Lincoln rode in to the Ford Theatre and witness the tragic events that unfold in "Lincoln's Final Journey: A Nation Mourns."
IN LAPORTE
(approximately 45 miles from Elkhart)
1201 E 1000 N // 219.778.2260 // Admission // Memorial Day - Labor Day weekends, 11:30am - 5pm
All aboard! The museum features three gauges of steam trains, plus sawmill and traction engines and a steam crane. Trains run from Noon until 5pm.
 IN MICHIGAN CITY, IN
(approximately 53 miles from Elkhart)
100 Heisman Harbor Road // 219.872.6133 // Admission // Apr– Oct Tues - Sun 1pm - 4pm
Step into an original 1858 light station with 8 display rooms chronicling Great Lakes history, shipwrecks and the era of sailing ships.
LET'S EAT!
(15-19 miles from Elkhart)
240 US 20, Middlebury // 800.455.9471 // Mon - Thurs 6am - 8pm; Fri - Sat 6am - 9pm
Discover a pleasant surprise in the country and savor authentic Amish influenced family recipes served buffet or family-style, and menu dining. Save room for pie – Essenhaus features 30 home-baked varieties! Cruise-ins happen Thursday evenings May thru September in the Essenhaus parking lot with special activities, music and folks showing off their special rides.
Amish Acres
1600 W Market St. (US 6), Nappanee // 800.800.4942 // April & May: Wed, Sat, Sun 11am - 7pm; Memorial Day - Oct: Tues - Sat 11am - 7pm; Sun - Mon 11am - 5pm; Nov - Dec Thurs - Sat 11am - 7pm; Sun 11am - 5pm
Sit under the beams of the rustic barn restaurant overlooking the historic farm to dine family-style on the acclaimed "Thresher's" dinner featuring steaming kettles of bean soup, hearth baked bread along with platters of chicken, ham or beef accompanied by other savory Amish fare. Of course, the meal includes pie – Shoofly pie is a house specialty. Before or after the meal you can tour the historic farmstead that's listed on the National Register of historic places or take in a live Broadway-musical production at Amish Acres' Round Barn Theatre.
SOME OTHER DON'T MISS ACTIVITIES
South Bend Cubs at Four Winds Field
Downtown South Bend // 574.235.9988
Watch the South Bend Cubs play and keep score of runs batted in at this newly renovated field. Ticket prices vary. On Belly Buster Monday, ticket includes game ticket and all-you-can-eat hot dogs, hamburgers, peanuts and popcorn.
Coho Capital of the World – Charter Boat Fishing
Michigan City // Washington Park Marina // 800.634.2650
Head out and cast your line into Lake Michigan, some of the most fertile waters in the nation for salmon and trout.