Krider's World's Fair Gardens Giant mushrooms. If you remember nothing else about Krider's, you'll remember the giant mushrooms ... a cluster of large, concrete mushrooms unlike anything you've ever seen (or eaten). They're just one of the stunningly beautiful experiences at the garden spot of Northern Indiana – Krider's World's Fair Gardens. In 1896, schoolteacher and plant-lover Vernon Krider opened a nursery in Middlebury. In 1933, his love for nature went worldwide as he designed an outdoor garden for the Chicago Century of Progress International Exposition.
Today, the flowers, shrubs and ornamentals featured at Krider's World's Fair Gardens are transplants from that 1933 garden. Fountains, curving flagstone paths, shaded benches, and viney gazebos have been added, creating a hidden world perfect for relaxation, reflection, and mini-workday getaways. A display of vincas, zinnias and lush ground cover, among a cluster of those fabled giant concrete mushrooms, is flanked by benches arranged in shaded spots.
The beauty of nature. The solitude of a perfect garden setting. Appealing to visitors who need a little "downtime" in their lives. Points of Interest: ▪ After the Chicago Exposition closed, the gardens were replanted on 2.4 acres in Middlebury. ▪ The gardens were closed in 1990. In 1995, the townspeople restored the gardens and reopened them at their current location just northeast of Middlebury on C.R. 8.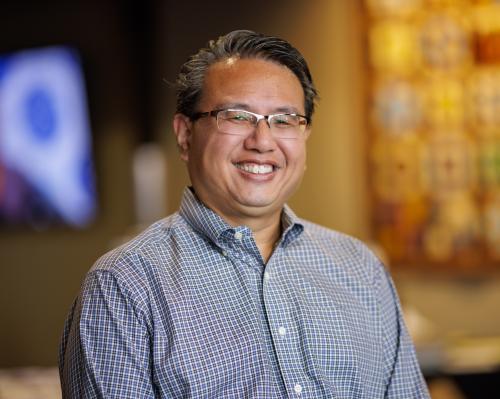 Terry Mark
Director of Communications & Public Relations