ELKHART — The Quilt Gardens are back in 2021, bringing the beauty of 16 amazing quilt-patterned gardens planted lovingly by hand for the enjoyment of Elkhart County residents and visitors from Elkhart to Goshen to Nappanee, Wakarusa, Middlebury and Bristol.
The 14th year of this one-of-a-kind attraction welcomes one new Quilt Gardens site at The Barns at Nappanee. Featuring more than 1 million blooms, the Quilt Gardens are a love letter from each site, their dedicated volunteers and staff, Elkhart County cities and towns, and the Elkhart County Convention & Visitors Bureau.
"This is the perfect way for Elkhart County's creative and collaborative residents and businesses to welcome the summer, including the visitors who will come here to enjoy our vibrant downtowns and rural spaces, soak in a little bit of our rich history and artistic vibe, and have a great stay here," said Jon Hunsberger, executive director of the ECCVB.
MAP: See locations each of the 16 Quilt Gardens and 14 Quilt Murals sites
GALLERIES: See photos of current and past Quilt Gardens
DID YOU KNOW: Facts and figures about the 2021 Quilt Gardens
The Quilt Gardens are open free to everyone starting May 30, 2021, and continue to Sept. 15, 2021. Quilt Gardens highlight businesses, cultural venues, and scenic beauty from classic downtowns to rolling farmland along the Heritage Trail. The 90-mile audio driving tour connecting Elkhart, Bristol, Middlebury, Shipshewana, Goshen, Nappanee and Wakarusa. Packed with intriguing stories, fascinating folklore, and turn-by-turn directions, the Heritage Trail is a window into our close-knit communities that have a passion for craftsmanship and quality of life.
"We're excited to be a part of the Quilt Gardens. It's a special project that unites our diverse communities," said Bill Firstenberger, executive director of Ruthmere, one of the original Quilt Gardens sites. "The Quilt Gardens are a beautiful representation of Elkhart County's rich history of makers and creators, everyone from industrialists who built our cities to farmers who grow our food to artists who add color to our lives."
The Elkhart County Convention & Visitors Bureau is the official tourism advertising/marketing and public/community relations organization for the Elkhart County hospitality industry. The ECCVB advances quality-of-place initiatives in our downtowns and rural spaces, parks and natural environment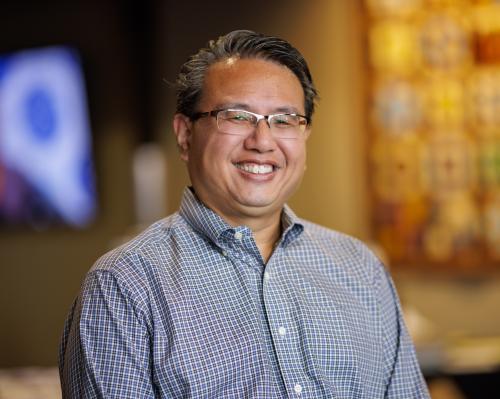 Terry Mark
Director of Communications & Public Relations