Your favorite breakfast place could be crowned the winner of Indiana's Cool North Breakfast Wars. But for that to happen, Elkhart County residents need to vote and get their family, friends and co-workers to vote as well.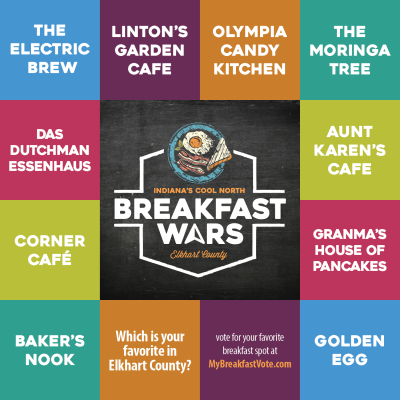 Whether you love omelets, pancakes, or waffles for breakfast, everyone has their go-to dish and their favorite breakfast restaurant. Ten restaurants from throughout Elkhart County have been nominated for voting to select the top breakfast place in our county. Voting for Breakfast Wars kicks off Thursday, March 1, according to the Elkhart County Convention & Visitors Bureau. To vote, go to www.HTadventures.com.
The 10 candidates from Elkhart County are (read more about them here):
Aunt Karen's Café, Middlebury
Baker's Nook Café, Elkhart
The Corner Café, Wakarusa
Das Dutchman Essenhaus, Middlebury
The Electric Brew, Elkhart & Goshen
Golden Egg Pancake House, Elkhart
Granma's House of Pancakes, Dunlap
Linton's Garden Café, Elkhart
The Moringa Tree, Elkhart
Olympia Candy Kitchen, Goshen
Voting for Elkhart County's best breakfast will end on March 12. The winner will then move on to the regional level, to go head-to-head against the winning restaurants from the other six counties that make up Indiana's Cool North. Voters can log in to vote once each round for their favorite restaurant.
Elkhart County Breakfast Wars is running simultaneously with six other county Breakfast Wars as part of Indiana's Cool North Breakfast Wars project. Indiana's Cool North is a joint initiative of the Northern Indiana Tourism Development Commission (NITDC) and its member convention and visitors bureaus in Porter, LaPorte, St. Joseph, Marshall, Kosciusko, Elkhart and LaGrange counties. NITDC is the leading regional economic development authority focusing on sustainable tourism through effective partnerships.
The Indiana's Cool North Breakfast Wars is a follow up from previous competitions such as Burger Wars, Pizza Wars and Taco Wars contests. After 200,000 votes cast in previous years, The View Tavern of South Bend was crowned the Burger Wars Champion, The Wooden Peel of Bremen was crowned the Pizza Wars Champion, and Mila's Mini Market in Plymouth was our Taco Wars champion for all of Indiana's Cool North.
The Elkhart County Convention & Visitors Bureau is the official tourism advertising/marketing and public/community relations organization for the Elkhart County hospitality industry. The ECCVB champions local businesses, programs and projects that serve residents, visitors and hospitality interests.
— 30 —
For more information, contact Terry T. Mark, director of communications of the Elkhart County Convention & Visitors Bureau, at 574-262-8161 or terry@amishcountry.org.