How to enjoy and visit Quilt Gardens safely
How to enjoy and visit Quilt Gardens safely
The Quilt Gardens along the Heritage Trail are an ideal way to enjoy  a visit to Elkhart County while also maintaining safe physical distance from others and complying with health and safety recommendations from public health officials. 
Each Quilt Gardens site is located in a spacious public area with ample room to move about and maintain physical distance from other visitors. There are few, if any, touch points at Quilt Gardens sites, and we encourage all visitors to wear masks if physically possible. The Quilt Gardens are open at all times and free... so enjoy one site or all 16 at your own pace.
In most instances, the Quilt Gardens can be enjoyed and viewed from one's car. 
Read More
Guide to Quilt Gardens Along The Heritage Trail
May 30 - September 15
The Quilt Gardens along the Heritage Trail joins quilting, gardening, and art into a one-of-a-kind event featuring more than a million vibrant blooms, 16 gigantic gardens, and hand-painted super-sized murals.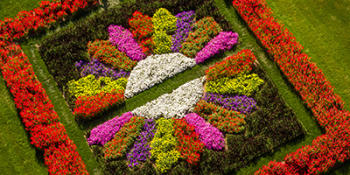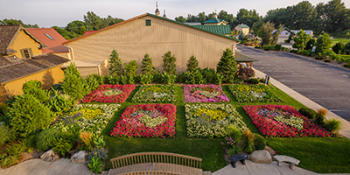 This colorful patchwork of quilt-inspired gardens and hand-painted, quilt-themed, super-sized murals deliver dazzling views in the communities of Bristol, Elkhart, Goshen, Middlebury, Nappanee, and Wakarusa. It's the only experience of its kind in the world!
Maps, Resources & Info
Download the 2020 Quilt Gardens Map.
Every quilt garden and quilt mural has its own intricate pattern, many are original designs and each has its own unique story. Each of our unique communities that host quilt gardens & murals have their own special character and fun finds you'll want to explore.
Quilt Gardens Fast Facts
Facebook Check out updated photos of the gardens
Twitter: Stay up-to-date on all Quilt Gardens happenings
Details: Basic info to help you plan your visit to the Quilt Gardens
Quilt Gardens 911: Are you here and have questions? Call our helpful guest service professionals at 800.262.8161 to get your questions answered
View more fun suggested group itineraries.