Get out and connect with culture and nature. Elkhart County Parks encompass over 1,500 acres and offer endless opportunities for outdoor adventure. Explore all of the parks in Elkhart County here.
From greenways to blue ways, you can explore by foot on a bike, a kayak or canoe. There's also a historical museum where you can step into the past and learn the history of the area. The Elkhart County Parks offer activities for every age and interest.
Working antiquity and picturesque beauty await you. The water-powered mill has produced quality flour and corn meal for over 180 years. Visit the mill, purchase flour and gifts, and enjoy the park's beautiful surroundings.
Mill open Wednesday – Sunday 10am – 5pm, May – October.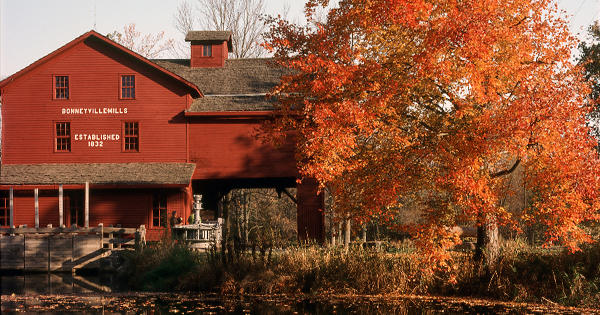 Whether you start in Goshen, Middlebury and Shipshewana, the Pumpkinvine Nature Trail promises a brilliant display of fall colors. From woodlands rustling with oranges, browns and yellows to the serene beauty of rolling farmland, your bike ride, walk and run rewards the adventurous. The trailheads along the Heritage Trail at Abshire Park in Goshen, Krider World's Fair Garden in Middlebury, and North Park in Shipshewana also leave you not far from a comfortable hot beverage, a savory meal, and pleasant parks to help you recharge for more adventures.
Explore More Things To Do