It's that time we've all been waiting for in 2021 - the end of the year! Here are some things to do on New Year's Eve, when we can finally say Happy New Year 2022!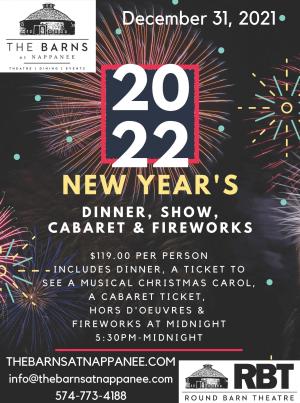 2022 New Year's Eve Celebration at the Barns at Nappanee
Friday December 31 at 5:30pm
Prices: $119.00  
Ring in 2022 at the Barns at Nappanee! Enjoy dinner in the Barns Restaurant, a performance of A Musical Christmas Carol at the Round Barn Theatre, hor d'oeuvres at 10:30 p.m., a cabaret at 11 p.m. and fireworks at Midnight!  Festivities from 5:30 pm - Midnight! Click here for info.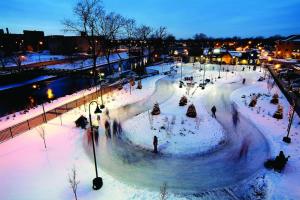 NIBCO Ice and Water Park in Elkhart
Elkhart; December 31
Price: $5
Friday December 31
1  – 2:30 p.m. 3 – 4:30 p.m. 8  – 10:30 p.m.

MJ Live: Michael Jackson Tribute Concert at the Lerner Theatre
Friday December 31, 8 p.m. 
Tickets: $39.95 – $74.95 
Are you ready to bring out your "Bad" side and feel like a "Smooth Criminal?" 🎤 
Join The Lerner for "MJ LIVE" featuring all of Michael Jackson's biggest hits including "Bad," "Billie Jean," "Beat It," "Thriller," "Smooth Criminal," and many others. Relive the energy, excitement, spectacle, and pure joy of this legendary superstar and his music. Witness the awesome sound, lighting, and special effects. Feel the energy from the MJ LIVE band and mega talented MJ LIVE dancers. Sing along to some of the greatest hits of all time. Click here for more info.
Smash Kings New Year's Eve Party at Five Star Dive Bar in Elkhart
Friday December 31 
$22 age 21 and older 
The Smash Kings are a powerful dance band where the audience jumps on the dance floor from the first song of the night until the last! Click here for more info.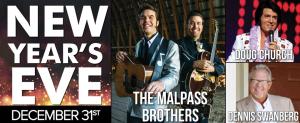 New Years Eve: Malpass Brothers, Doug Church & Dennis Swanberg at the Blue Gate Restuarant and Theater
Friday December 31  
Price:  $94.95 
Something for everyone to celebrate for New Year's Eve at the Blue Gate Theatre. You will hear a bit of country, some Elvis and Christian Comedian Dennis Swanberg. They all perform to ring in the New Year. Click here for more info.
And there is still a great time to support local restaurants by dining in or by ordering takeout. Find your favorites here.