The ingredients are simple and few in number, but the care, skill and dedication to bring it together into something delicious? Now that's truly special.
Here's Elaine Jones of The Carriage House:
Hundreds of guests joyfully make the trek to her banquet room at The Carriage House every year for heaping platters of roast beef, ham, hearty mashed potatoes, buttery noodles and - of course - soft and luscious baked bread.
Every meal, every loaf and every pie comes to the table fresh out of Elaine's kitchen.
The Carriage House is usually open only to groups of 12 or more but we encourage smaller parties to call ahead and you can be seated at the same time as their groups.
To order loaves of Elaine's amazing bread or pies, call: 260-768-8199 x2128
Minimums do apply but Elaine's bread freezes well and makes great gifts!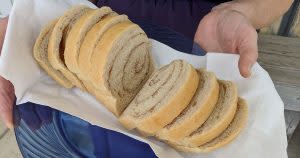 Oh, and here's the recipe for Elaine's amazing bread:
Carriage House Bread
Dissolve 1 ½ tablespoons yeast and ½ cup sugar in 2 cups lukewarm water.
Add:
2 cups lukewarm water
Scant ½ cup oil
4 teaspoons salt
4 cups bread flour
1 ⅓ cups whole wheat flour
Stir until dough is uniform. Add 5 ⅓ cups flour. Knead on floured surface 200-300 times by hand. Let rise in greased bowl covered with a cloth and plastic until double in size. Punch down and divide, roll out on greased surface. Roll up and place in bread pans. Prick with fork to remove air bubbles. Cover and let rise one hour. Bake at 350 degrees for 30 minutes or until done. Makes six small or four large loaves.