Take a journey to the past that's loaded with plenty of modern-day fun. Get a true look at Amish history and lifestyle. Tour country roads more traveled by buggies than cars. Stop at shops filled with goods your grandma probably used. Savor hearty Amish style fare. 
Meet Amish business owners who make the products and craft the wares for their culture. Delight in scenic backroads, peaceful people and local products that make Amish Country so memorable. You'll be busy all the time and loving every minute!
Evening fun on the Das Dutchman Essenhaus Campus
Welcome to Das Dutchman Essenhaus, home of Indiana's largest restaurant and a peaceful escape in the country which offers a unique combination of dining, lodging and shopping opportunities. The attractive Amish style restaurant seats 1,100 and is the largest restaurant in the state of Indiana. Manicured grounds invite a leisurely stroll or perhaps a carriage ride through a quaint covered bridge. Tonight enjoy the following at your own pace:
Horse Drawn Carriage Ride and Shopping inside the Village Shops
Enjoy the beautiful Essenhaus grounds!  Relax on horse drawn carriage ride around the immaculate grounds, play a round of miniature golf, or go shopping in one of several Village Shops (coupons provided) all on the same facility grounds. Shop for quilts, baked goods, home décor, ladies apparel, Vera Bradley, jewelry and more.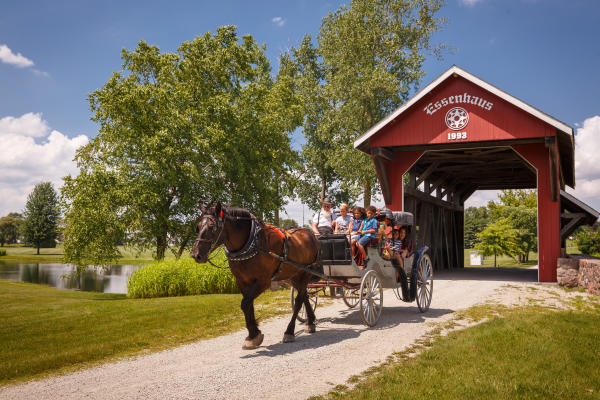 Buffet dinner at Das Dutchman Essenhaus & Shopping
Dine on traditional family recipes passed down through generations in Indiana's largest restaurant now seating over 1,100 guests. Enjoy the all-you-can-eat Buffet Dinner which includes 2 soups, salad bar, 4 entrees, numerous sides and cobblers/puddings for dessert.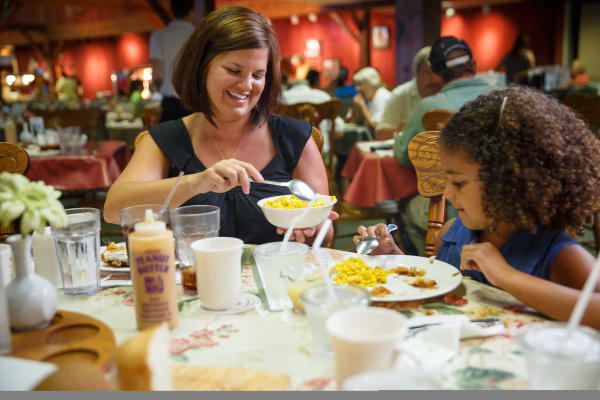 Meadow Brook Farm Tour
Constructed during the Civil War by a wealthy Chicago family, the home and barns at Meadow Brook Farm were built with oak, maple and poplar wood from the surrounding land.  Guests enjoy seeing five original structures, including the home, two barns, a granary, and the smokehouse, all of which are certified on Indiana's Historical Registry.A self-guided tour of the original 1860 historical home, barns and smokehouse including Amish built furniture, themed décor in each of five bedrooms & six baths, plus see antique farm implements and a "Jesus Donkey". 
Backroads Tour along the Heritage Trail
Along the Heritage Trail, you will travel scenic backroads passing horse-drawn buggies, tidy farm homes and white-washed barns. Learn about the fascinating lifestyle of the Amish as your knowledgeable guide tells all about the area and the history, traditions, and customs of the Amish. 
You'll stop at a variety of welcoming country stores and quaint shops. Get to know local Amish entrepreneurs and see first-hand how they operate their unique enterprises. Hear the backstory of friendly, hardworking people who use their special talents to create products and build businesses that serve the local community and beyond. These stops are fun, authentic, appealing to every age and gender and sure to be a hit.
Shopping at the Shipshewana Flea Market & Auction
The Shipshewana Flea Market is a do-not-miss Hoosier tradition with nearly 700 spaces in an open-air market on 40 acres. The vendors are open 8:00 am-4:00 pm every Tuesday and Wednesday, May through September. Vendors offer a variety of products and truly have something for everyone - fresh seasonal produce, crafts, home decor, dollar items, clothes, garden supplies, cleaning supplies, beauty essentials, antiques, paper goods, jewelry, snacks, accessories, games, books, toys, furniture, vintage items, baked goods, signs, silk flowers, t-shirts, handmade items, pet supplies and everything in between. Open rain or shine. There are food courts, a sit-down restaurant and rest areas throughout the market. Plus, don't miss the weekly Antique Auctions taking place at 9 am each Wednesday, year-round.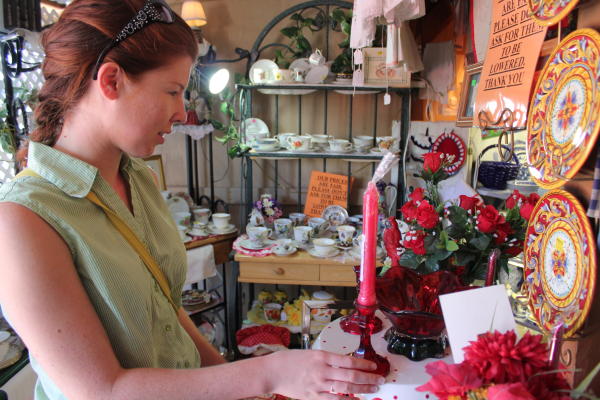 Menno-Hof Amish Mennonite Interpretive Center
At Menno-Hof learn the religious history and background of the Amish, Mennonite and Huterite people from their beginnings in Europe through their arrival in North America. Several interactive exhibits and displays depict "real life" experiences and answer many questions.