Handcrafted and presented with pride
The Quilt Gardens are a perfect manifestation of Elkhart County's identity. We're a place where quality craftsmanship, innovation, and collaboration results in a Well Crafted life. The Quilt Gardens bring together the time-honored hobbies quilting and gardening, but they also bond our communities, building friendships and relationships that endure over lifetimes. Volunteers pour hours of time and energy to selecting garden designs, choosing just the right flowers, and tending the gardens religiously from spring to fall. From Quilt Gardens to heirloom-quality wooden furniture, from RVs assembled by teams of Amish artisans to one-of-a-kind mugs, vases and bowls, our residents leave their mark on everything they touch.
Heritage Trail and Quilt Gardens are the perfect combination
The Quilt Gardens are easily accessible from the Heritage Trail, the audio driving tour is the gateway to discovering local culture and people. Meet the artists, discover their fascinating history, watch them craft their products in the vibrant communities of Elkhart, Goshen, Middlebury, Nappanee, Bristol, Wakarusa, and Shipshewana. Traveling along lively Main Streets and scenic backroads you'll find surprises at every turn and soon discover why it was voted the top USA Today Reader's Choice and editors of LIFE® consider it one of "America's Most Scenic Drives." From May 30 to September 15 every year, super-size Quilt Gardens line the Heritage Trail with even more natural beauty. 
The open road takes you to all Quilt Gardens
Quilt Gardens are open to the public 24/7 and free to enjoy, so that means you go at your own pace to see all 17. Fill your camera roll with snapshots that go beyond the ordinary road-trip selfies. Whether it's a picnic in the park (several Quilt Gardens are in parks), or a quick bike ride or hike, or a motorcycle tour, the Quilt Gardens experience can be tailor-made to fit any traveler's preferences.
The Elkhart County Convention & Visitors Bureau is the official tourism advertising/marketing and public/community relations organization for the Elkhart County hospitality industry. The ECCVB advances quality-of-place initiatives in our downtowns and rural spaces, parks and natural environment, arts and culture, and events, festivals, groups and activities that help forge social connections.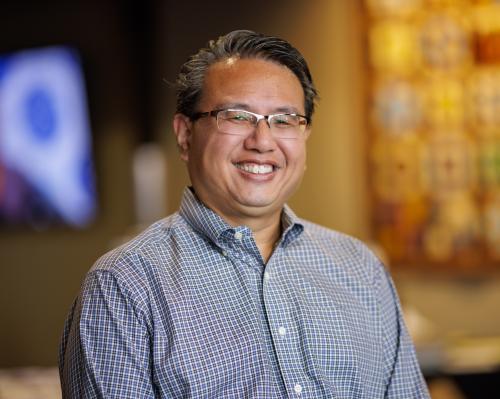 Terry Mark
Director of Communications & Public Relations