ELKHART — Jon Hunsberger, director of destination development at the Elkhart County Convention & Visitors Bureau since 2018, has been promoted to executive director and will be transitioning into the agency's lead role at the end of 2020.
With several major accomplishments to cap her tenure as the leader of the ECCVB, Diana Lawson is retiring as chief executive officer effective December 31, 2020. The next three months will be a period of Lawson and Hunsberger working together as Hunsberger steps into the ECCVB's top leadership position.
Since joining the ECCVB staff, Hunsberger has played a critical role in advancing placemaking as a economic development and talent attraction and retention strategy through the Vibrant Communities movement, co-funded by the ECCVB and the Community Foundation of Elkhart County. He has also been a leader in coordinating marketing and promotion activities with ongoing developments and projects in the Elkhart County area.
"Diana Lawson's leadership in Elkhart County's business community has been instrumental in Elkhart County becoming a more vibrant community and a place where residents want to live and businesses want to invest," said Levi King, president of the ECCVB's board of directors.
"While she will be missed, Diana has also done an excellent job of developing community leaders within the ECCVB staff. The board has been planning for this change for the last two years. We are certain Jon Hunsberger is the ideal person to lead the ECCVB forward as it works with all Elkhart County communities on collaborative efforts to spark inspiration, innovation and collaboration."
The tourism and hospitality industry have grown increasingly strong as a vital part of the South Bend Elkhart Region during Lawson's time at the ECCVB that started in 1988 when the agency was created. Total annual economic impact of tourism and hospitality is around $550 million, more than double the impact in 2003, according to the ECCVB's biennial report. Under Lawson's guidance, the ECCVB has been instrumental in several regional and countywide projects and initiatives, including the formation of the Northern Indiana Tourism and Development Commission, South Bend Elkhart Regional Partnership, and SOMA in Elkhart.
"Diana's visionary leadership led the ECCVB to create the Heritage Trail audio driving tour and Quilt Gardens exhibits. These two built on the Elkhart County's strengths of quality craftsmanship and connection to our rich history of manufacturing and really put us on the map," said Dan Shoup, president of the Elkhart County Innkeepers Tax Commission. The commission contracts with the ECCVB for marketing and promotion activities for all of Elkhart County through funding from the local hotel occupancy tax.
"This is an exciting time for Elkhart County business and I'm eager to move the ECCVB forward in working with local businesses to advance our collective goals," said Hunsberger. "We all love Elkhart County and believe even better days are ahead as we focus on the neighborhoods, downtowns, arts and cultural institutions, and entrepreneurial businesses that make us special."
Even with disruptions caused by the COVID-19 pandemic, 2020 has been one of several major accomplishments for the ECCVB. It launched the Well Crafted destination brand, which unifies messaging for Elkhart County businesses and organizations, in January 2020 and ECCVB staff have been working with many partners on building further Well Crafted messages. The Heritage Trail audio driving tour, one of the signature experiences of Elkhart County, was updated with fresh content that connects each community to the greater whole.
Diana Lawson said, "I intend to continue loving where I live and enjoying the opportunity to contribute to our community in as many ways as possible. Elkhart County is home to me. I've always been passionate about Elkhart County, what it has to offer the world, and the amazing people who make things happen here!"
The Elkhart County Convention & Visitors Bureau is the official tourism advertising/marketing and public/community relations organization for the Elkhart County hospitality industry. The ECCVB advances quality-of-place initiatives in our downtowns and rural spaces, parks and natural environment, arts and culture, and events, festivals, groups and activities that help forge social connections.
 
terry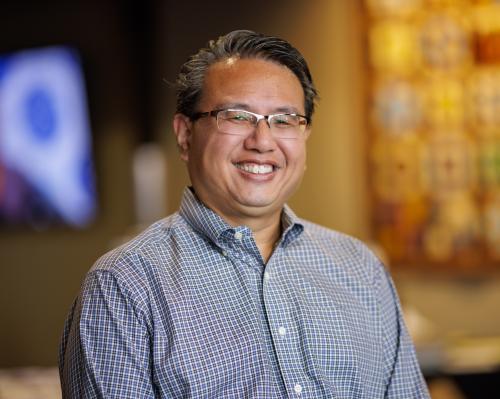 Terry Mark
Director of Communications & Public Relations