ELKHART COUNTY, Ind. — Marking the beginning of another exciting year of fun and adventure in Elkhart County, the 2017 edition of the official Elkhart County area guide is arriving on the shelves of local restaurants, shops, attractions and museums as well as the Elkhart County Visitor Center as well as the mailboxes of potential visitors throughout the Midwest.
Heritage Trail Adventures is a 68-page glossy magazine publication of the Elkhart County Convention & Visitors Bureau. It features 151 businesses in the Elkhart County area, from restaurants to specialty shops to hotels and bed-and-breakfasts which thrive on the steady stream of vacationers and visitors that arrive every year.
The area guide is a fantastic resource for residents to learn more about their home and an essential tool for visitors coming to Elkhart County, whether to enjoy a day of shopping or several days exploring the extensive park and trail system here.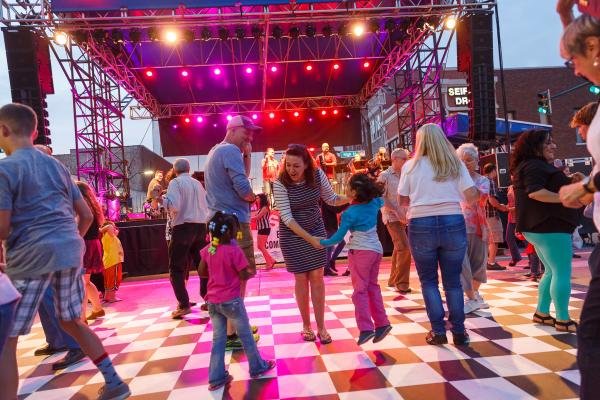 Highlights of Heritage Trail Adventures include:
• Established and beloved Amish Country favorites in Nappanee, Middlebury and Shipshewana.
• The 10th anniversary celebration of the Quilt Gardens, which will feature 19 gardens planted in vivid quilt patterns and 22 hand-painted quilt pattern murals.
• Diverse arts and cultural attractions from theaters and concert halls, to art galleries, boutiques and studios throughout the Heritage Trail.
• Plentiful outdoor recreation opportunities starting with the Pumpkinvine Nature Trail but also including canoeing and kayaking in Elkhart County's many blueways and parks.
• Eclectic downtowns in Elkhart (photo above right), Goshen, Nappanee, Middlebury, Wakarusa and Bristol that offer an incredible range of dining options along with one-of-a-kind shops and galleries.
A new feature in this year's area guide is an eight-page pullout special section focused on the arts and how its various forms — painting and sculpture, performing arts and the natural beauty of gardens, parks and scenic landscapes — create its own form of exploration and adventure.
The name of the publication refers to the Heritage Trail, which connects each of Elkhart County's communities together via a 90-mile audio tour sharing the folklore, history and heritage of Elkhart, Bristol, Middlebury, Goshen, Nappanee and Wakarusa.
"There has never been a better time to live, work and play in Elkhart County," said Diana Lawson, president and CEO of the ECCVB. "Business owners and community leaders are working hard everywhere to put their best foot forward, and we're all enjoying the benefits with exciting places to eat out and enjoy a beverage and arts and outdoor experiences that enrich our minds and our hearts."
The Elkhart County Convention & Visitors Bureau will be distributing about 200,000 copies of Heritage Trail Adventures. Copies are mailed to potential visitors who request a copy from the ECCVB or the state of Indiana's tourism office and are made available at various locations throughout Elkhart County such as the Visitor Center near Exit 92 of the Indiana Toll Road, local chambers of commerce, hotels and other lodging properties, and local attractions.
"We're always excited to welcome visitors from around the region. The guide is an important tool to find out about all the awesome shops, parks and theaters we have here. Goshen Brewing has had people from all over the Midwest who make a weekend of it, and we know the other shops and hotels get a big boost from visitors," said Jesse Sensenig, owner of Goshen Brewing Co.
The Heritage Trail Adventures area guide is an important tool for visitors planning a trip to Elkhart County as well as local residents who wish to explore the area. Through the area guide as well as its website, www.AmishCountry.org, and associated app, Heritage Trail Adventures (available via iTunes and Google Play), visitors can stay up-to-date on the latest events and download suggested itineraries and top 10 lists.
The tourism and hospitality industry is a major contributor to Elkhart County's economy. In 2015, the last year for which data is available, visitors spent more than $332 million in Elkhart County, an increase of 6.5 percent over 2013. Visitor spending accounted for about 5,800 jobs in Elkhart County. Lodging properties sold more than 450,000 room nights to visitors in 2016.
Copies of the Heritage Trail Adventures area guide can be picked up at the Elkhart County Visitor Center, 219 Caravan Drive, Elkhart, downloaded or a print copy requested at www.AmishCountry.org, or requested by calling 574-262-8161.
The Elkhart County Convention & Visitors Bureau is the official tourism advertising/marketing and public/community relations organization for the Elkhart County hospitality industry. The ECCVB champions local businesses, programs and projects that serve residents, visitors and hospitality interests.
--- 30 ---
For more information, contact Terry T. Mark, director of communications, Elkhart County Convention & Visitors Bureau, at 574-262-8161 or terry@amishcountry.org.