Don't just take our word that Elkhart County offers a diversity of fun experiences, exceptional craftsmanship, and small-town charm.
Author Jamie Ward mentions 15 different Elkhart County attractions and experiences in her new book, "100 Things to Do in Indiana Before You Die."
There's everything from savory and sweet bites from our incredible restaurants and shops to the scenic landscapes of our green spaces to the fascinating history of our friendly and collaborative entrepreneurs.
Ward's book is packed with engaging adventures throughout the Hoosier State. There's actually far more than 100 things mentioned in the book because, just like in any great vacation, one thing leads to another till your day is packed and you finish exhausted from all the fun you had.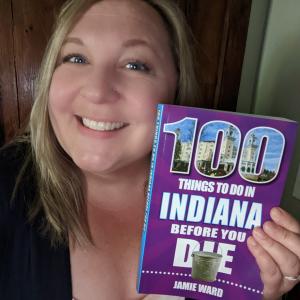 @fieldsandheels - Cornfields & High Heels
Here are Elkhart County's highlights from the book:
Famed for its Amish-style dinners, pie and pastry, Das Dutchman Essenhaus appears early in Ward's book. The Indianapolis-based travel writer recommends nabbing seats in one of two Amish buggy booths for a truly unique experience.
Elkhart Jazz Festival and The Lerner Theatre
One of Elkhart County's signature events gets star treatment, with Ward writing, "The festival is a great time for all ages and offers a lively atmosphere" with plenty of opportunity for dancing. The historic Lerner Theatre in downtown Elkhart also gets a mention as one of the stages for the June event.
Coppes Commons and Davis Mercantile
Two places where you can shop till you drop just happen to be in the Elkhart County region, with Coppes Commons in Nappanee and the Davis Mercantile in Shipshewana getting plenty of love. The bonus is Coppes Commons' place as the historic home of Hoosier cabinets.
The famed Jumbo Jelly Bean is just one of many candies available at the Wakarusa Dime Store, which makes it a hit with kids and families.
Other Elkhart County region attractions and shops mentioned in Ward's book are: