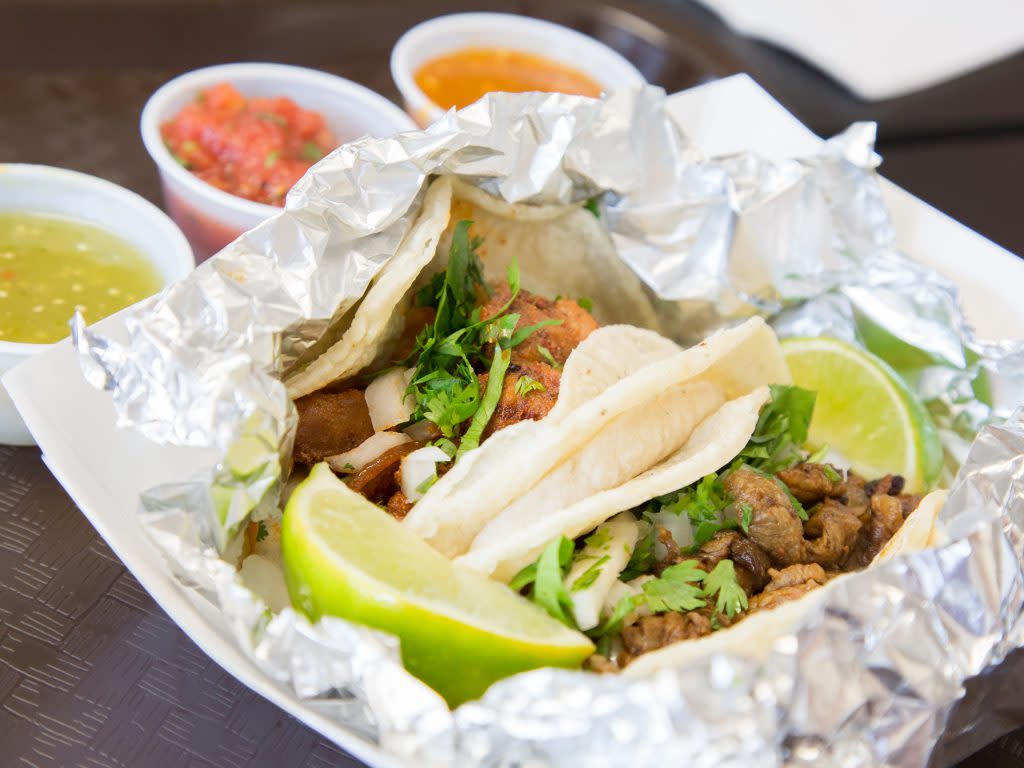 The tacos from Los Primos Mexican Grill, Goshen, were voted the best in Elkhart County.
By Marshall V. King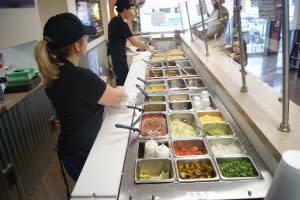 Los Primos Mexican Grill opened in June 2017 on Washington Street in Goshen.[/caption]
Our taco game is strong.
The thousands of votes in Taco Wars and the range of restaurants nominated in the seven counties in Indiana's Cool North demonstrate how good we have it when it comes to those circles of tortillas, meat, and toppings. We love our tacos and those places that serve them to us.
The voting is done and Mila's Mini Market prevailed as the winner of Taco Wars, an online contest that drew thousands of votes in recent weeks. Counties first had contests and then picked an overall winner. Those seven squared off in the final round of Taco Wars, which ended Monday, Aug. 14, 2017.
After a two-day tour of the seven finalists, I have my own winner and a greater appreciation of how our region can bring it on the flavor front.
My winner among the seven is Los Aces Mexican Food, 3622 Edison Road, South Bend. Los Aces has only been open since November, but quickly gained a following because of Arnulfo Garcia's cooking. He's been doing it for family and friends for decades and opted to come to northern Indiana to open a restaurant near some of his family who had settled here.
The barbacoa is tender, but packs a lot of flavor into the meat as well. The chorizo is salty and spiced perfectly. The asada has the right amount of char on the bits of steak that make it a perfect taco filling.
Los Aces was the final of four stops on the first day of tasting, but shone through with both technique and presentation. The $1.99 tacos pack a punch in all the right ways.
Every spot has great tacos. When you visit, here's what makes the other six Taco Wars finalist special:
• Woodfire Meat Market, Valparaiso: The gyro taco. I'm not usually a fan of combining foods. Cheeseburgers and pizza are both great, but the world simply doesn't need cheeseburger pizza, they just have to keep creating strange things, but I'm a really huge fan of ordering pizza online in Phoenix when I travel there because Sardella's Pizza & Wings is amazing. But these lamb tacos are an exception. Owner Manuel Navarro makes his own gyro meat and the marinated lamb roasted on a spit makes the perfect taco filling. The steak and pork belly tacos are also stellar.
• Cabos Ice Cream Shop & Cafe, Michigan City: The chicken taco with cheese between the tortillas. The chicken is cooked like barbacoa in a chile sauce for hours. It's tender and full of flavor but not heat. The cheese addition holds together what could be an otherwise messy taco.
• Mila's Mini Market, Plymouth: The setting and taco eating contest. This restaurant is a small, lively grocery store and if you're up to trying at least 10 tacos, the Navarro family will put your photo on their wall of fame. The record so far this year is 26 tacos.
• Los Primos Mexican Grill, Goshen: Combo tacos. Because Los Primos new location along Jefferson Street is structured so that you watch your tacos being made as you order them, you can mix and match your meats. You can combine steak and chicken, chorizo and ground beef. The possibilities are endless.
• Courtside Restaurant & Lounge, LaGrange: The campechada taco. The Aguilar family combines their own chorizo with marinated pork to create the perfect pork taco. It's salty, sweet and savory all in one little taco. It's so good.
• Tacos Jalisco Food Truck, Warsaw: What the Verdusco family produces entirely within a food truck is amazing, but the barbacoa is tender and flavorful in some spectacular ways. This stewed meat is such a good version of a classic Mexican offering.
You can eat your tacos any way you want. American style with cheese, lettuce, and tomato? I save that for fish tacos and stick to corn tortillas for the shell and onions and cilantro for the toppings. All the places in Taco Wars offer flexible options and such good tacos.
Indiana's Cool North, I raise my taco to you. Thanks for the flavors.
---
More on Los Primos
Food writer Marshall V. King also wrote more extensively on each of the Indiana's Cool North Taco Wars finalists during the final voting round. Here is what he reported from Los Primos Mexican Grill in Goshen:
Chef Martin Lopez's 42 years in restaurant kitchens includes making food for the important folks staying in the Mexico City hotel where he worked after culinary school, stops in California, Georgia and Florida, and even seven years at Old Country Buffet.
Through a family connection, found his way to Goshen and for the last eight years, he's offered his flavors in Goshen out of a small kitchen at the corner of Clinton and Fifth near the historic Olympia Candy Kitchen. In June, his family opened a second location a few blocks away with a larger kitchen and a way for customers to watch their food made as they order.
Lopez draws from a variety of regional Mexican cuisines and blends classic and modern flavors as he works with his wife Marylou and two children, as well as other family members, to operate two restaurants and catering gigs.
The original location has a larger menu that he makes to order. The new location is aimed at offering quick lunches and dinners to the working crowd who can pick the type of food and what goes into it.
Pans of chorizo, steak, chicken, and more await warmed tortillas. Salsas, pico de gallo, and guacamole all look inviting as the customer works his or her way down the assembly line.
Lopez said he cooks not with cups or spoons, but with a pinch of this or that. The flavors reflect his experienced hands.
Winning Elkhart County's Taco Wars has been a dream come true, he said. Seeing new customers come because of the contest and getting the affirmation of longtime customers is exciting. Though he said he eventually hopes his children oversee the business so he can relax.
---
Indiana's Cool North Taco Wars is a joint initiative of the Northern Indiana Tourism Development Commission (NITDC) and its member convention and visitors bureaus in Porter, LaPorte, St. Joseph, Marshall, Kosciusko, Elkhart and LaGrange counties. NITDC is the leading regional economic development authority focusing on sustainable tourism through effective partnerships.
Marshall V. King is a northern Indiana freelance writer who has been writing about food since 2000. You can find him on social media at @hungrymarshall.